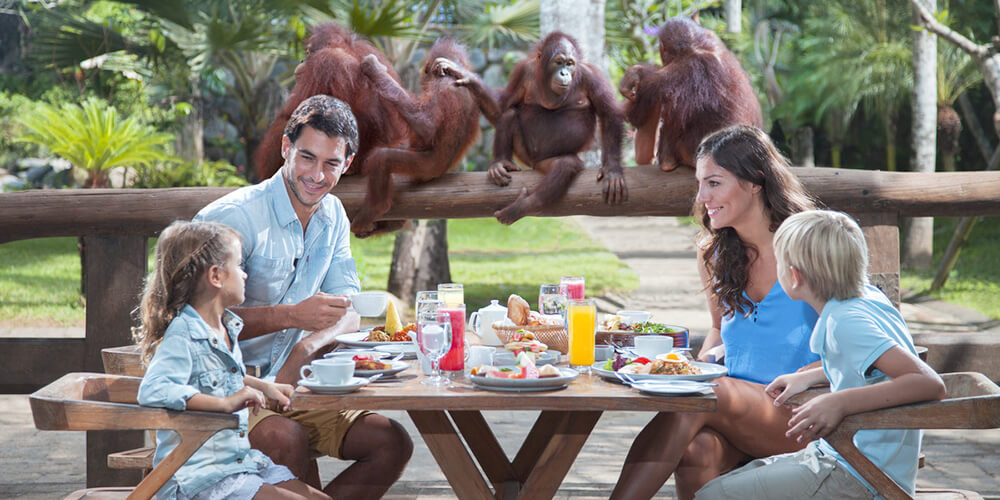 Indonesia Family Tours & Holiday Packages
What's a better way to connect your family members than taking a family trip together? We know that every journey is a precious experience for you to explore and experience the real world, therefore, we specifically, customize Indonesia tours to bring your family to Indonesia to setting foot on the Emerald of Equator. From the centuries-old historical sites to the boutique of diverse culture and natural wonders. There are so many things to do in Indonesia family tours:
Sanur Beach – indulge in the mesmerizing beauty & swim in the turquoise water
Sumatra – play with the orangutans & learn more about the biology system of Indonesia
Bali antique villages – wander around the tranquil hutong & discover the traditional handicrafts
Yogyakarta – enjoy myriads cultural attractions & pay solemn visits to some of the world's greatest pagodas

Lombok – head into the heart of the ocean to discover the incredible world underwater
Go Indonesia Tours is glad to offer travelers with a boutique of custom-crafted Indonesia family tours especially Bali family tours which are carefully tailored by our travel experts. Most importantly, we put in the itinerary with interesting and meaningful activities to encourage your kids' imagination, creativity, interactions, and language development. Leave all your hectic schedule behind to enjoy our family holiday with full of delights and excitements. If none of our Indonesia tours satisfy your needs, please feel free to contact us and we are always happy to help you create the finest family trip depending on your schedule and interests for you to be high on.
---
Best Destinations for Indonesia Family Holiday | Kid-Friendly Places
Indonesia is an enchanting country for a family vacation. With countless untouched islands surrounded by km long white sand beach and wonderful marine life coupled with a diversity of culture and tradition, there are so many things for your children to experience and to learn in a Myanmar family tour. From the vibrant Bali to the wild Sumatra, from the modern Jakarta to Java - a cradle of the civilization. Before setting your foot to this wonderful country, let have a look at the best Indonesia family holiday destinations and essential tips for planning Indonesia tour packages.
Bali – The Best Indonesia Family Holiday Destination
Bali is one of the best islands for a family holiday with your children. Bestowed with breathtaking natural beauty and home to numerous historical sites, there is a long list of kid-friendly things to do in Bali.
• Soak in Interesting Activities in Water Bom
Rated by Trip Advisor as one of the best water parks in Asia featuring world-class facilities, Bali Water Bom is one of the best destinations for Indonesia family tours. There are 13 types of a thrilling and fun ride with many other optional activities for your kids to join in. Not just offering amazing activities to do, you will have space to relax in the shades, enjoy the rides and water as well as have good food and tropical drinks.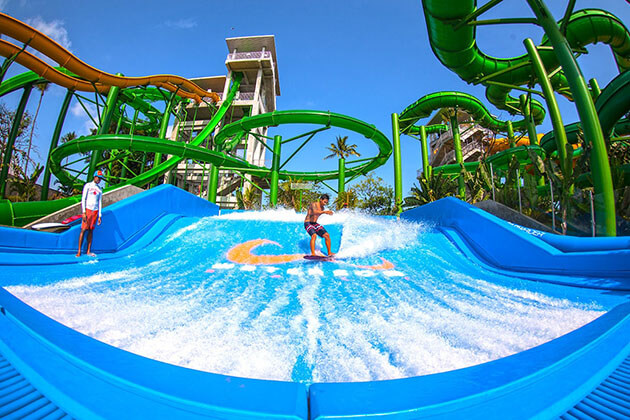 • Visit Ubud Monkey Forest
This is one of the best well-known attractions in Bali among travelers and kids. Children will have an opportunity to see monkeys in their natural habitat. There is a nice path to walk along and you can go to the forest to see their life. The monkeys in the forest are well fed so they are less aggressive. However, if you want to feed it, read the instruction in advanced or tell with your local guide to ensure you won't make it crazy about food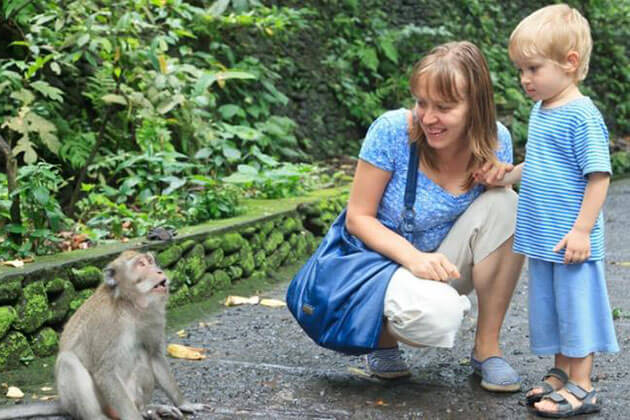 • Join in Balinese Cooking Class
What's a better way to let your kids learn more about the authentic cuisine of the country you visit. A Balinese traditional cooking class is a great chance for your family to have a fun time together and learn more about local products at the same time.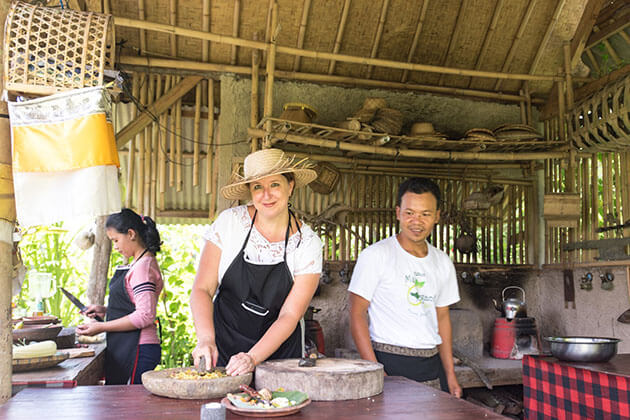 • Visit the Sacred Temples
Well-known as the Land of Gods, there are a ton of temples throughout Bali to visit in Indonesia family vacation. Among them, Tirta Empul in Ubud is one of the most famous temples in the region. Inside the temple features a water bath where Hindu local people in Bali go for ritual purification. Additionally, no Indonesia family holiday finished without visiting Ulun Danu Pratan Temple – the Goddess of the Water Temple, Tanah Lot Temple – the Land on the Sea, Uluwatu Temple, and many more.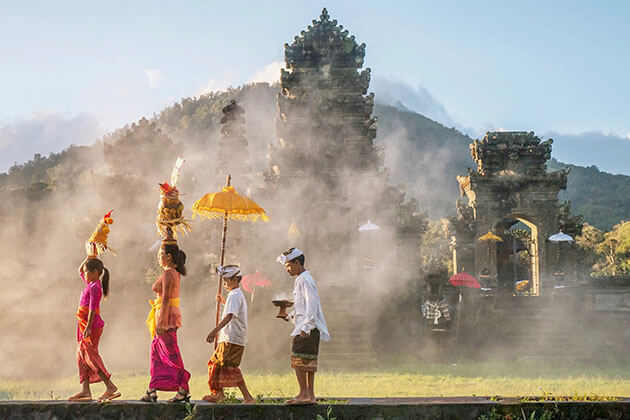 Sumatra
Located in the wild west of Indonesia, Sumatra is peaceful but also exciting and blessed with nature. Possessing turquoise lakes overlooked by steaming volcanoes and lush jungle filled not only with wild orangutans but also tigers and elephant, there is no better place to visit to learn more about the flora and fauna, exotic culture and traditions in your Indonesia family tour than Sumatra. Bukit Lawang, situated 96 km toward the northwest of Medan, is the hub of the orangutans. It is bordered by Gunung Leuser National Park and the best place in Indonesia to see habituated orangutans in the wild. Step aside from the spectacular nature, learning about Sumatran history and culture is a great thing to do in your family vacation. Medan is the most suitable destination for you to do so. The historical highlights in Medan include the ornate Great Mosque or Masjid Raya Al Mashun and Maimun palace noted for the typical architecture of the islanders.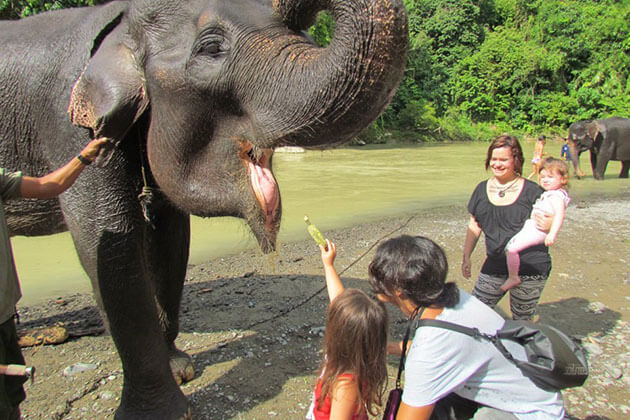 Lombok
Lies next to the vibrant Bali, the charming island of Lombok attracts tourist's attention by the laid-back vibes and serene beauty. If you feel a bit tired after long days of sightseeing and exploring, then Lombok is the best choice to relax on your Indonesia family tour. Some of the highlights of the island are its stunning white sand beaches as well as clean seas and amazing diving and snorkeling sites. You can spend time to savor a party with your family on Gili Trawangan, take a light biking tour along the coastline with your kids in Gili Air and visit a Pearl Farm and let your children learn more about the way people cultivate pearls.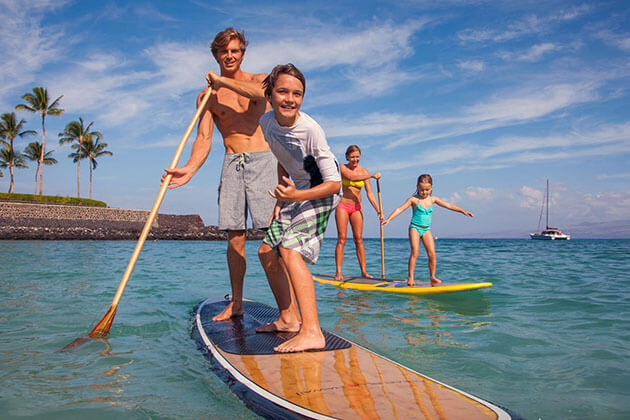 Yogyakarta
Being the heart of Javanese culture, Yogyakarta is undoubtedly a perfect Indonesia family holiday destination. Upon here, you and your family will get a taste of Indonesia's rich history set amongst a stunning volcanic landscape. I bet that your kids will love how this living museum takes history and geography into wonderful sites. Borobudur Temple is the most fascinating site to visit in Indonesia. Dating back to the ninth century, the temple consists of more than a million stone blocks, massive bell-shaped stupas, and 500 Buddha images. Another must-see UNESCO heritage site in Yogyakarta on the Indonesia family tour is Prambanan Temple. In every full moon, there is a stunning performance of the Ramayana Ballet are performed in the open area surrounding the temple which is worth to see in your family holiday.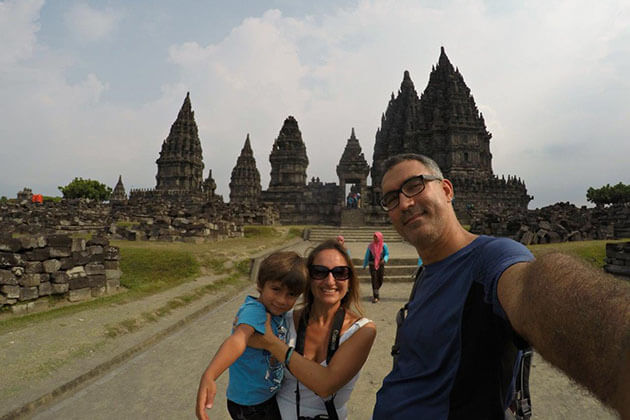 Tips for Planning Indonesia Family Tour
With the above list of best destinations for the Indonesia family tour, we believe that you have had an overview of where should you go for your family vacation in Indonesia. Depends on where you are going and how old are your kids that require you different facility. Below are tips to help you plan your best Indonesia family holiday.
Tip 1: Prepare a Plan B
Being flexible is necessary for you in Indonesia's family tours. When your children are not coping with Indonesia's local cuisine, you will be thankful for what you have planned. Also, you should give your kids free time to play and to learn new things as well as relax or sleep.
Tip 2: What to Bring for Indonesia Family Holiday
Sunscreen and anti-mosquito cream Baby wipes, nappies, and baby formula Medicine: It is best to have medicine for potential cold, fever, and food poisoning, etc. in your luggage to Indonesia.
Tip 3: Be Cautious in the Crowd
Generally speaking, Indonesia is safe for tourists to travel. However, you should take higher caution in crowded places such as Bali, Yogyakarta, and Jakarta where you can easily lose your kids.