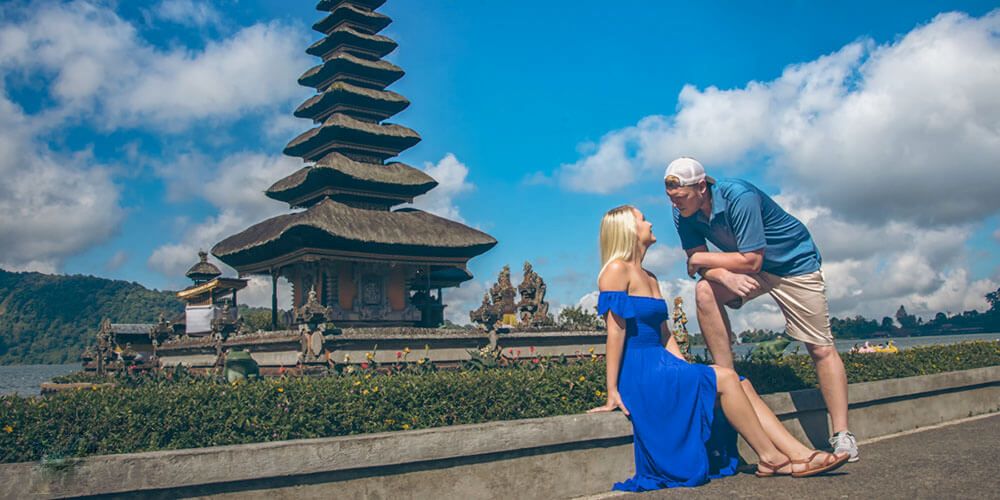 Indonesia Honeymoon Packages
Bestowed with captivating white sand beach, dense forests, and unexplored mountains, Indonesia is truly a destination for honeymoon. The country of over 17000 untouched islands is where to amaze you not only with the heart-touching beauty, a diversity of floras and faunas but a lively cosmopolitan for shopping, relaxing, and entertaining. Taking Indonesia honeymoon packages, tourist can indulge in various mind-blowing activities:
Raja Ampat Island – awaken your senses by taking astonishing snorkeling to observe the wonderful sea life
Mt Bromo – take an easy trek to capture the incredible natural beauty
Sanur Beach – celebrate a romantic dinner with candles on the mesmerizing seashore after a long day of exciting activities
Belitung – immerse into the exotic nature calm vibe
Gili Trawangan – sunbath on the white sand beach and listen to the melody of Mother Nature
Honeymoon in Indonesia unleashes a bundle of surprises before couples as you travel to the country's destinations. Together with sightseeing, enjoying the premium services in luxury resort such as spa treatment, private swimming pool are also a highlight in your Indonesia tour packages.
Sharing the distinctive experience with honeymooners, Go Indonesia Tours offers with top 10 best Indonesia honeymoon packages which are best-selling for those couples who plan to spend their honeymoon trip in Indonesia. Browse our ready-made itinerary and chose your most favorite one. If you can't select an itinerary that meets your needs, please contact us to customize a unique Indonesia honeymoon itinerary that suits you most.
---
Best Destinations for Indonesia Honeymoon Packages
Indonesia honeymoon is amazing as it can be as exciting or laid back as you want it to be. With over 8000 islands large and small tropical islands, there is no end to its white sandy coastline making for a perfect sun-soaked holiday. Enamored by its wildlife, luxuriant rain forests, ancient temples, grand mountain views and breathtaking volcanoes, Indonesia has a ton of interesting things to do in your honeymoon vacation. Gaze out at the best places for honeymoon in Indonesia below.
Gili Islands
Floating off the coast of Indonesia, three little islands of Gili is one of the best honeymoon destinations in Indonesia. Lying with white-sand beaches, crystal-clear turquoise water, and swaying palms, it is beguiling with the natural scenery surrounding. In every corner, you will catch the image of horse-drawn carriages, there are no cars or motorbikes on these islands. Spending your honeymoon vacation on Gili Islands. You will have a romantic, idyllic atmosphere, incredible sunset or take on the lively party scene. The Gilis are your perfect blend of beaches, buzzes, and bliss.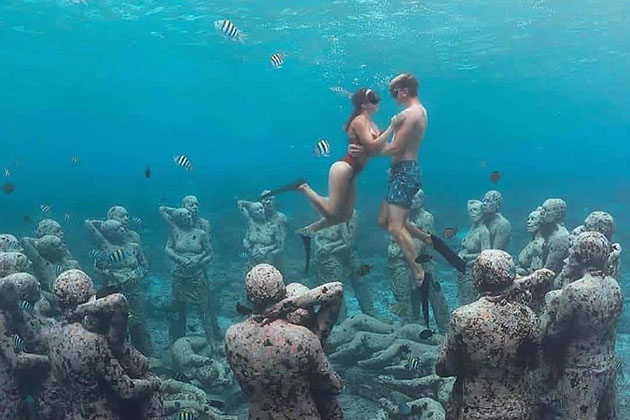 Komodo Island
If you want to indulge your senses in the natural beauty and exotic charm, Komodo Island is a perfect Indonesia honeymoon destination for you to spend your time there. Upon here, let take a dip in the blue waters of Pink Beach and s. Then go diving at Merah Beach, Batu Bolong and Tatawa islands to observe the wonderful life underwater and watch the marine beauty including the amazing coral surrounding the island.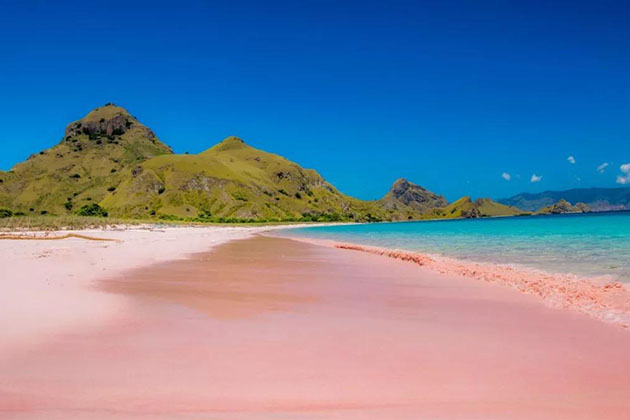 Yogyakarta
If you love to touch the religiosity and culture on your romantic honeymoon, Yogyakarta might be a good choice as one of the best Indonesia honeymoon destinations of yours. Called for its abundant historical culture, Yogyakarta is teeming with relics and stays of the days of yore. Take your partner on long winding explorations and journeys to delve into the history of numerous destinations. Visit Borobudur, the world's largest Buddhist temple with exotic architecture dating back to a thousand year ago. Step up to Kaliurang to see its mountain streams and enough valleys. Catch some romantic snaps with your beloved at the white churning mountainous stream of Havana in the background of beautiful mountain valleys. There are many more stunning destinations to visit in the city including Yogyakarta city hall, precisely in the hamlet of Kaliurang, Hargobinangun, Pakem, Sleman. Therefore, consider Yogyakarta City as your honeymoon in Indonesia destinations.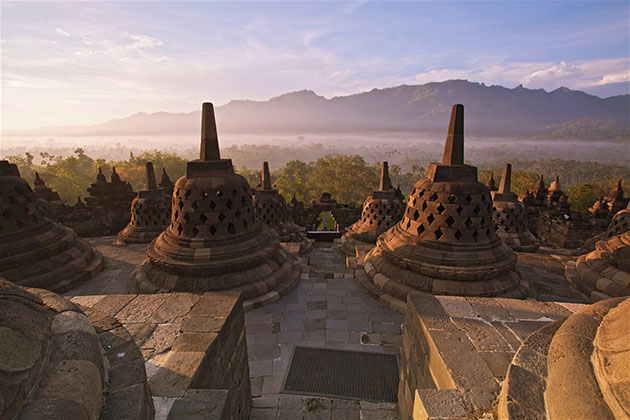 Raja Ampat Islands
Raja Ampat, meaning Four Kings, is an archipelago comprising 4 stunning islands including Waigeo, Misool, Salawati, and Batanta, besides 1500 minor ones. The incredible natural backdrop of dramatic steep, forested islands, and marshy lagoons making it a wonderful honeymoon destination in Indonesia. Many of small atolls surrounding looking like mushrooms and shining turquoise water makes the place a perfect delight for honeymoon couples traveling to Indonesia. Together with beautiful beach scenery, the rich in marine flora and fauna diversity including rare species of corals are also worth seeing in your vacation.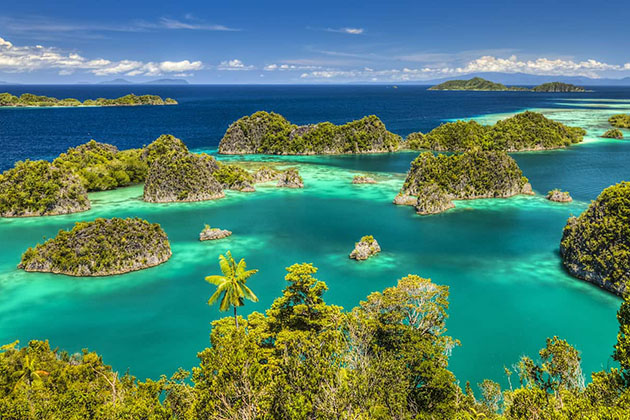 Lombok
Set aside the bustling island of Bali, Lombok is a peaceful and laid back sister island. Frequently mentioned as mini-Bali, Lombok has more than a paradise for honeymoon in Indonesia. It provides the charm of Bali without the pace. With white-sand beaches, lush forests, and breathtaking hiking routes, Lombok has all the active ingredients required to include charm to a romantic and honeymoon trip. Spend your time in Lombok, you can appreciate an extensive range of water sports including incredible snorkeling websites and plunging on the reef off the close-by Gili Islands. Step aside from the white sand beach and great lodgings, you and your darling can head inland, traveling to Sasak towns, waterfalls and regardless of handling the incomparable Mount Rinjani on an overnight outdoors experience.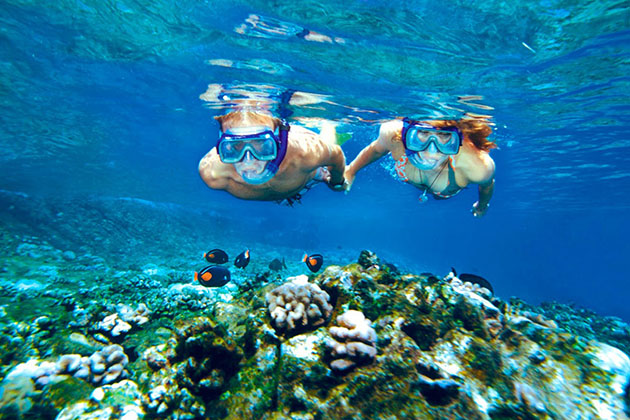 Top 5 Most Famous Bali Honeymoon Destinations
Ubud
Possessing the dramatic temple on water, mesmerizing rice field terraces, and fascinating traditional villages, Ubud is one of the most popular honeymoon destinations in Bali. Set about 600 meters above sea level, Ubud is beguiling with a lot of green nature. The town offers tourists plenty of eco-lodges and yoga gateways. Experience some of the best activities with your darling including cooking class, walk along the rice field terraces of Tegalalang, take an interesting cooking class to know more about the local cuisine, join in dance classes and more. Making it the best area to stay in Bali for your romantic getaway.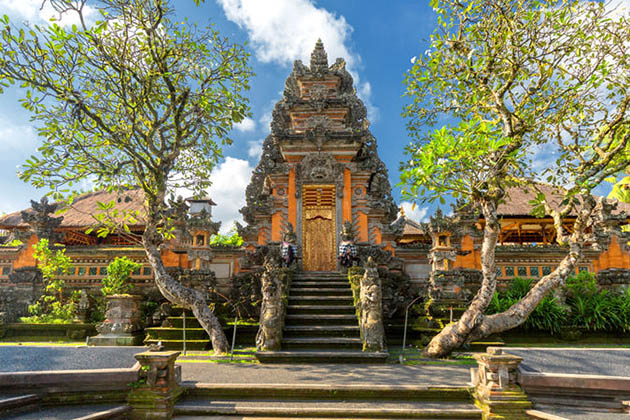 Uluwatu
Uluwatu is located on the Bukit peninsula, about 30 minutes' drive south of Denpasar airport. This incredible Bali honeymoon spot is perfect for exploring temples, water sports, and watching the sun slip away behind the horizon on the sea. The town also has plenty of incredible mountainous views and lush winding greenery. Here you can discover some of the best things to do in Bali for honeymooners who love to surf! Relax and unwind by the sea, on some of the best beaches to stay in Bali, on your romantic honeymoon in Uluwatu.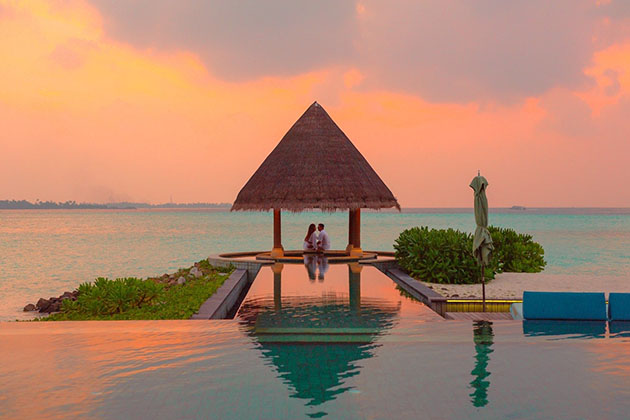 Seminyak
About 20 to 30 minutes from the airport lies the heart of Bali's tourism and ex-pat community – Seminyak, a not-to-miss Bali honeymoon destination. Seminyak is busy and bustling and hosts some of the best dining and nightlife on the island. Seminyak is another one of Bali's more fast-paced cities, however, it is less of an intense ride than its close neighbor Kuta. About a 20 to 30-minute drive from Denpasar airport, Seminyak offers luxurious villa stays and plenty of renowned spas. Seminyak Bali is a good grounding point to take day tours and trips from, without getting too far out of the action.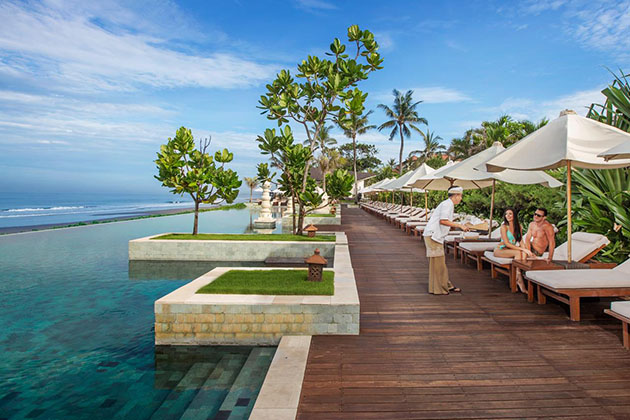 Nusa Dua Beach
Nusa Dua is a hotbed of 5-star luxury resorts in Southern Bali. This beguiling Bali honeymoon destination is known for its white-sand beaches, sprawling golf courses, and beautiful resorts, and it's often where people end up staying when they come to Bali. It's full of gorgeous hotels and a great place to be based for a few relaxing resort days but I personally wouldn't spend my whole trip here, since it's a bit removed from the other areas of Bali.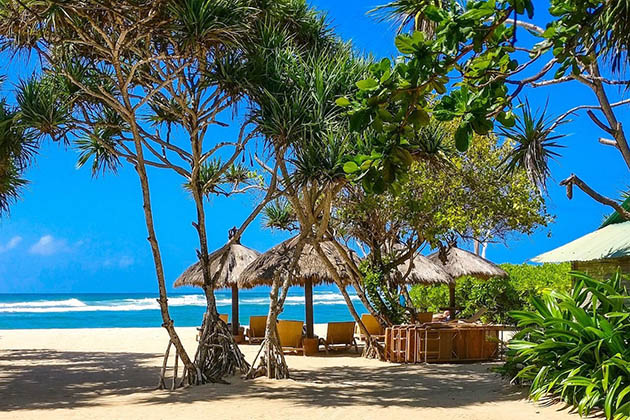 Nusa Lembongan
Just a short less-than-an-hour boat ride away from Bali, Nusa Lembongan is a perfect honeymoon destination in Bali Indonesia. Nusa Lembongan is just one of the three Nusa islands (Nusa Penida, Nusa Lembongan and Nusa Cenigan), but it's the one with the most going on and best places to stay. Nusa Lembongan is around 8km square in size and is easily the most popular of the three islands. From Nusa Lembongan, you can dive or snorkel with manta rays (it's known as one of the world's best dive sites), do yoga, rent a bike, or just sit back and enjoy some cocktails and sunsets on the beach.