General Information
Duration: 12days/11 nights
Tour Routine: Jakarta – Yogyakarta – Java – Bromo – Ubud – Nusa Dua
Intended Travel Date: Available all the time
Start/End: Yogyakarta/Bali
Travel Style: Sightseeing, In-depth Cultural
Tour Highlights:
Immerse into the mesmerizing beauty of Bali & Java
Visit one of the world largest Hindu temples: Prambanan
Discover the ecology system at Jomblang & Grubug caves
Indulge in the cultural tradition of Bali & Java
Brief Itinerary
Day 1: Jakarta – Yogyakarta
Day 2: Borobudur – Prambanan – Mendut – Pavon temples (B, L)
Day 3: Guided tour of Java (B, L)
Day 4: Jomblang & Grubug caves – flight to Surabaya (B, L)
Day 5: Free day in Bromo (B)
Day 6: Bromo sunrise tour – ferry transfer to Bali (B, L)
Day 7: Menjangan – Ubud (B, L)
Day 8: Ubud Discovery (B, L)
Day 9: Ubud – Nusa Dua (B)
Day 10: Nusa Dua – Padang Padang Beach – Melasti Beach (B)
Day 11: Nusa Dua: a Free Day at Leisure (B)
Day 12: Bali Departure (B)
Please note that every element of this Enchanting Indonesia Tour below can be tailored. Tell us your specific interests and we are happy to make adjustments for you. Your inquiry is totally FREE and you are under no OBLIGATION!
Full Itinerary
Day 1: Jakarta Arrival – Yogyakarta
Halo! Welcome to Jakarta, the cosmopolitan capital of Indonesia.
Upon arriving at Jakarta's airport, you will board a domestic flight to travel to Yogyakarta. Reach Yogyakarta and meet your driver who will drop you off at your hotel. Take rest and prepare yourself for interesting days ahead.
Day 2: Borobudur – Prambanan – Mendut – Pavon temples (B, L)
Visit one of the largest Hindu temples in the region, Prambanan, which dates back to the 9th century AD. Enjoy a guided tour of the temple with your guide. This stunning temple complex is a UNESCO World Heritage site and is home to 224 shrines.
The three biggest temples in this complex are dedicated to Shiva (the destroyer/transformer), Vishnu (the preserver) and Brahma (the creator). Your next destination is the world's largest Buddhist temple, also a UNESCO World Heritage site, the famous Borobudur, which was also built in the 9th century AD.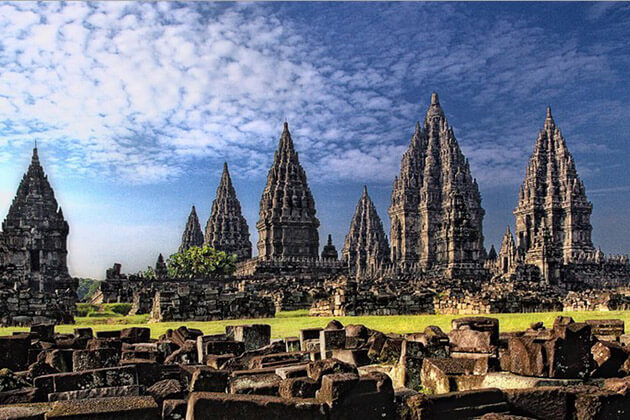 Day 3: Guided tour of Java (B, L)
Travel to the Dieng Plateau after a hearty breakfast. The name 'Dieng' comes from the words 'Di Hyang,' which means 'abode of the gods'. The plateau is situated amid a beautiful volcanic landscape and is home to sulfur springs and colored lakes.
Explore these lunar-like, fairytale landscapes to realize why the ancient Javanese people considered the plateau to be a source of supernatural powers. Head for Sikidang, a crater with hot mud bubbling inside.
Your next destination is the Arjuna Temple Complex – one of the oldest temple complexes in Java. It consists of 5 temples inside the complex and 4 more temples outside. All of them were built in the late 12th century when the area was part of the Kalinga kingdom under the reign of the Sanjaya Dynasty.
Your last stop today is an enchanting lake that changes color tones from red to green to blue to white and even mauve.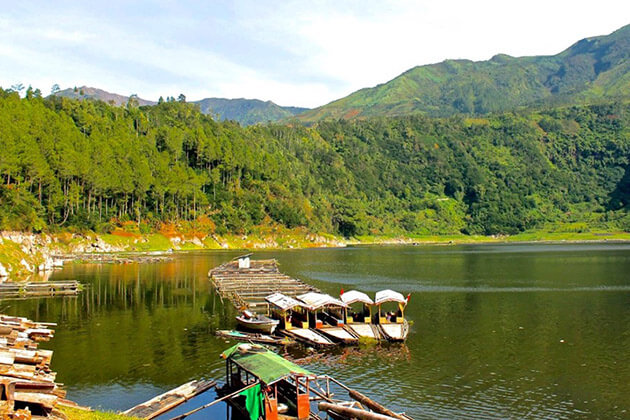 Day 4: Jomblang & Grubug caves – flight to Surabaya (B, L)
Today's tour requires courage on your part. Travel to Jomblang and Grubug caves, some of the biggest caves in Indonesia, both of which are surrounded by dense ancient forests. Using the single-rope technique (SRT), you will descend 20 meters below the surface to reach the entrance of the Jomblang Cave.
Our experienced instructors will assist you and keep you safe at all times. Head for the Grubug Cave next. Enjoy a thrilling, 300-meter journey in the darkness and see an underground river.
After the cave adventure comes to an end, your driver will take you to the airport from where you will catch a domestic flight to Surabaya. Meet your driver at the airport and transfer to Bromo Hotel upon reaching Surabaya.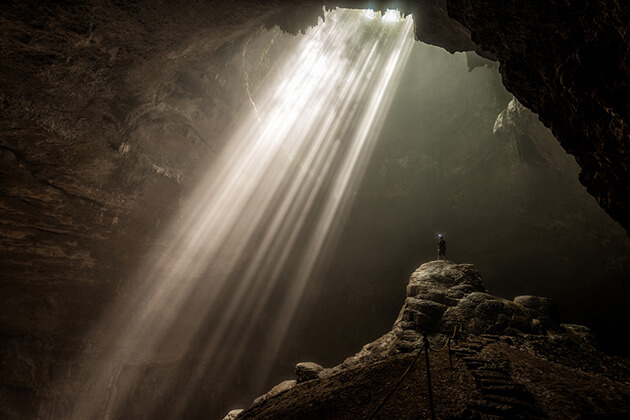 Day 5: Free day in Bromo (B)
After a delicious breakfast at the resort, you can head out to explore the surrounding areas and enjoy lovely views of the mountains. The cool climate and peaceful ambiance of this village in the mountains of Java provide the perfect setting to relax after the intensive program of the last 4 days.
Day 6: Bromo sunrise tour 
– ferry transfer to Bali 
(B, L)
Wake up before sunrise. Hop into a four-wheeler after a quick breakfast and head for Penanjakan to see the jaw-droppingly beautiful sunrise over Bromo.
Continue driving through a desert-like landscape to reach the foot of Mount Bromo, one of the most iconic mountains of Indonesia. See the majestic volcano located inside the massive Tengger Caldera, a volcanic crater, which is surrounded by Laut Pasir, which translates into the 'sea of sand'.
Enjoy an exciting pony ride to reach the crater and climb on top of it. Head back to the hotel to take a nice, warm shower before transferring to your next destination. Enjoy a 5-hour ferry ride from Java to Bali. Check-in at NusaBay Menjangan Resort, the only resort located within West Bali National Park.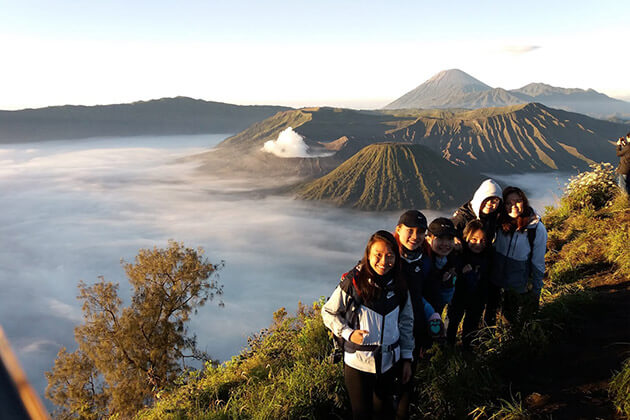 Day 7: Menjangan 
– 
Ubud (B, L)
Check out of your hotel and travel to the cultural capital of Bali: the town of Ubud. You will be taken there by private transport, stopping at several places of interest. Accompanied by our professional guide, you will visit the beautiful Buddhist monastery called Brahma Vihara Arama.
Next, drive into the Bedugul Highlands to see Beratan Lake and the Ulun Danu Lake Temple. Stop on reaching the iconic Jatiluwih rice terraces to enjoy the beautiful sceneries and take pictures. After arriving at Ubud luxury resort, relax and enjoy the premium services.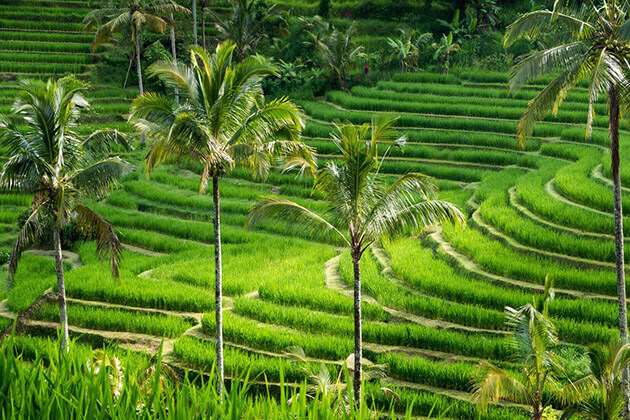 Day 8: Ubud Discovery (B, L)
Get back to nature and experience Bali's traditional local life on a trip to Rumah Desa. Set in a tranquil village amidst lush and untouched jungle, the center offers a series of authentic Balinese experiences that directly support the development of the village. Learn about the island's fascinating culture and look into the future during a palm reading session. Continue this discovery with a hike through the magical countryside, help the farmers plant rice paddies and get the chance to ride a water buffalo. Back at the center, dig into a delicious, local lunch before heading back to the hotel for a relaxing afternoon.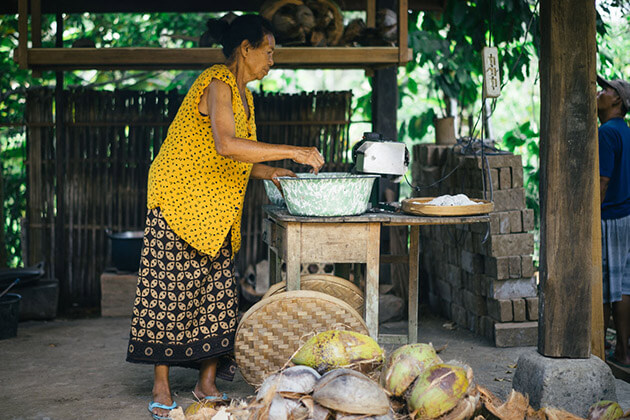 Day 9: Ubud – Nusa Dua (B)
Explore the beauty of Ubud while hiking Campuhan Ridge Walk, a scenic nature trail. Enjoy a hearty breakfast and check out of your accommodation. Your driver will drive you to the last destination of this amazing holiday: the beautiful, white sandy beach of Nusa Dua in the south of Bali. Visit Tegenungan Waterfall on the way. Swim in the pool below the waterfall if you want to.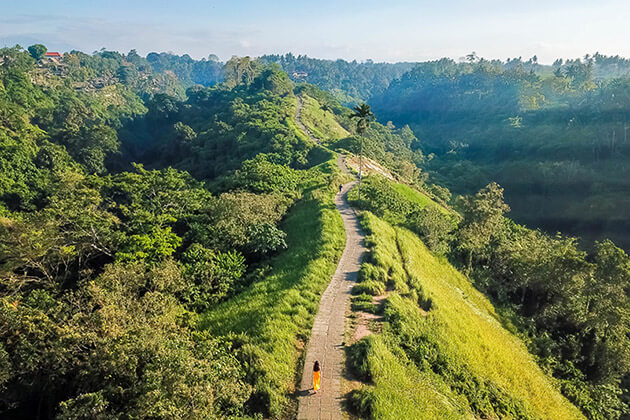 Day 10: Nusa Dua – Padang Padang Beach – Melasti Beach (B)
Wake up to the sound of the sea. Head out to explore the beautiful Bukit Peninsula after breakfast. The peninsula is famous for its beaches and crystal clear waters.
Travel to the famous Uluwatu Temple, which sits on the edge of a high, limestone ocean cliff. The view of the ocean from up here is magnificent and there are lots of cheeky monkeys around. Enjoy a traditional Kecak dance show after the sunsets. We have got you booked in the prime seats from where you can best enjoy this enchanting Balinese dance performance.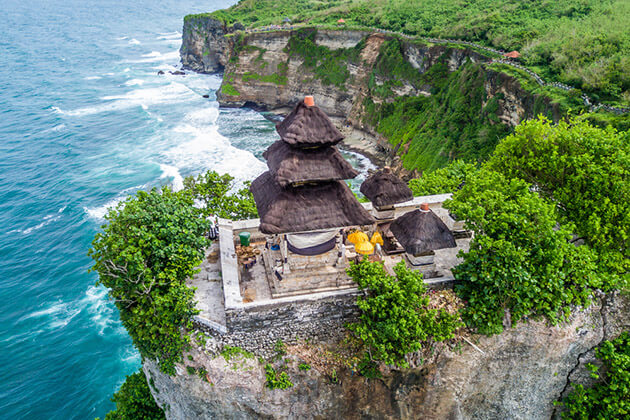 Day 11: Nusa Dua: a Free Day at Leisure (B)
You have a free day today. Visit places you want to, relax in the resort or work on that holiday tan on the Nusa Dua Beach.
Day 12: Bali Departure (B)
After breakfast, this morning, check out from the hotel and take the car to Bali's international airport to catch your flight back home. We hope that you love this 14 day Indonesia tour package. Thank you for making your trip with Go Indonesia Tours!