Like other countries in the world, Indonesia is beset with the Covid-19 outbreak. The country has changed policies regarding immigration & entry into their territory to resist the inevitable & rapid spread of the disease. Those measures involve obliging travelers to fulfill all Coronavirus Indonesia Health Certificate requirements in line with the Health Alert Card campaign.
When will Indonesia tours be available? Indeed, no one knows. This year, indeed, is the darkest period of tourism since the event of SARS in 2003. Tourism industry of every country now is unstable and yes, Indonesia would be the same.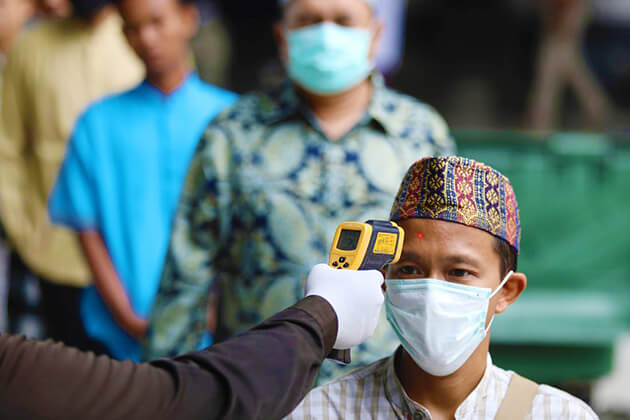 Entry Conditions in Indonesia
Currently, there is a ban on all foreign travelers, except for a select few, to the country, in response to the growing threat of the disease spreading over the country. Those being allowed to visit Indonesia are asked to carry specific documentation for the border authorities in order to allow them entry.
Coronavirus in Indonesia – Number of Cases
Up until now, 28th July 2020, there are 100,303 positive cases in which 56,655 cases have been fully recovered. Besides, it is recorded that 4,838 cases reported deaths.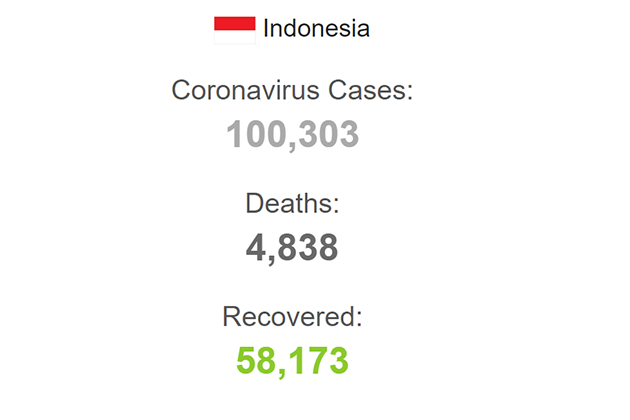 Tourist Attractions in Indonesia during Covid-19 – Closure List
City
Tourist Attractions
Jakarta
National Monument & surrounding area (closed until April 12th 2020)
Ancol (closed until April 12th 2020)
Kota Tua (closed until April 12th 2020)
Ragunan Zoo (closed until April 12th 2020)
Ismail Marzuki Park (closed until April 12th 2020)
Setu Babakan (closed until April 12th 2020)
Pitung House (closed until April 12th 2020)
Onrust Archaeology Park (closed until April 12th 2020)
The Jakarta History Museum (closed until April 12th 2020)
The Prasasti  Museum (closed until April 12th 2020)
The MH Thamrin Museum (closed until April 12th 2020)
The Art & Ceramics Museum (closed until April 12th 2020)
The Textile Museum (closed until April 12th 2020)
The Puppet Museum – Museum Wayang (closed until April 12th 2020)
The Maritime Museum (closed until April 12th 2020)
The Joang 45 Museum (closed until April 12th 2020)
MACAN Museum (to be announced)
Mandiri Museum (to be announced)
The Youth Pledge Museum (to be announced)
Museum of National Awakening (to be announced)
The National Museum (to be announced)
Seribu Archipelago National Park (to be announced)
Muara Angke Wildlife Reserve (to be announced)
Rambut Island Wildlife Reserve (to be announced)
Pavillion of DKI at TMII (closed until April 12th 2020)
Jakarta Planetarium (closed until April 12th 2020)
Dance Laboratory & Karawitan – Condet (closed until April 12th 2020)
Cipir Island (closed until April 12th 2020)
Kelor Island (closed until April 12th 2020)
Benyamin Suaeb Park (closed until April 12th 2020)
Puppet Show Bharata Miss Tjitjih (closed until April 12th 2020)
Jakarta Training Art Building (closed until April 12th 2020)
Basoeki Abdullah Museum (to be announced)
Formulation of the Proclamation Manuscripts Museum (to be announced)
Indonesia Nation Gallery (to be announced)
Bali
Beaches (all) & entertainment area in North Kuta (to be announced)
West Bali National Park (to be announced)
Bandung
Alun-alun Bandung (to be announced)
City Park (to be announced)
Bandung Planning Gallery (to be announced)
The Bandung City Museum (to be announced)
Bandung Creative Hub (to be announced)
Dago Car Free Day (to be announced)
Bosscha Observatorium (to be announced)
Gedung Sate Museum (to be announced)
Djuanda Forest Park (to be announced)
Bandung Geology Museum (to be announced)
Asia Africa Conference Museum (to be announced)
Korea Village Bandung (to be announced)
East Nusa Tenggara
17 Pulau Riung Nature Park (to be announced)
Batang Island Nature Park (to be announced)
Baumata Nature Park (to be announced)
Bipolo Nature Park (to be announced)
Camplong Nature Park (to be announced)
Gugus Pulau Teluk Maumere Nature Park (to be announced)
Lapang Island Nature Park (to be announced)
Menipo Nature Park (to be announced)
Rusa Island Nature Park (to be announced)
Ruteng Nature Park (to be announced)
Teluk Kupang Nature Park (to be announced)
Tuti Adagae Nature Park (to be announced)
Central Kalimantan
Bukit Tangkiling Nature Park (to be announced)
Sebangau National Park (to be announced)
Tanjung Keluang Nature Park (to be announced)
Tanjung Puting National Park (to be announced)
West Kalimantan
Mount Palung National Park (to be announced)
Tanjung Belimbing Nature Park (to be announced)
Kelam Hill Nature Park (to be announced)
Bukit Baka Bukit Raya National Park (to be announced)
Betung Kerihun Danau Sentarum National Park (to be announced)
Central Sulawesi
Lore Lindu National Park (to be announced)
Kepulauan Togean National Park (to be announced)
South Sulawesi
Bantimurung Bulusaraung National Park (to be announced)
Lejja Nature Park (to be announced)
Malino Nature Park (to be announced)
Taka Bonerate National Park (to be announced)
North Sulawesi
Bunaken National Park (to be announced)
Hotels in Indonesia during Covid-19 – Closure List
City

Hotels

Jakarta

Amaris Pancoran (closed from April 1st – 30th 2020)
Amaris Season (closed from April 1st – 30th 2020)
Aston Kartika Grogol (closed from March 31st – April 30th 2020)
Aston Marina (closed from March 26th – June 30th 2020)
Best Western Kemayoran (closed from March 30th – April 30th 2020)
Century Park (closed from March 29th – April 30th 2020)
Ciputra Cibubur (closed from March 27th – April 11th 2020)
GP Mega Kuningan (closed from March 26th – April 5th 2020)
Grand Cempaka (to be announced)
Kartika Chandra (closed from April 1st – May 31st 2020)
Maharadja (to be announced)
Morrisey (closed from April 2nd – April 30th 2020)
Oasis Amir (closed from March 26th – April 12th 2020)
Oria (closed from March 27th – April 5th 2020)
Ritz Carlton Pacific Place (closed from March 24th – June 30th 2020)
Royal Kuningan (closed from March 26th – April 12th 2020)
Sriwijaya (to be announced)
Swiss Belhotel Mangga Besar (closed from March 23rd – April 19th 2020)
Swiss Belinn Kemayoran (closed from March 26th – April 30th 2020)
The Falatehan (to be announced)
The Media (closed)
Traveller (closed from March 25th – April 5th 2020)

Bali

D Varee (closed from March 26th – April 9th 2020)
Double Six (closed from March 21st – April 30th 2020)
Santika Seminyak (closed from April 1st – June 30th 2020)
Swiss Belhotel Tuban (closed from April 1st – June 30th 2020)
The Anvaya (to be announced)
The Thamarind Nusa Dua Lembongan (closed from March 25th – April 30th 2020)

Bandung

Patra Dago Hotel (to be announced)
Ruby Syariah Hotel (to be announced)
West Point Hotel (to be announced)
The Naripan Hotel (to be announced)
Kembang Hotel (to be announced)
Serena Hotel (to be announced)
Green Batara Hotel (to be announced)
Sensa Hotel (to be announced)
Zest Hotel (to be announced)
Chara Hotel (to be announced)
Geulis Boutique Hotel (to be announced)
Aston Brag (to be announced)
Luxton Bdg (to be announced)
Sheraton Bandung (to be announced)
House Sangkuriang (to be announced)
De Java (to be announced)
Grand Cokro (to be announced)
Grand Pasundan (to be announced)
The 101 Dago (to be announced)

Bogor

Aston Bogor (to be announced)
Swiss Belhotel Bogor (closed from April 1st – April 30th 2020)
The 101 (to be announced)
Zest Hotel (closed from March 30th – April 30th 2020)

Surabaya

Acardia Surabaya (to be announced)
Artotel (to be announced)
Royal Singhosri (to be announced)
Tunjungan Hotel (closed from March 29th – April 15th 2020)