General Information
Duration: 11 days/10 nights
Tour Routine: Bali – Nusa Dua – Ubud – Seminyak
Intended Travel Date: Available all the time
Start/End: Bali/Bali
Travel Style: Sightseeing, In-depth Cultural
Brief Itinerary:
Day 1: Bali Arrival (B)
Day 2: The Devdan Show – dancing spectacle (B)
Day 3: Nusa Dua – free day at leisure (B)
Day 4: Cultural tour & Fruit Carving Class (B)
Day 5: Ubud and Kintamani Full Day Visit (B)
Day 6: Hindu Yoga Class, Silversmithing Class (B)
Day 7: One-hour massage treatment (B)
Day 8: Bedugul – Seminyak Full Day Visit (B)
Day 9: Seminyak – free day at leisure
Day 10: Private Dinner on the Seashore
Day 11: Seminyak Departure (B)
Please note that every element of the tour below can be tailored. Tell us your specific interests and we are happy to make adjustments for you. Your inquiry is totally FREE and you are under no OBLIGATION!
Start now!
Full Itinerary:
Day 1: Bali Arrival (B)
Mingalabar! Welcome to your enthralling Indonesia honeymoon vacation!
You will be picked up by your personal assistant and driver at the airport. They have prepared two cold young coconuts for you or a bottle of wine of your choice and they will provide you with a complimentary welcome kit and a WiFi router with a prepaid internet package.
Then, you will be transferred to your 5* beachfront hotel, the Nusa Dua Beach Hotel & Spa, located just 25 minutes from Ngurah Rai Airport. With 3 outdoor pools and direct beach access, the resort resembles a palace of the Balinese with complete spa facilities, more than 5 restaurants, 4 bars, and an outdoor theatre. Upon arrival, relax after the flight by going out to the beach and soak up the warm tropical sun.
Day 2: The Devdan Show – Dancing Spectacle (B)
Relax in the day because in the evening you are up for a spectacular 90-minute show at the Nusa Dua Theatre. The Devdan Show is taking all spectators on a cultural journey across different islands in the Indonesian Archipelago. It is an unforgettable show, thrilling young and old and it is not to be missed your stay in Bali.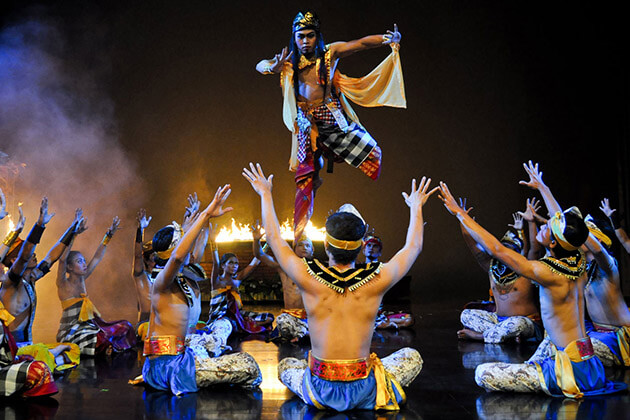 Day 3: Nusa Dua – Free Day at Leisure (B)
There is nothing planned for you today, so you can simply relax and do whatever you may feel like. After breakfast in your hotel, head to the beautiful white sand beach to soak up the sun and swim in the crystal clear water.
Day 4: Cultural tour & Fruit Carving Class (B)
Today is a free day at leisure. You may join the free fruit carving handicraft class or go on the guided tour around the resort. You can also choose to relax at the spa or enjoy the resort's recreation facilities such as the tennis and squash courts and the fitness center.
Day 5: Ubud & Kintamani Full Day Visit (B)
Our passionate and professional English-speaking guide will pick up you for a full day tour across the island. Today is an inspiring day to witness the combination of traditional arts, crafts, and stunning nature & cultural sites. You will first be taken to the artisan villages surrounding Ubud and the next stop is at a coffee Luwak plantation farm where you get to try a selection of 10 local coffees and teas to the stunning views of rainforest valleys and rice paddies. You will also visit the cultural monument Gunung Kawi, featuring ancient rock-carvings hidden away in a peaceful river valley near Ubud.
From there, the journey continues to one of the most magnificent rice paddy views of the island at Tegalalang and from there on, you will head into the Mount Batur in Kintamani to marvel at the big shimmering volcanic lake of Batur await.
Enjoy your lunch at one of the valley-edge restaurants which is the best spot to behold the impressive views. Your wonderful day tour finishes when you are safely dropped off at your private pool villa in the 5* Visesa resort in Ubud.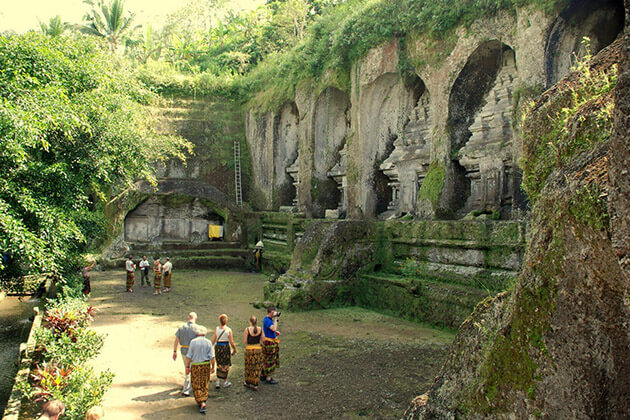 Day 6: Hindu Yoga & Silversmithing Class (B)
Start the day with a visit to the ancient Hindu yoga practice – a great way to greet the day and get your mind and body to make the most out of another day in paradise. The Desa Visesa Resort is idyllically surrounded by the unspoiled nature of central Bali. You can choose to stay in, exploring all of the resort's 5* facilities such as the outdoor pool, the fitness center, and the beautiful on-site spa.
Later on this day, you will be joining a silversmithing class, where your hands will learn new skills. Making your own piece of jewelry is really a unique experience and you will be surprised at how you can make something so beautiful in just 3 hours of time.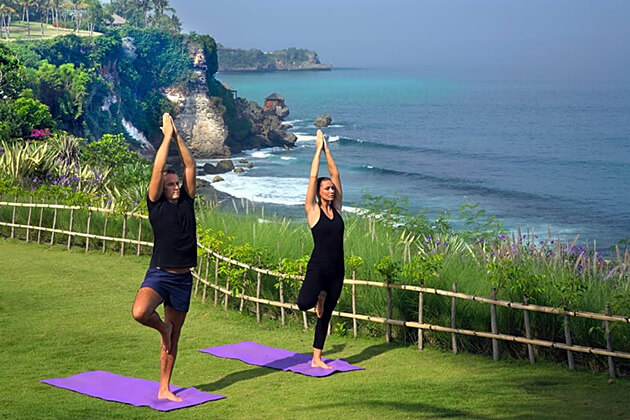 Day 7: Experience One-hour Massage Treatment (B)
Today you are booked in for a one-hour Balinese massage at the Healing Spa. It is a beautiful place designed for you to have a wholesome, holistic experience. There are skillful spa therapists, blissful treatments and you can also book a private consultation with a renowned Balinese healer if you wish. The rest of the day you may spend at leisure with your beloved.
Day 8: Bedugul – Seminyak Full Day Visit (B)
Today it is time to head to your next destination on the island, Seminyak, but first, you get to enjoy a full-day guided tour up north to the Bedugul area of Bali, lying 1,500 meters above sea level. The first stop is at a local plantation farm where you get to pick your own strawberries. Next, you will stop at the Bedugul Hotel, an unusual site of interest built by the Suharto Family over 20 years ago but it was abandoned. From here, it is time to visit the beautiful lake temple Ulun Danu Beratan, a much-photographed landmark of Bali and the journey continues to the stunning Jatiluwih rice terraces. Another highlight of this full-day tour is the cliff-edge Tanah Lot sea temple and afterward, it is time to go to your final stop of this wonderful day;
This luxurious 5* resort is located in the most upscale area of town, within walking distance of Petitenget Beach and Seminyak Square, the most high-end shopping district of this trendy beach destination of South Bali.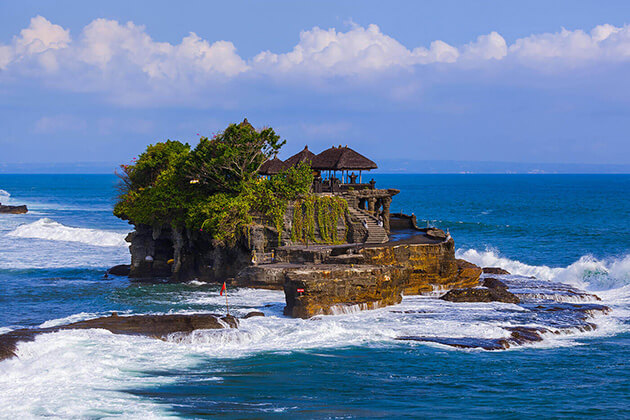 Day 9: Seminyak – Free Day at Leisure
Today is a free day for you to enjoy your free day at leisure, no activities planned. However, your personal travel assistant is ready to advise some good options for you to spend the day or you can check your restaurant & nightlife e-guide for more ideas.
Day 10: Private Dinner on the Seashore
Today is a free day for you to enjoy your private Indonesia tour your own. A magnificent sunset sky, the fresh ocean breeze, burning candles – tonight is all about the two of you as you will get to enjoy a romantic beachfront seafood dinner.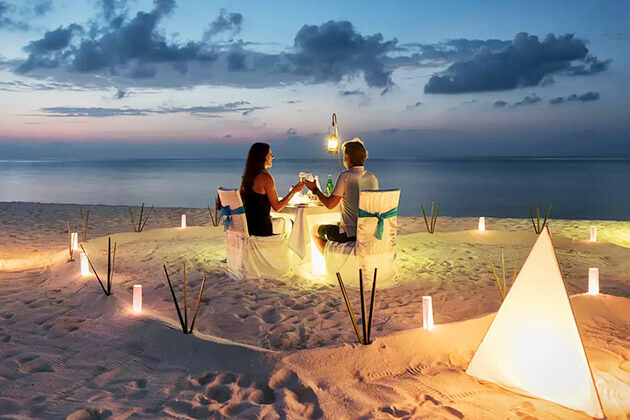 Day 11: Seminyak Departure (B)
After breakfast, spend your leisure time in the resort or at the beach, pack-up and be ready in time to get picked up by your private driver to catch your flight at the airport. Trip ends. Thank you for making your trip with Go Indonesia Tours!