General Information
Duration: 10 days/9 nights
Tour Routine: Bali – Ubud – Candidasa – Seminyak – Bali
Intended Travel Date: No Fixed Departure, Pick-up Anytime You Wish
Start/End: Bali/Bali
Tour Style: Landscape, In-depth Cultural
Guides: Indonesia Local Guide (English Speaking Guide, Other Languages upon Request)
Transportation: Private First-class Air-conditioned Vehicles
Brief Itinerary:
Day 1: Bali Arrival
Day 2: Ubud Discovery (B, L)
Day 3: Traditional Balinese Wedding Ceremony (B, L)
Day 4: Ubud – Bali Lakes & Hills by E-Bike (B, L)
Day 5: Ubud – East Bali (B, L)
Day 6: Candidasa – Lempuyang Temple (B, L)
Day 7: Candidasa – Seminyak (B, D)
Day 8: Seminyak (B)
Day 9: Uluwatu Temple – Kecak Dance – Romantic Cave Dinner (B, D)
Day 10: Bali Departure (B)
Please note that every element of the tour below can be tailored. Tell us your specific interests and we are happy to make adjustments for you. Your inquiry is totally FREE and you are under no OBLIGATION!
Start now!
Full Itinerary:
Day 1: Bali Arrival
Upon arrival be picked up at Ngurah Rai International Airport by your local guide and driver. Then quickly transfer to the hotel for check-in. The rest day is yours. Enjoy your own time at leisure.
Overnight in Ubud.
Day 2: Ubud Discovery (B, L)
A full day to explore the highlights of Ubud. After breakfast, meet the guide and head to the Sacred Monkey Forest and to get into the local spirit. After exploring through this Monkey Forest, proceed to Ubud Palace and Ubud Market where local vendors come to buy and sell food as well as handicrafts and textiles.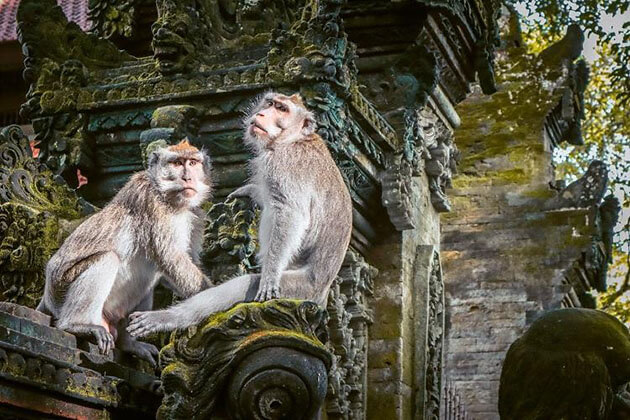 Next up, visit ARMA Museum (well-known as Agung Rai Museum of Art) and enjoy one of the best permanent collections of Balinese and Indonesian paintings & sculptures. Here you can learn great information about the rich artistic traditions on the island.
After a cozy lunch at the local restaurant. Continue to Mas Village to meet with a traditional shaman for a special Balinese blessing ceremony. Then sit down with an astrologer who uses ancient methods passed down from generation to generation to predict what the future has in store
Overnight in Ubud.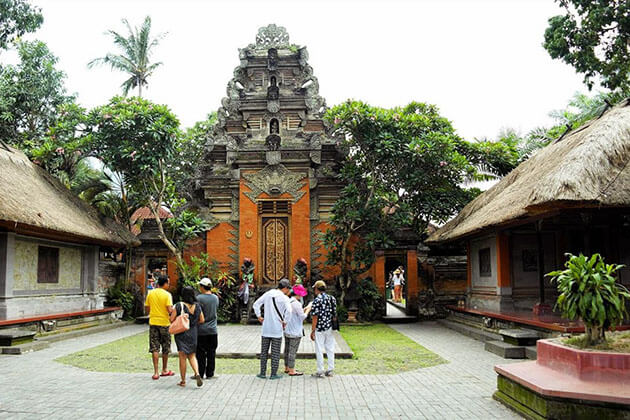 Day 3: Traditional Balinese Wedding Ceremony (B, L)
Today experience an exclusive Balinese wedding ceremony this morning. Your local guide will introduce you to the traditional rituals of an authentic island wedding while forging a deeper connection with the local culture and with each other.
After breakfast, drive to Batusepih Village where the actual ceremony will take place. Change into traditional wedding costumes and apply Balinese make-up, transforming into a local style bride and groom. Partake the ceremony by placing a segehan offering at the entrance of the home. This ritual announces the official start of the ceremony.
Around 10:45 the main wedding commences. Perform mebiakala and metegen tegenan, ceremonies which are believed to cleanse the physical and spiritual body and prepare the couple to enter life in matrimony.
Proceed to a Bale Gede, a special building where prayers will be said to bring happiness and success for long-lasting married life. Next up is the procession of the bride and groom will walk towards the place of worship of the family, after arriving in family temple, brides are welcome to pray according to their respective beliefs. Share your feeling with a meaningful event.
Return to the hotel. A CD of professional photos documenting the Balinese wedding will be presented to share with friends and family back home.
Overnight in Ubud.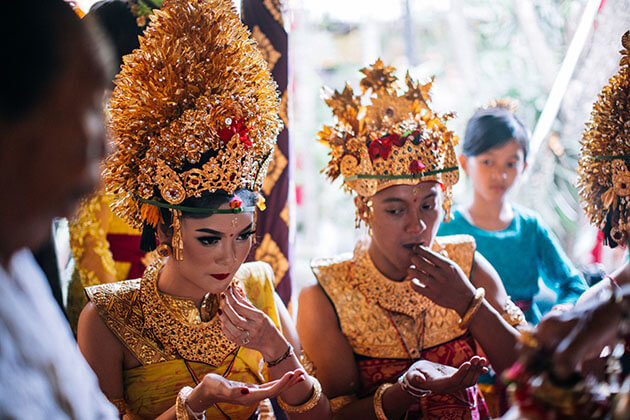 Day 4: Ubud – Bali Lakes & Hills by E-Bike (B, L)
Breakfast is served at the hotel. Then make your first stop at the Royal Temple of Mengwi which was built in 1634 to serve as the family temple of the Mengwi dynasty. Admire this stunning historic architecture, featured by a moat with multi–roofed Meru shrines and intricately carved wooden gates. Continue drive to the rice terraces of Jatiluwih that are recognized by the UNESCO as cultural heritage for their unique Subak irrigation system. Exploring the terraces on an e-bike allows you to maximize now only your comfort level but also to experience the best parts of the region. After a short safety briefing, set off for a 1-hour bicycle ride led by an experienced guide. Ride along farmers doing their daily routine and stop at Besi Kalung temple located in the middle of the rice fields.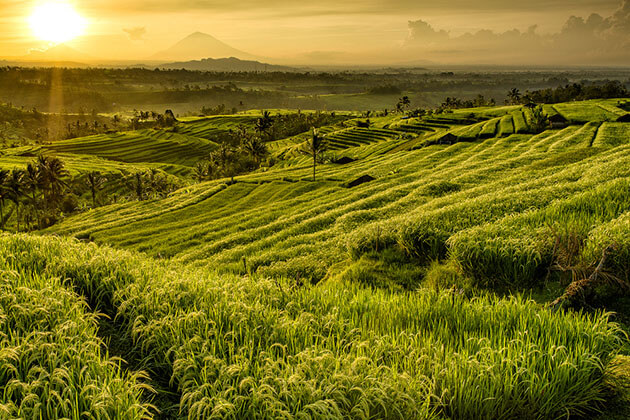 Lunch will be provided at a local restaurant.
Carry on to Lake Bratan, one of Bedugul's three natural lakes. Admire the views of the peaceful waters and snap photos of Ulun Danu Bratan Temple, an iconic 17th-century temple located on the lake's edge. Next up is a visit to the traditional market of Bedugul where a myriad of locally-grown fruits, vegetables and orchids are for sale. Browse the stalls alongside the locals and discover spices and herbs used in Balinese cooking.
Having explored the highlights of Balis highlands, return to your hotel.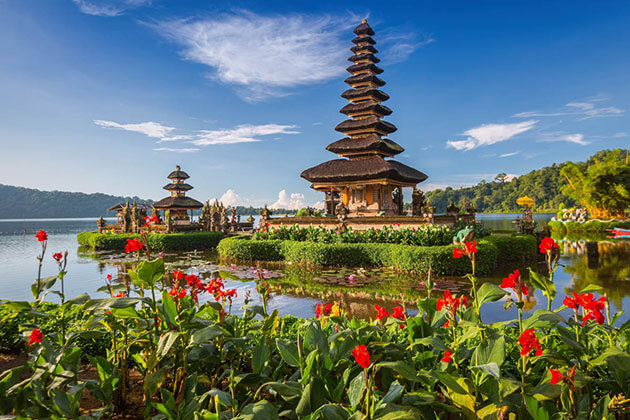 Day 5: Ubud – East Bali (B, L)
Today, climb into a Volkswagen 181 convertible which takes you to a memorable day tour in Bali. These retro vehicles were built to handle rough terrain and today's journey will venture off the island's main roads to showcase a more authentic side of Bali.
Start with a drive to Karangasem regency to visit Besakih temple. Drive into the hills. Feel the breeze lightly touch to your skin and behold the views while traveling with the top down toward Mt Agung, Bali's largest volcano. Stop at the ancient sanctuary of Besakih. For a stroll through this impressive temple complex. Witness local worshippers who have come to pay homage and learn about Bali's rich spiritual traditions from the guide.
After lunch, continue driving through mile after mile of beautiful landscapes. Stop to take photos of stunning rice terraces and to visit sacred Tirta Gangga water palace. You might also stop at Tenganan, a charming village of the Bali Aga people. Spend your time to walk around the village to observe the traditional way of life and witness weavers making complicated ikat cloths believed to have magical qualities.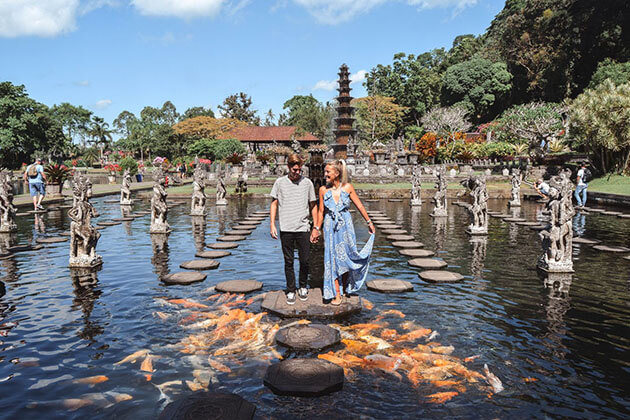 Day 6: Candidasa – Lempuyang Temple (B, L)
Start the day with a visit to Pura Lempuyang – the 'highest lantern', which is one of the most important and sacred temples in Bali. The entrance resembling a gateway to heaven, panoramic views open up as wide as from the summits of nearby Mount Agung overlooking at the beautiful east coast of Bali with its tranquil bays.
Embark on a two and a half hours uphill hike on a trail hidden in grasslands and Pandan forests. Get not only rewarded by breath-taking views but moreover with tea or coffee and Balinese snacks served at 1,058 meters above sea level. Receive a blessing with holy water collected by a Balinese Hindu priest from bamboo stems growing inside the temple. From the bottom of Belibis Mountain continue on a short drive to a beautifully situated restaurant for a strengthening Megibung lunch, served in the style of the Royal family of Karangasem.
Late this afternoon, hop on in the Jukung, a traditional wooden boat and cast off from the beach out onto the water to witness one of the most beautiful sunsets across the whole island.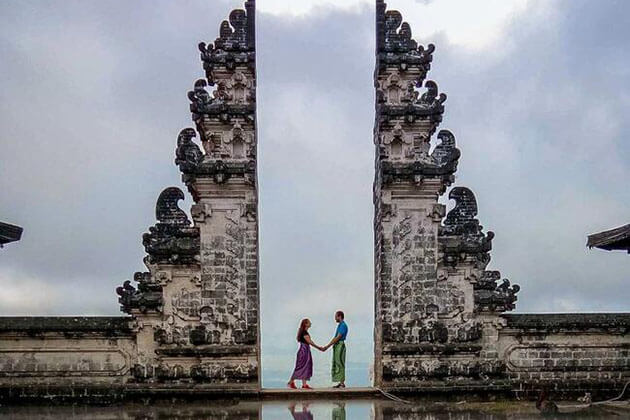 Day 7: Candidasa – Seminyak (B, D)
Enjoy your morning at leisure. In the late morning, we depart to Seminyak. After check-in, free at leisure until late afternoon.
In the late afternoon, get ready for a flavorful night out. Join an exciting Seminyak food tour along the main strip and the hip Petitenget area which are long-standing favorite destinations for dining and nightlife in Bali.
When the sun begins to set, head to a stylish rooftop bar on a vintage Vespa to start the evening with a cocktail. After the sun has dipped into the ocean and while the surfers catch their last waves, leave the bar to head to a chic eatery that delivers a perfect combination of contemporary international and traditional Indonesian themes. You will have a healthy starter platter served while outside on one of the busiest streets of Seminyak where you can observe the local residents and tourists flock to the diverse dining venues in the area.
After dinner, take a short drive to the next stop on this culinary tour, arriving at a wooden Javanese Joglo house for the main course. Savor the exotic spices and delicate flavors of truly authentic local cuisine.
Then it is time for dessert. Head to a stylish lounge set amid the rice paddies where a delicious sweet dessert is served.
After enjoying the best of Seminyak's culinary scene, return to the hotel or, for night owls, you can go to one of the many bars in the area for a nightcap.
Overnight in Seminyak.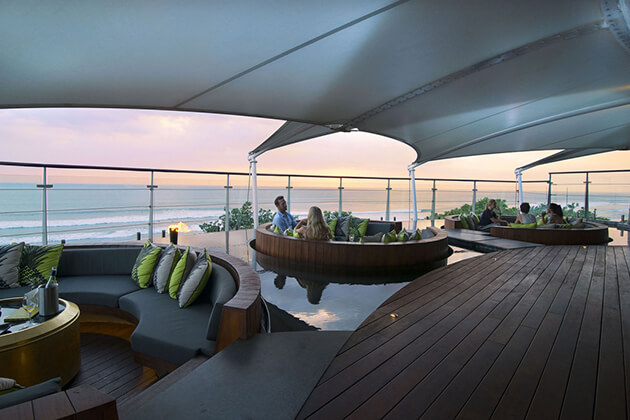 Day 8: Seminyak (B)
Today is free for you to enjoy your time in Seminyak. You can take an optional surfing tour. In this program, you will learn how to surf in Legian beach, a quitter shore than Kuta beach in South which gives slightly better conditions for learning especially for first wave catcher. Get a clearer understanding of the techniques, the form, positioning on the board, and most importantly find the way on the waves after around 1 or 2 hours of guidance from the experienced team of instructors.
This course can be arranged in SIC (2 hours) or a couple of private basis (1 hour).
Overnight in Seminyak
Day 9: Uluwatu Temple – Kecak Dance -Romantic Cave Dinner (B, D)
Breakfast is served in the hotel after which you have free time at leisure.
This afternoon, follow your guide to visit the beautiful cliff temple of Uluwatu. Set dramatically on a rock cliff, the temple provides a stunning sunset view and also the monkey population. Here, watch the Kecak Dance performance, the dramatic dance which is only performed by men who percussively chanting "cak" and throwing up their arms
After the sunset tour at Uluwatu Temple, proceed for a romantic cave dinner in the secluded beach at Nusa Dua. Upon arrival at the location blessed with a white sandy beach and naturally formed cave as the background of it and lit by countless lanterns and candles which adding to the romantic ambiance of tonight dinner.
Overnight in Seminyak.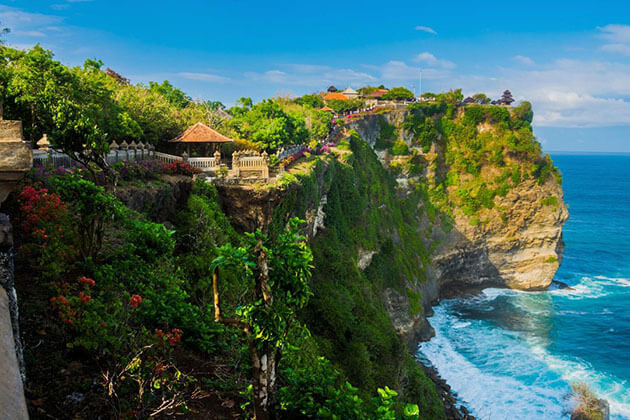 Day 10: Bali Departure (B)
After breakfast, enjoy your time until the driver comes to transfer you to the airport where your Indonesia tour ends. Thank you for making your honeymoon trip with Go Indonesia Tours!