General Information
Duration: 9 days/8 nights
Tour Routine: Medan – Bukit Lawang – Berastagi – Lake Toba – Medan
Intended Travel Date: No Fixed Departure, Pick-up Anytime You Wish
Start/End: Medan/ Medan
Tour Style: Landscape, In-depth Cultural
Guides: Indonesia Local Guide (English Speaking Guide, Other Languages upon Request)
Transportation: Private First-class Air-conditioned Vehicles
Tour Highlights:
Explore the religious landmarks of Medan
Trek into Bukit Lawang's lush jungle to encounter orangutans in their natural habitat
Learn more about the local Batak people with their unique set of customs and traditions
Stay on Samosir Island in the middle of the world's largest volcanic lake
Brief Itinerary:
Day 1: Medan Arrival
Day 2: Medan – Bukit Lawang
Day 3: Bukit Lawang
Day 4: Bukit Lawang – Berastagi
Day 5: Berastagi – Lake Toba
Day 6: Lake Toba
Day 7: Lake Toba
Day 8: Lake Toba – Medan
Day 9: Medan Departure
Please note that every element of the tour below can be tailored. Tell us your specific interests and we are happy to make adjustments for you. Your inquiry is totally FREE and you are under no OBLIGATION!
Start now!
Full Itinerary of Indonesia Active Tours
Day 1: Medan Arrival – Starting Indonesia A
ctive Tours
Welcome to Medan – the heart of Sumatra!
Arrive at Kuala Namu International Airport, meet your local tour guide and transfer to a hotel in Medan. As Sumatra's major city, Medan offers a number of historic and religious sites to provide a good introduction to this vast and diverse island.
Today spend your time exploring the Dutch-designed Maimun Palace. Once the royal palace of the Sultanate of Deli, this landmark now serves as a museum and its unique interior design offers an impressive insight into the different cultural influences during the late 1800s. Continue to the Grand Mosque of Medan and then to Gunung Timur Temple, the largest Chinese Taoist temple in the city. Finally, fulfill your city tour at the old center of Medan city, Kesawan area, to wander the colonial streets and gaze out at the life of the city dwellers.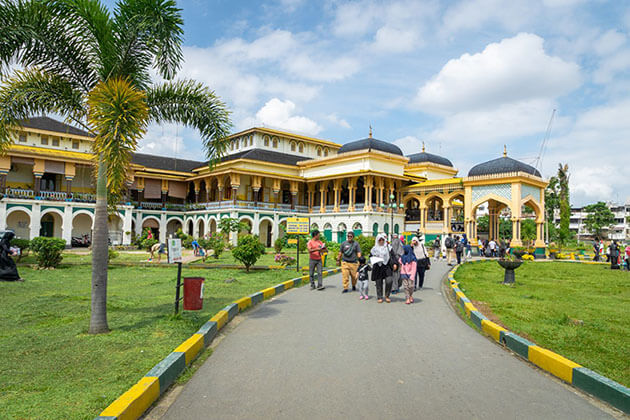 Day 2: Medan – Bukit Lawang
After breakfast, begin the journey to Bukit Lawang – a special village nestled within the Gunung Leuser National Park where locals and foreigners alike are dedicated to the rehabilitation and protection of wild orangutans. On the way, stop at a rubber and palm oil plantation to learn about industries that support most of the local population. Arrive in the afternoon for hotel check-in then spend the rest of the day at leisure during active tours in Indonesia.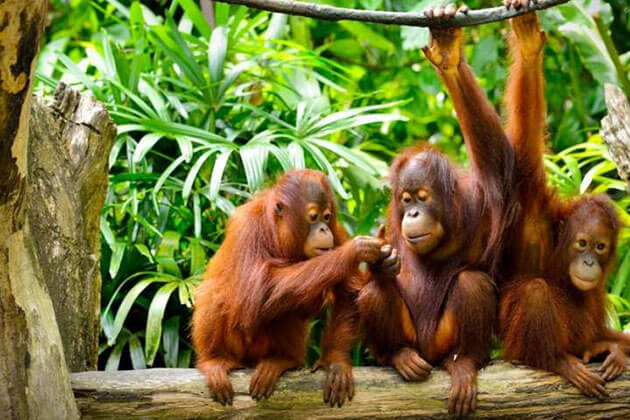 Day 3: Bukit Lawang
Prepare for an exciting day of nature and wildlife encounters! Begin by crossing the river aboard a traditional canoe then trek into the lush jungle to bump into orangutans feeding on fresh fruit. These intelligent primates are critically endangered; to watch them majestically perched among the trees is a truly unique experience that won't easily be forgotten. Continue hiking deeper into the jungle to discover an array of rare flora and fauna native to the tropical rainforest. After approximately 3 hours of jungle trekking, return to the hotel and explore the quaint town of Bukit Lawang independently.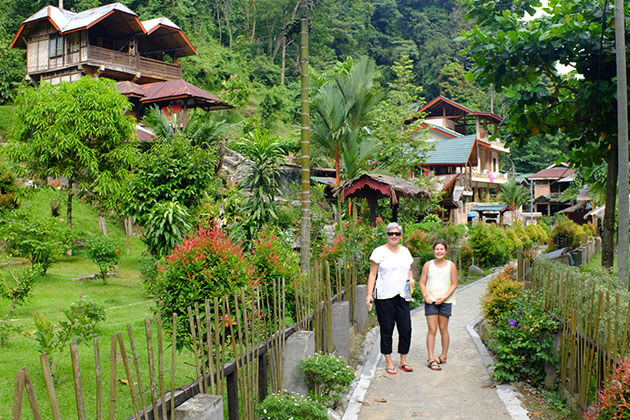 Day 4: Bukit Lawang – Berastagi
Leave behind the orangutans in Bukit Lawang and head to Berastagi, an authentic Indonesian town. On the way, make several stops including at Sembahe River – a favorite local swimming spot. Arrive in Berastagi and visit a replica of Myanmar's infamous Shwedagon Pagoda at Lumbini Natural Park. After soaking up the ambiance of the temple complex, stop by a local fruit market to find an array of fresh delights. Finish the afternoon's sightseeing atop Gundaling Hill (1575 meters above sea level) with panoramic views of volcanoes Sinabung and Sibayak.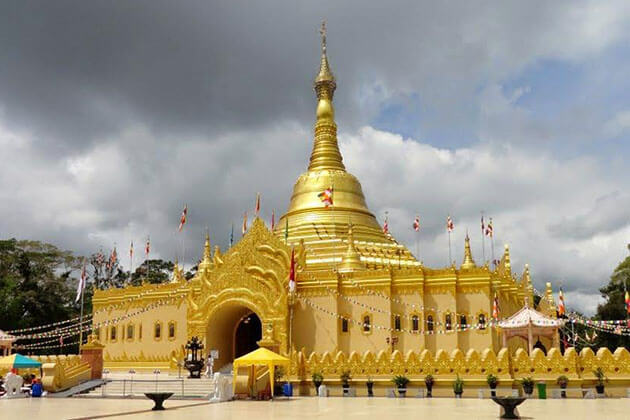 Day 5: Berastagi – Lake Toba in Indonesia Active Tours 
The morning of day 5 delivers you a chance to take a journey to the largest volcanic lake in the world – Lake Toba. Along the way, make stops at places of cultural and natural interest to discover local life with a visit to a traditional Batak Karo village. Here your guide will introduce you to the life of the Batak people and their unique housing structures. Continue up the Karo Highlands to the spectacular Sipisopiso Waterfall, the highest in Indonesia. Imagine life as a Batak Simalungun King at 'Rumah Bolon', one of the few remaining longhouses in Sumatra. Pass through Pematangsiantar city, and drive alongside an iridescent green tea plantation before reaching the lakeside town, Parapat. Finish today's journey with a ferry to Samosir Island in the middle of Lake Toba; now a peaceful and serene spot, this lake was formed 75 million years ago after the eruption of a supervolcano!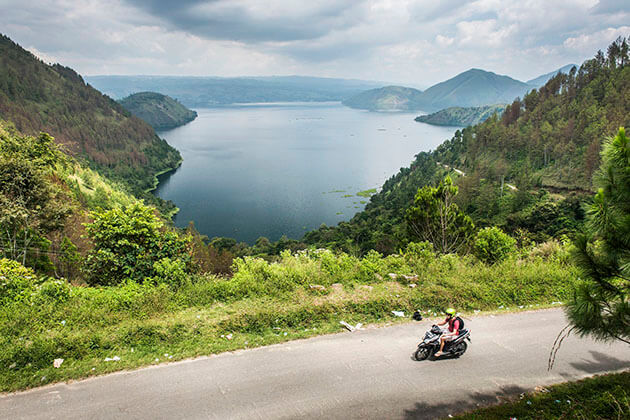 Day 6: Lake Toba
Whether you choose a motorbike or car for today's explorations, there is plenty to be discovered on Samosir Island – particularly in terms of the traditions and routines of the local Batak Toba people. First, stop by Ambarita Village to find an ancient courtyard made up of stone chairs and a stone table; this was the execution and meeting place of Siallagan Kings many years ago. Continue to Simanindo, on the northern tip of the island, to experience the traditional dance of the Batak people – you might even get the chance to give it a try too! Browse the Batak Museum then continue to visit the final resting place for the Kings of Sidabutar – the ancient ruling clan of the island.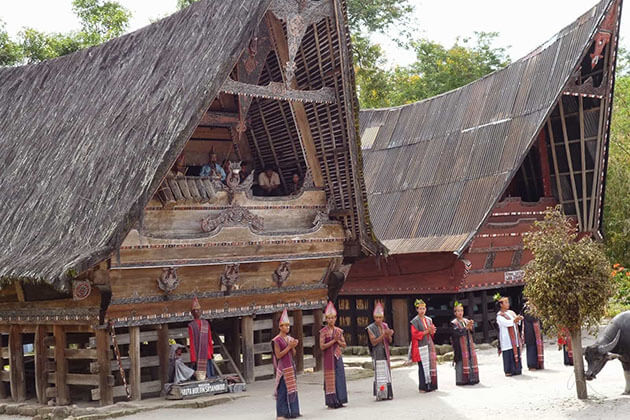 Day 7: Lake Toba
Today is a full day to explore the beautiful Samosir Island in Lake Toba. Take a ride through stunning countryside, traditional villages, and farms cultivating crops of exotic taste such as chili and cocoa. Take your time to play with the slight wind and behold the mesmerizing scenery.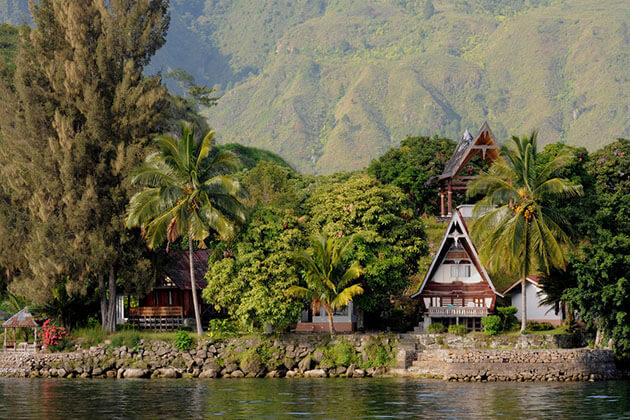 Day 8: Lake Toba – Medan
Depart the island of Samosir and begin the 7-hour journey back to Medan city. Spend the rest of the afternoon at leisure, remembering the good times had in Sumatra.
Day 9: Medan Departure – End of Indonesia Active Tours
After several days of exploring the jungles and ethnic villages of Sumatra, the time has come to leave this memorable place. Transfer to Kuala Namu International Airport for a departing flight. Trip ends. Thank you for making your Indonesia vacation with Go Indonesia Tours.