General Information
Duration: 12 days/11 nights
Start/End: Yogyakarta/ Sanur
Tour Route: Yogyakarta – Jombang – Mt Bromo – Banyuwangi – Pemuteran – Munduk – Ubud – Sanur
Intended Travel Date: Available all the time
Travel Style: Adventure & Discovery, In-depth Cultural
Brief Itinerary
Day 1: Yogyakarta Arrival (L)
Day 2: Yogyakarta – Kraton – Prambanan – Enjoy Ramayana Performance (B, L, D)
Day 3: Yogyakarta – Borobudur & Candirejo Village (B, L)
Day 4: Yogyakarta – Jombang – Mt Bromo (B, L, D)
Day 5: Mt Bromo – Banyuwangi (B, L, D)
Day 6: Mount Ijen – Pemuteran (B, L)
Day 7: Free day in Pemuteran (B)
Day 8: Pemuteran – Munduk (B, L)
Day 9: Munduk – Ubud (B, L)
Day 10: Ubud Discovery (B, L)
Day 11: Ubud – Sanur (B, L)
Day 12: Sanur Departure (B)
Please note that every element of the tour below can be tailored. Tell us your specific interests and we are happy to make adjustments for you. Your inquiry is totally FREE and you are under no OBLIGATION!
Start now!
Full Itinerary 
Day 1: Yogyakarta Arrival – Starting Indonesia Adventure Tour (L)
Halo! Welcome to Indonesia – the wonderful country of mesmerizing islands in Southeast Asia.
Today, our local guide will welcome you at the arrival hall of Yogyakarta International Airport, then transfer to the hotel in the city center to check-in. Settle into your room and enjoy a short break.
This afternoon, spend your time exploring the town of Yogyakarta – also spelled as Jogyakarta is a center of art and education and the cradle of traditional Javanese culture. Because of its proximity to the temples of Borobudur and Prambanan, it is the most popular tourist destination in Java.
Start the day with a visit to the famous crafts in a traditional batik factory. Here you will learn about the old methods and also witness skilled artisans. You can make your design, apply wax and dye and your product can be delivered to your hotel after it's dry.
Day 2: Yogyakarta – Kraton – Prambanan – Enjoy Ramayana Performance (B, L, D)
After breakfast, proceed with your guide and driver to explore Yogyakarta and experience its diverse cultures!
Start the day at Sultan's Palace, also known as Kraton. It is at the center of the Mount Merapi and Parangtritis Beach lines hence the central aspect of the Javanese cosmology. It depends on the day of the visit that you will have a chance to witness a cultural show – Golek Menak Puppets to Macapat – a type of traditional Javanese Poetry performance.
Next, enjoy a becak ride and explore the neighboring Kauman village built in the vicinity of the Kraton. Becak is similar to a cyclo or trishaw. We head to Taman Sari Water Palace, which was an addition to the royal complex.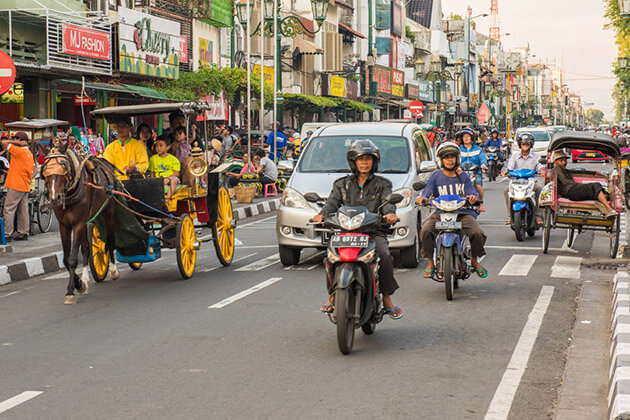 After that, attend a short demonstration of Wayang Kulit – a famous Javanese leather puppet show followed by lunch at a local restaurant.
Following your afternoon sightseeing with a visit to Prambanan, an ancient Hindu temple dating back to the 9th century which is recognized as UNESCO Heritage Site in 1991. The three main inner shrines are dedicated to the Hindu trinity god, Brahma, Vishnu, and Shiva. As you walk around the temple, your guide will explain the fascinating history and symbolism of the temples.
Enjoy our early dinner in a nearby Prambanan local restaurant. You will also be entertained by the legendary performance of the Ramayana ballet dance at an opened theatre with the illuminated temples of Prambanan as a background.
Note: Ramayana ballet dance is a seasonal show at Prambanan – between May and October- and on certain days of the week. So when there's no show at Prambanan, it will be replaced by the similar one performed at the Pura Wisata theatre in Yogyakarta.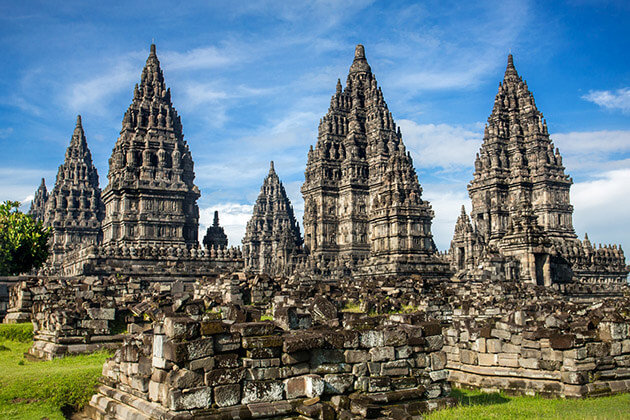 Day 3: Yogyakarta – Borobudur & Candirejo Village (B, L)
After breakfast, head to the famous Borobudur Temple, one of the best sights in Java – which is believed to be the largest Buddhist temple in the world.
Borobudur – a must-visit sight in Java (26 miles, 1 hour 30 minutes). Borobudur is believed to be the largest Buddhist Temple in the world. Built entirely by human labor, it took more than 75 years to complete construction and now become one of the most wonderful sites to visit in Indonesia.
This afternoon, get on a local horse carriage (which is popularly known as "dokar") and wander around the tranquil Candirejo Village
Travel through the small lanes with traditional houses lined up on the other side and stop to see the making of cassava crackers, people enjoying gamelan and harvesting local crops. Next visit the pyramid-shaped temple houses- Mendut and Pawon temples; these are even older than Borobudur and have three extraordinarily carved beautiful stone statues (3 miles, 15 minutes).
Late afternoon, return to your hotel in Yogyakarta.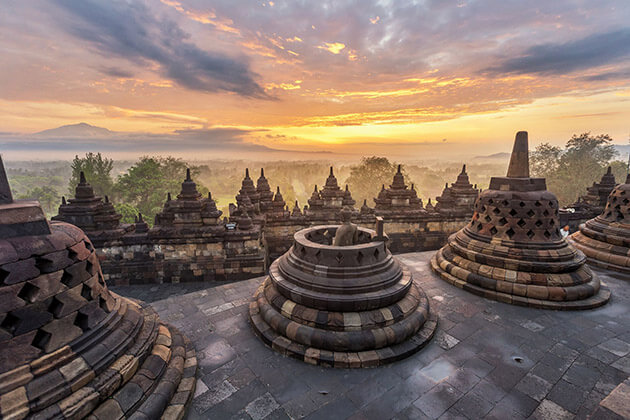 Day 4: Yogyakarta – Jombang – Mt Bromo (B, L, D)
Rise before dawn this morning to transfer to Yogyakarta Railway Station to take a scenic train ride to Jombang in East Java (156 miles). Do not forget to pick up your breakfast box provided by your hotel. The train usually departs at 6:45 a.m. and arrives at Jombang Station at 10:33 a.m (Note that your driver leaves for Jombang the previous night, and we recommend you to bring your luggage down by 10 pm the previous night and make sure you have a clear luggage tag on your bag). You will meet your driver with luggage when you arrive at Jombang Railway station in East Java. It can be quite chilly inside the compartment and so don't forget to bring a shawl or a jacket.
The train journey allows you to meet the local people and also enjoy the volcanic landscapes of Central and East Java. Upon arrival at Jombang, meet your driver with your baggage. Your guide will take you to visit the nearby Trowulan which is the site of the former capital of the Majapahit Kingdom which ruled the island of Java for centuries. Also, visit the archaeological museum and the temples of Candi Bajang Ratu and Candi Tikus.
After lunch in a local restaurant, proceed on a scenic journey to Mount Bromo (We pass by the coastal town of Pasuruan located on the northeast coast of Java.
Upon arrival, check-in to your hotel in Tosari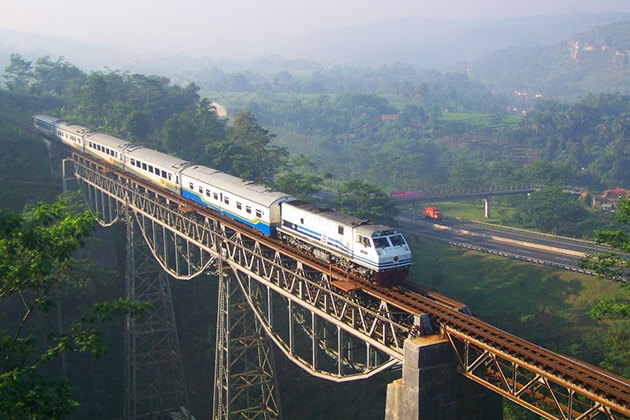 Day 5: Mt Bromo – Banyuwangi (B, L, D)
Wake up early morning and take a scenic drive to the viewpoint. Enjoy the spectacular views of the Bromo volcano and equally beautiful surroundings.
Next up, visit the volcano caldera and behold the beauty mixed by the mist and grey ashen-covered ground in the early morning. Then take a short horse ride to the foot of stairs leading to the rim of still-active Bromo crater.
Later on, return to your hotel by jeep. Enjoy your breakfast and get refreshed before checking out. Take a long drive along the northern coast of Java towards its eastern end. You will have a stop at a local restaurant for lunch. You will arrive at the hotel either late afternoon or early evening in Ketapang or Licin village near Ijen (180 miles, 8 or 9 hours).
You will have your dinner served at the hotel.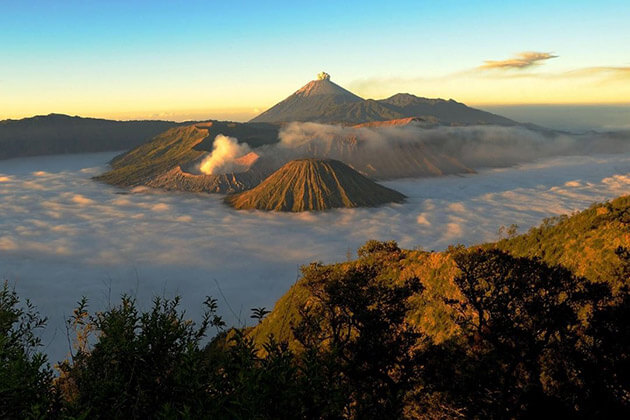 Day 6: Mount Ijen – Pemuteran (B, L)
We will rise early in the morning to go for an excursion to Mount Ijen by a 4WD vehicle. We will reach the Paltuding base camp (23.75 miles) which is at the altitude of 1,850m or 6,068 ft and takes about one and a half hours. As you reach the top of the mountain, enjoy the mesmerizing view surrounding in Indonesia adventure tour. Here, you will see the miners collecting and carrying the sulfur blocks up to the crater rim.
Important notes:
• Local authorities only allow watching the scenery from the rim of the crater – it is strictly forbidden to walk down to the lakeshore due to very toxic fumes escaping from the lake. Only the sulfur porters are allowed to this area.
• Mount Ijen is an active volcano; therefore, access is subject to volcanic activity at the time of the visit.
• There will be a weekend surcharge USD 5 per person applied for a visit to Ijen.
We backtrack our way down to the base camp and continue by road to Banyuwangi for a late lunch at a local restaurant. In the afternoon, check-in at the Ferry terminal in Ketapang before crossing the Bali straits to the island of Bali by local ferryboat for a beautiful journey to Gilimanuk on Bali's western shores (3.75 miles, 45 minutes by ferry).
Arrival at Bali, continue by road to Pemuteran for more than 45 minutes
Overnight in Pemuteran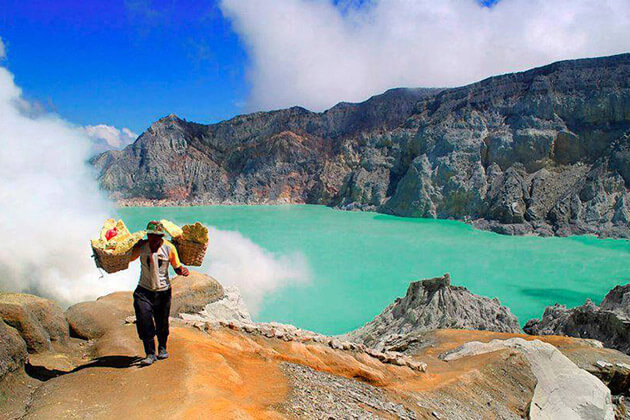 Day 7: Free day in Pemuteran (B)
Today is a full day to enjoy your time at leisure in Pemuteran during the Indonesia adventure tour.
Day 8: Pemuteran – Munduk (B, L)
This morning, take a drive to Munduk. About 27 miles from Pemuteran, we stop in Banjar to visit Brahma Vihara Arama – a rare Buddhist temple in Bali. We will also visit a holy spring at Banjar on the north coast, which is the natural Sulfur hot springs with their greenish milky water. These hot springs are supposed to have medicinal qualities. You will have a good soak here and then descend to the beautiful Munduk area in Northern Bali.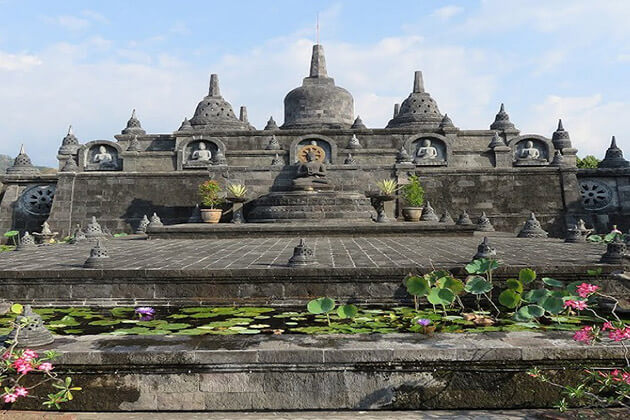 Day 9: Munduk – Ubud (B, L)
This morning start your 2-hour trek in Munduk. The trek is pleasant and will take you through many plantations growing coffee, cloves, vanilla, avocado, and more! You will also witness the process of growing and harvesting. Return to the hotel for freshening up and check out.
After lunch at a local restaurant, we leave Munduk and head to Ubud. Passing through a small mountain road overlooking two superb lakes: Buyan & Tamnlingan then we continue to Lake Bratan. Visit the nearby traditional local market of Bedugul. You will find numerous fruits, vegetables, and orchids from the area's gardens for selling. Also, you will find stalls selling exotic spices and souvenirs.
Later, return to the south via the UNESCO heritage-listed rice fields of Jatiluwih, here enjoy some photography and a coffee break. Finally, proceed on a non-stop drive to Ubud.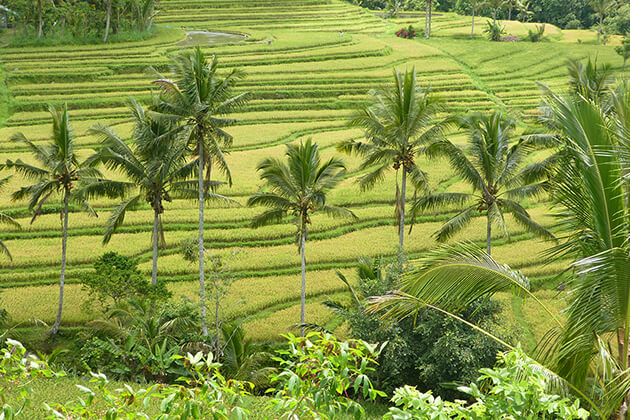 Day 10: Ubud Discovery of Indonesia Adventure Tour (B, L)
After breakfast, we set off to explore Ubud, known as the center of traditional crafts and dances. Start the day at Ubud Palace –  a historic building complex and the former official residence of Ubud's king. Next, visit the Ubud Market- a place where locals come to buy and sell food, handicrafts, and textiles.
Then head to the Sacred Monkey Forest, a sanctuary that is home to the long-tailed Monkey, scientifically called Macaca Fascicularis. The forest covers about 27 acres of land and provides a home to more than 700 monkeys. Visitors are required to wear traditional sarong!
The final stop of the day will be at the ARMA Museum (Agung Rai Museum of Art) which has rich collections of Balinese and Indonesian paintings and sculptures. From here, you will be provided an excellent overview of the island's rich artistic traditions.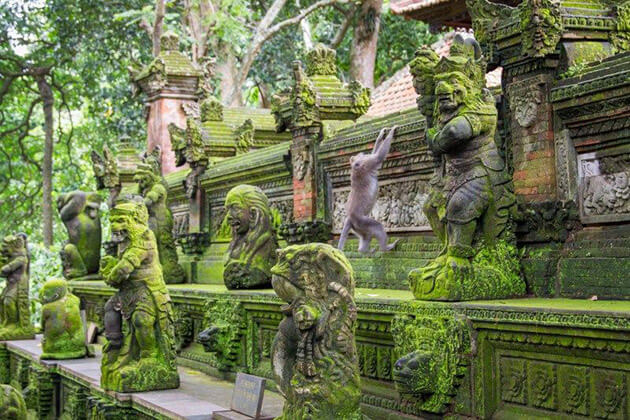 Day 11: Ubud – Sanur (B, L)
Today, we transfer to a beach resort in Sanur. After breakfast, visit Pura Gunung Kawi – the 11th-century temple set amidst lush rice terraces in the village of Tampaksiring. This temple is accessible by a series of staircases only, but it's worth the effort
Next, we will proceed to a nearby water temple called Pura Tirta Empul. This temple is famous among the local devotees. Listen to your guide to learn more about the importance of water in Balinese Hindu culture and also know its usage as a holy medium at special ceremonies. Then soak in Tirta Empul's fresh spring water, pouring from the several fountains that fill the pools.
After lunch, take a scenic drive and make several photo stops. Save amazing photos in the traditional countryside village called Penglipuran which is famous for its distinctive Balinese entrance gates and exceptional architectural traditions.
We finally check into the beach resort in Sanur. The rest of the day is leisure for you to enjoy the scenery and take a break at the resort.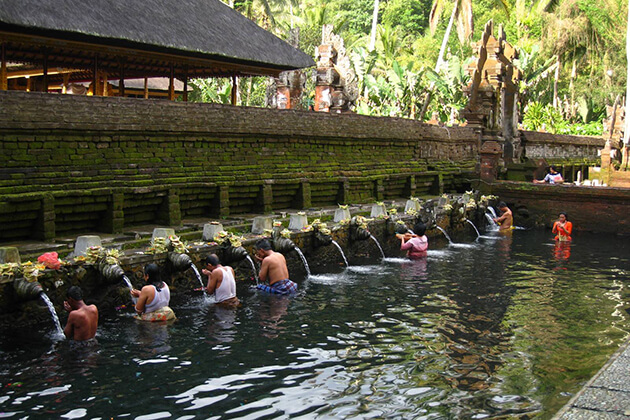 Day 12: Sanur Departure – End of Indonesia Adventure Tour (B)
After breakfast, check out at the hotel and our driver will transfer you to the airport to take a departure flight. Thank you for making your Indonesia vacation with Indonesia Tours.