General Information
Duration: 12 days/11 nights
Tour Routine: Yogyakarta – Bromo – Banyuwangi – Sanur
Intended Travel Date: No Fixed Departure, Pick-up Anytime You Wish
Start/End: Yogyakarta/Bali
Tour Style: Landscape, In-depth Cultural
Guides: Indonesia Local Guide (English Speaking Guide, Other Languages upon Request)
Transportation: Private First-class Air-conditioned Vehicles
Tour Highlights:
Visit two iconic, ancient temples – Borobudur Buddhist Temple and Prambanan Hindu temple
Explore Yogyakarta and the historic neighborhood of Kotagede
Ride a jeep up Mount Bromo and marvel at a truly inspiring sunrise
Journey through landscapes of East Java on a local train
Hike to the turquoise crater lake atop Mount Ijen
Brief Itinerary
Day 1: Yogyakarta Arrival
Day 2: Candirejo Village – Borobudur Temple
Day 3: Prambanan Temple – Yogyakarta City Tour
Day 4: Yogyakarta – Kotagege
Day 5: Yogyakarta – Fly to Bali – Sanur Beach
Day 6: Sanur Beach Free Day
Day 7: Sanur Beach Free Day
Day 8: Sanur – Fly to Lombok
Day 9: Lombok Relaxation
Day 10: Lombok Relaxation
Day 11: Sanur Beach Free Day
Day 12: Departure
Please note that every element of the tour below can be tailored. Tell us your specific interests and we are happy to make adjustments for you. Your inquiry is totally FREE and you are under no OBLIGATION!
Start now!
Full Itinerary
Day 1: Yogyakarta Arrival
Welcome to Yogyakarta – the cultural heart of Java!
Today, touch down at Yogyakarta airport and be greeted by your local guide and driver. The city referred to as 'Jogja' for short, this Javanese city is a hub for traditional arts and cultural heritage. Check into a hotel and spend the remainder of the day exploring the area independently or just simply relaxing after the journey.
Accommodation: THE PHOENIX YOGYAKARTA or TENTREM HOTEL
Day 2: Candirejo Village – Borobudur Temple
Today, take a drive to the city outskirt to explore the beautiful landscapes of Candirejo Village. Set amidst lush rainforest, this quaint village maintains Javanese culture at its core and has many cultural attractions to discover. Pedal along the quiet countryside lanes and encounter friendly locals before paying a visit to the renowned Borobudur Temple. Constructed during the 8th Century using slabs of lava rock from nearby volcanoes, this complex still remains the single largest Buddhist structure in the world. With thousands of carved reliefs leading to distinctive stupas at the top, this temple is overflowing with detail and symbolism telling stories of the Buddha's path to enlightenment. Listen to your guide to learn all about this incredible site before returning to the hotel in the afternoon. The rest of the day is at leisure.
Accommodation: THE PHOENIX YOGYAKARTA or TENTREM HOTEL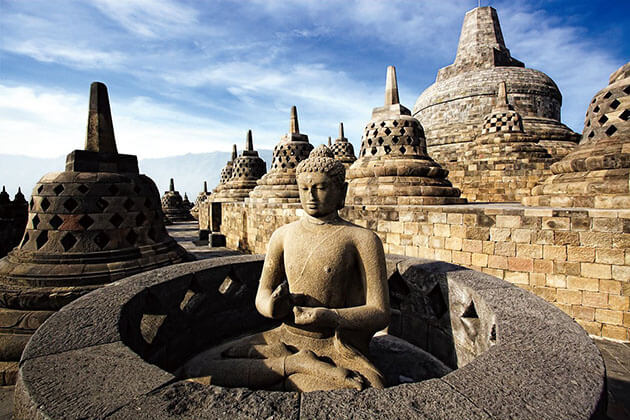 Day 3: Prambanan Temple – Yogyakarta City Tour
Start the day with a visit to the Prambanan Temple – the world's largest Buddhist temple dedicated to a different religion. Admire this magnificent spectacle and iconic piece of Indonesia's cultural heritage before transferring back to Yogyakarta.
In the afternoon, enjoy a city sightseeing tour and visit Yogyakarta's main highlights. Explore the Sultan's Palace, known as the Kraton of Yogyakarta, and let the guide explain the history of this significant place. The palace still maintains some of its walls (which once bordered the entire complex) and this unique compound remains home to thousands of people who serve the current Sultan. Wander over to Taman Sari Water Castle with its large artificial lake and bathing complex which over the years has had a host of different functions. After that, find some local Batik artists working on their latest pieces. Using only hand-waxing and dyeing methods, this is a traditional Indonesian art form that is very prominent in Yogyakarta.
Accommodation: THE PHOENIX YOGYAKARTA or TENTREM HOTEL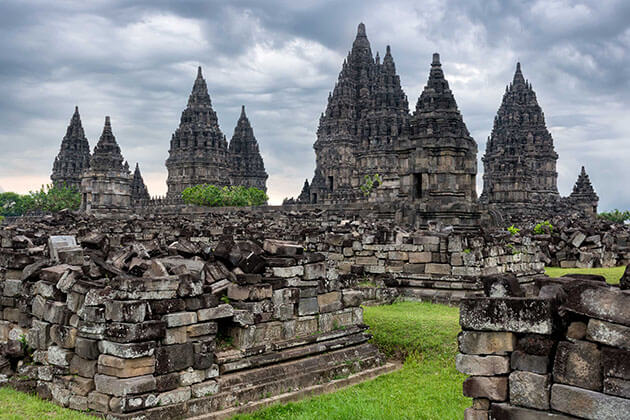 Day 4: Yogyakarta – Kotagege
Journey back to the 16th Century with a visit to Kotagede, a historic neighborhood of Yogyakarta containing the remains of Mataram Sultanate's first capital. This area is also known as the center for silverwork and has several open workshops where visitors can observe the process of turning raw silver into beautiful works of art.
Return to Yogyakarta in the afternoon and spend the rest of the day exploring independently or relaxing at the hotel.
Accommodation: THE PHOENIX YOGYAKARTA or TENTREM HOTEL
Day 5: Yogyakarta – Bali – Sanur Beach
Leave Yogyakarta this morning to take a flight to Bali – the Land of Gods. Upon Ngum Rai International Airport, welcome by your guide and then transfer to your hotel in Sanur Beach. The rest time of the day is yours.
Accommodation: MAYA SANUR RESORT & SPA or HYATT REGENCY BALI
Day 6: Sanur Beach Relaxation
Lie on the southeast island of Bali, Sanur is a seaside town known for terrific sunsets and a more relaxed vibe than other beaches on the island. Spend today at leisure; there are lively streets to explore or simply relax on the beach watching waves lap the sand.
Accommodation: MAYA SANUR RESORT & SPA or HYATT REGENCY BALI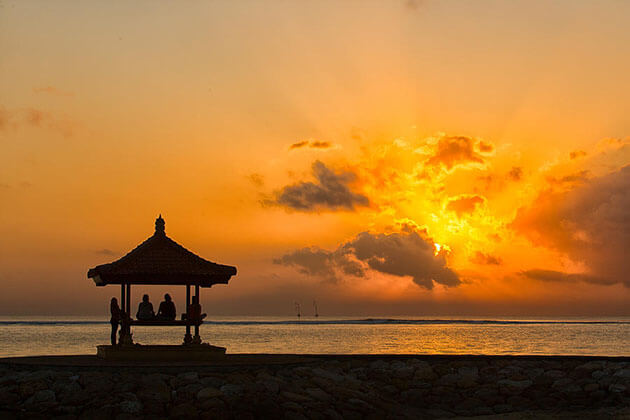 Day 7: Sanur Beach Free Day
Spend today at leisure in Sanur. You can stay in the hotel and enjoy the modern facilities or experience the fine treatments at the spas or spend time to wander along the mesmerizing seashore of the beach.
Accommodation: MAYA SANUR RESORT & SPA or HYATT REGENCY BALI
Day 8: Sanur – Fly to Lombok
Leave Bali this morning and we take a flight to Lombok – the hidden paradise of Indonesia. On arrival, check-in at your hotel and enjoy the premium services with an open swimming pool.
Accommodation: THE OBEROI BEACH RESORT or HOTEL TUGU
Day 9: Lombok – Gili Islands
Wake up in the call of Mother Nature this morning and we will start the day with a boat trip to Gili Trawangan Island where you will do snorkeling and observe a variety of beautiful and colorful coral reefs and fish. Take this chance to visit Turtle Conservation to learn more about the life of turtles on the island. Take a stroll through the white sand beach and let the light wind touch to your skin. After that, get on the board and we continue to the next snorkeling site: Gili Meno. With the crystal clear water and idyllic, secluded white beaches and diverse marine life, the island will definitely blow your heart away.
Lunch will be served on Gili Air Island. Then you can go snorkeling or do fish feeding. Later on, return to your hotel. Along the way, your board will stop at Nipah Hill where you will get an opportunity to marvel at 3 Gili Islands and Mount Agung Bali. Take this chance to save the best photos from the viewpoint.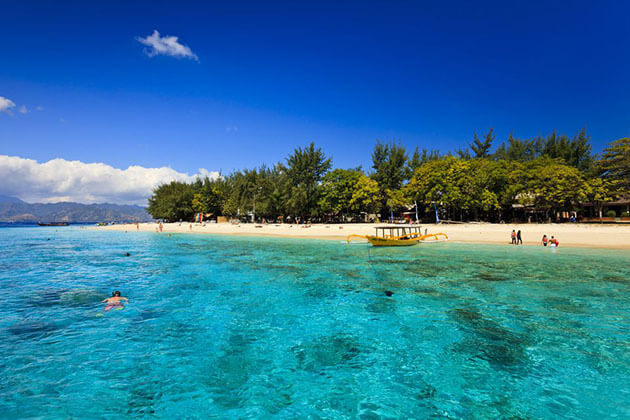 Day 10: Lombok Free Day
Spend your day today relaxing in the paradise of Lombok. Lying on the beach for sunbathing, swimming in the blue sea, and lounging by the pool all day.
Day 11: Mataram Ancient Town Discovery
Today head toward the south for a short excursion to Mataram ancient town. Witness an interesting mix of mosques and Dutch colonial buildings. Make your first visit at Mayura Water Palace, a Hindu pilgrimage site; Meru Temple, the second-largest Hindu monument on the island and Narmada Park which is well-known for its flora and fauna.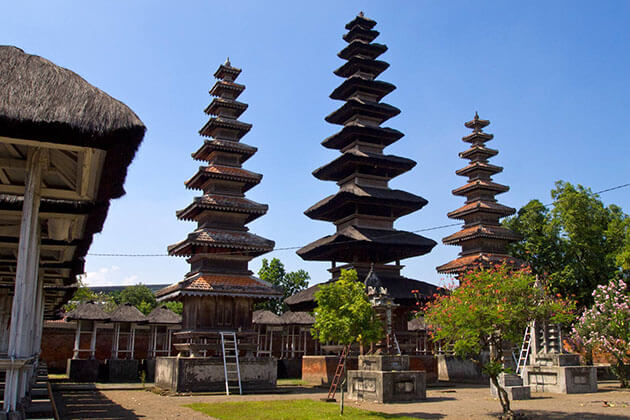 Day 12: Lombok Departure
After breakfast, transfer to the airport for a departure flight. Thank you for making your 12-day Indonesia tour package with Go Indonesia Tours!