General Information 
Duration: 11 days/10 nights
Tour Route: Bali – Ubud – Lombok – Gili Air – Sanur
Start/End: Bali/Bali
Tour Style: Sightseeing, In-depth Cultural
Guides: Local Guide (English Speaking Guide, Other Languages upon Request)
Transportation: Private first-class air-conditioned vehicles
Date: No Fixed Departure – Anytime You Wish
Tour Customizable: Definitely! Tell us your interests in the inquiry form
Accommodations: 5-star hotel or Super Deluxe Hotels upon your interest
Brief Itinerary
Day 1: Bali Arrival – Ubud
Day 2: Ubud Discovery
Day 3: Ubud Wine Tasting
Day 4: Volcanic Chicken Cooking Class
Day 5: Bali – Fly to Lombok – Sister Island
Day 6: Local Pearl Farm & School Visit
Day 7: Boat trip to Gili Air – Sunset Snorkeling
Day 8: Gili Air Relax
Day 9: Gili Air – Sanur by Speed Boat
Day 10: Sanur Relax
Day 11: Bali Departure
Please note that every element of the tour below can be tailored. Tell us your specific interests and we are happy to make adjustments for you. Your inquiry is totally FREE and you are under no OBLIGATION!
Start now!
Full Itinerary
Day 1: Bali Arrival – Ubud – Starting Indonesia Luxury Travel Tour
Welcome to Bali – the island of gods!
Arrive in style and meet our guide at the designated location at the arrival terminal exit. Our team will welcome you with the warmest greetings. Kindly look out for your name on our sign.
Relax in our luxury transportation while we make sure you will arrive safely at your luxury accommodation in Bali.
As a warm welcome from Indonesia luxury tours, we would like to gift you a very special, and unusual
Ease out the day with a traditional Balinese massage, either in your room or at the local spa of our signature resort.
Day 2: Ubud Discovery
Today, explore Bali in a classic VW 181 convertible – "The Thing" as it is also called – with one of our professional drivers and English-speaking guide by your side. We drive on small village roads and show you the hidden places around our local villages which mass tourism has not discovered yet.
Small hint: You will stop at a few idyllic and serene spots including Ubud Palace to take a break, and maybe partake in ritual water cleanse. This secret spot is surrounded by huge trees, shading an expansive clear green pool, more akin to a lake is edged by a beautiful temple.
Learn about Hindu culture, and rice farming and experience the beautiful countryside. More secret spots to be discovered on the day.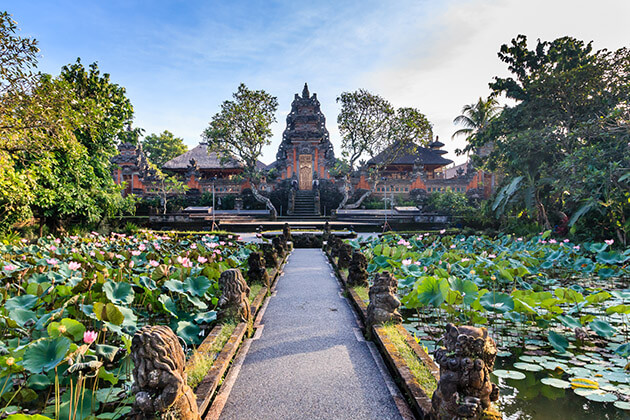 Day 3: Ubud Wine Tasting During Indonesia Luxury Travel Tour
Not just possessing the heart-touching beauty, Bali also produces its own wine. Today, ready to take part in a journey of sight, taste, smell, and sound of Sababay. Our dedicated team of wine enthusiasts is here to transport you to the new latitude wine world. Immerse yourself in an original and authentic guided tour designed to tickle your curiosity and develop your wine knowledge. Witness the story that becomes the driving force behind the winery. Experience the winemaking process from start to finish.
Taste the selection of Bali's awards-winning wines; only Luxury Indonesia Tours' customer has the opportunity to taste straight from the tanks.
Enjoy your luxury picnic basket in the garden of the winery, taste our signature local cheese platter & the most delicious Balinese snacks. Take home your favorite wine you tasted today!
Today's dinner will be a very special one. We will take you to the best local warung for 'Babi Guling'– the Indonesian island's version of a spit-roasted pig, infused with a cornucopia of tropical spices. (Babi Guling – 'turning pig' in English).
After you enjoyed your dinner, sit back and relax, we will escort you back to our 5* signature resort.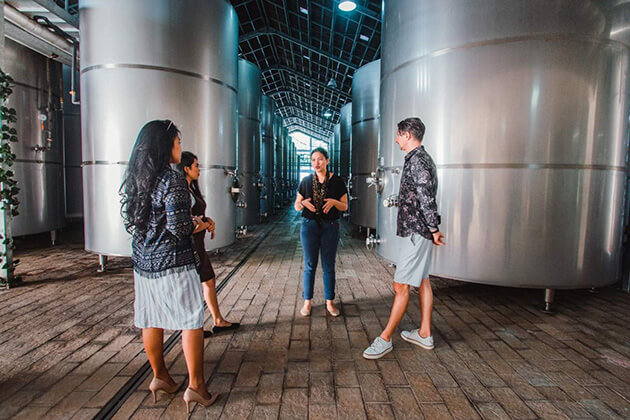 Day 4: 
Volcanic Chicken Cooking Class
Today you will be moving locations and staying at our second signature resort.
After that, learn how to recreate our award-winning Volcanic Chicken dish amidst spectacular settings. Immerse yourself in indigenous cooking as you slow-cook organic chicken and fragrant spices over a blazing fire, right on our sparkling volcanic black sand beach.
Volcanic Chicken is a special Balinese dish, made with the freshest ingredients and traditional cooking methods. Participants will learn about the various kinds of spices and their uses. Combining the necessary ingredients with organic, locally-sourced Tabanan chicken, participants will then prepare chaff to cook the chicken over a volcanic sand fire pit.
This cooking class will also provide instruction on creating the classic Balinese dessert Bubur Sumsum and the revered Jamu health tonic.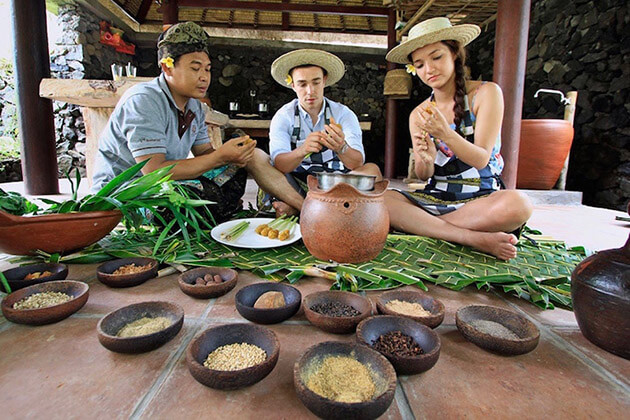 Day 5: Bali – Fly to Lombok – Sister Island
Today's journey will bring you to Bali's Sister Island Lombok.
Only a 25-minute flight away, located to the West of Bali, Lombok will leave you speechless.
You will stay at our signature resort which is a complex of luxury beachfront villas, located in a strategic area of Lombok.
Lombok and The Gili Islands are very famous for their beautiful beaches, entertainment, beautiful nature, and shopping centers.
Enjoy the tropical climate of Lombok in either your private pool which is just right in front of your villa, in the public pool outside of your villa, or relaxes at the beach which is a 1-minute walk from your doorstep.
Today you can relax at the sauna, play some rooftop mini-golf, and get active on the canoe, kayak or bicycle.
We will welcome you with a one-hour massage for the ultimate relaxation.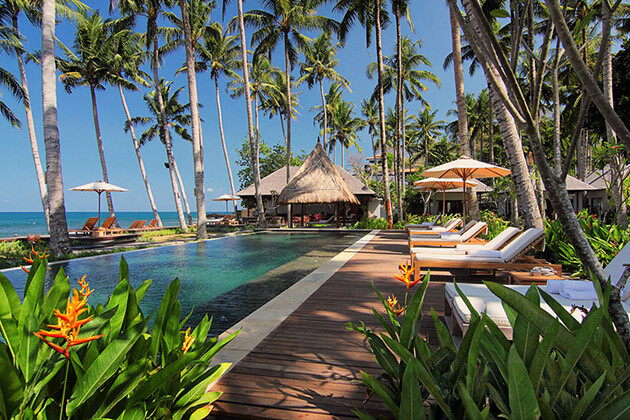 Day 6: Local Pearl Farm & School Visit
Today is a full day to visit the local pearl farm, try some fresh pearl meat and visit a local school.
Lombok is a little famous for its pearl farms. Today we will take you to the only pearl farm in the world which is accompanied by its own showroom directly.
You will learn about and discover the secrets of pearls. Experience a personally guided tour of a working pearl farm and hatchery where you will see how they nurture oysters before they are ready to actually produce the pearls.
Learn about a once-secret operation of how they seed the oyster's body and how they harvest the pearls after years of waiting and discover the attributes that make pearls one unique gemstone in the universe!
Next up, try a pearl meat dish
Pearl meat is the adductor muscle of the pearl oyster, Pinctada Maxima, and while it is a highly regarded delicacy it is a by-product of pearl production.
Only once the oyster is no longer used for producing pearls, it will be removed from the farms and sold.
Only small quantities of pearl meat tend to be seasonal. But don't worry, we tried our best for customers from Luxury Bali Tours only to keep this delicacy fresh and available when you visit.
Finally, visit a local school & get involved with the local kids
Visit a local school which is a non-governmental organization (NGO) focusing on environmental education. The school stands as a form of social responsibility for the environment and the willingness to contribute to the development of environmental education in a global perspective, generally in Indonesia and particularly in Lombok.
You will have the option to pay a visit, have a look around the property and the classroom, or if you would like, you can get involved and interact with the local kids. Stay as long as you like!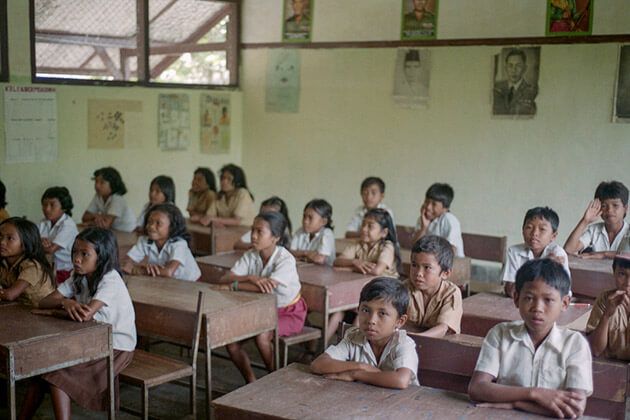 Day 7: Boat trip to Gili Air – Sunset Snorkeling
Today you are taking changing location from Lombok – Gili Air via boat.
Enjoy the peaceful scenery surrounded by the crystalline turquoise waters which boast of a myriad of underwater life and kaleidoscopic coral reef. But for Luxury Indonesia Tours clients, we will make sure you will see the best of the best.
On arrival, a selection of beverages and refreshments are available in the minibar and fresh juices and cocktails can be served upon request.
Bicycles are available for free for guests from Indonesia Luxury Tours in Bali so you could reach the main area in less than 10 minutes and explore the beautiful island. Gili Air is car & scooter free).
In the afternoon you will discover the beautiful underwater world of Indonesia. You will snorkel around the three Gili Islands, Gili Trawangan, Air, and Gili Meno. Swim with the marine flora and fauna and get to discover a hidden underwater museum.
Be prepared to make friends with the local turtles, the clownfish Nemo, whale sharks, manta rays and other beautiful sea creatures.
You will start in the afternoon so you are not hit by the strong sun, and also, the best part of the day, you will be able to watch the sunset.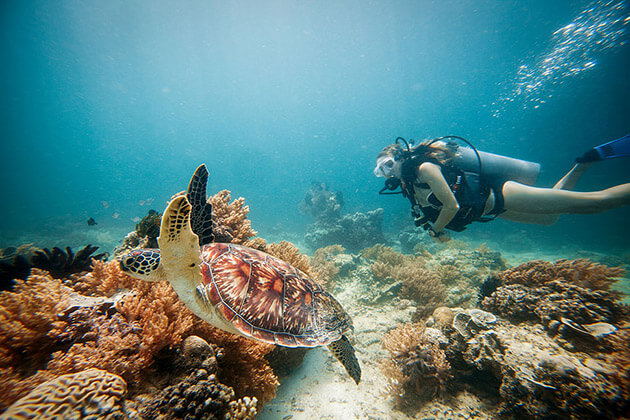 Day 8: Gili Air Relax
Today is a full day for you during the Indonesia luxury travel tour to chill & relax in your resort or head out for a stroll on the bicycle, take a walk on the beach, relax by the pool, or get pampered in one of the luxurious spas.
Day 9: Gili Air – Sanur by Speed Boat
Today you will be heading back to the mainland of Bali to a small beach town called Sanur, via one of our speed boats.
Set in the calm and relaxed environment of Sanur where centuries of Balinese art and cultural history have been nurtured, our signature resort in Sanur offers you the perfect home for the last few days of your Bali getaway.
Relax at the pool in your resort or spend a relaxing last day at Sanur beach.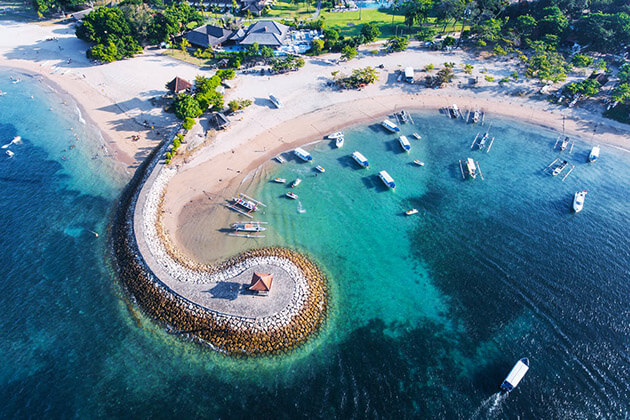 Day 10: Sanur Relax
Today is another day of pure relaxation.
You can relax with various services including Cleansing Ritual • Waterlily Body Wrap & Scalp Massage • Body Massage • Waterlily Refresher Facial This holistic ritual for optimal renewal begins with a cleansing ritual and continues with the cool waterlily wrap and scalp massage for total skin rejuvenation. Finally, enjoy a wonderfully soothing massage with a waterlily hydrating facial.
This evening we will farewell you with a special Indonesian dish, you have the choice of either Nasi Campur or Nasi/Mie/Kwetiau Goreng.
Day 11: Bali Departure – End of Indonesia Luxury Travel Tour
After breakfast this morning, enjoy your time at leisure until our driver comes to pick you up and transfer you to the hotel where your Indonesia luxury travel ends. Thank you for making your Indonesia trip with Go Indonesia Tours!