Bali is no doubt one of the most visited islands of the entire Indonesian archipelago. It has all one needs for a holiday: silky golden sand and turquoise, crystal clear waters in a tropical atmosphere. There are also a lot of beautiful sights here and if you like adventure activities, you won't be disappointed on a trip to Bali, Indonesia.
Top 7 Most Popular Activities to Do In Bali
Join A Cooking Class in Bumbu Bali
Bumbu Bali restaurant has a reputation for its cooking classes entailing a morning trip to the local markets. Likewise, visitors can choose the freshest ingredients to cook up traditional dishes of Bali in particular and Indonesia in general. When the lesson ends, learners will sit back and have a whole meal together and each will get a certificate of participation in the class.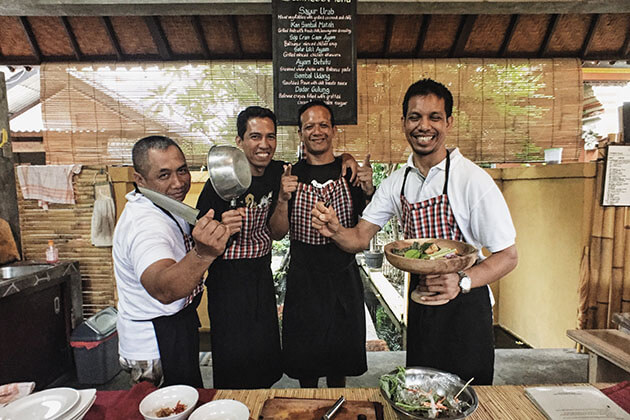 Watch a Balinese Dance – Kecak in Uluwatu Temple
Bali has many famous dances and one of those is Kecak. It has been practiced for almost one hundred years. Watching  Balinese dance performance is one of the top experiences to do in Bali for an exotic Indonesia holiday package that you should never miss a chance to do! Head for Uluwatu Temple and book for a spot in the amphitheater to behold the Kecak dances performed by Balinese men (the number can be up to 100) surrounding an oil lamp.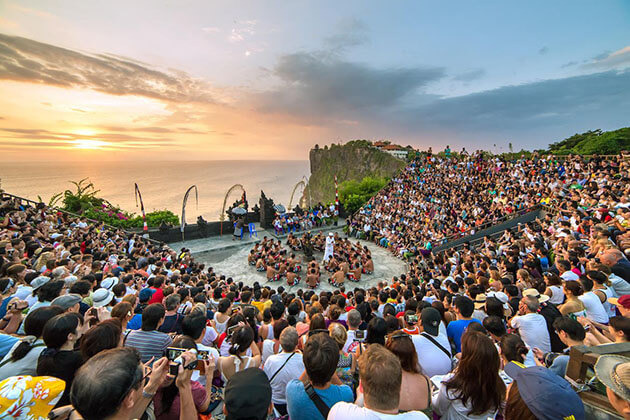 Immerse Yourself in Bali Zoo
Located in the Gianyar Regency, this is the first zoological park on the island of Bali, thus offering many things to see on your Bali trip. There exist Southeast Asian animals and you can look out for the African Wildlife theme (coming soon in 2020). Here visitors can come across a wide range of animals: tigers, free-roaming deers willing to receive treats from humans, elephants, rhinoceros, and birds of many beautiful colors. And if you like adventures here in Bali, you can wait for the Night Safari, when nocturnal animals begin their dynamic nightlife.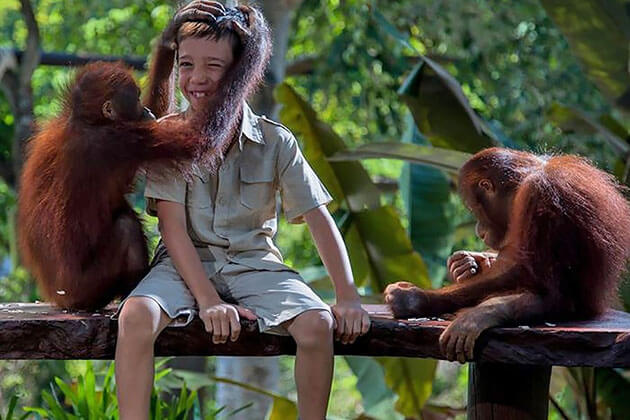 Get Something Custom Made
Whether its clothes, shoes, jewelry or even perfume, the Balinese can always get them unique and tailor-made for you to your demand! You'll see lines of tailors in the streets on your Bali adventures, so you have a wide range of choice and do not hesitate to bargain here to nab your favorite items.
Take A Yoga Class at the Yoga Barn
If you are looking for the best things to do in Bali, a yoga class is undoubtedly worth your visit! As Bali is a perfect place to chill out and relax, you can come to contemplative and serene Ubud to take part in the Yoga Barn studios. The spot has every level of ability and travelers can even stay here for several days on end to unwind.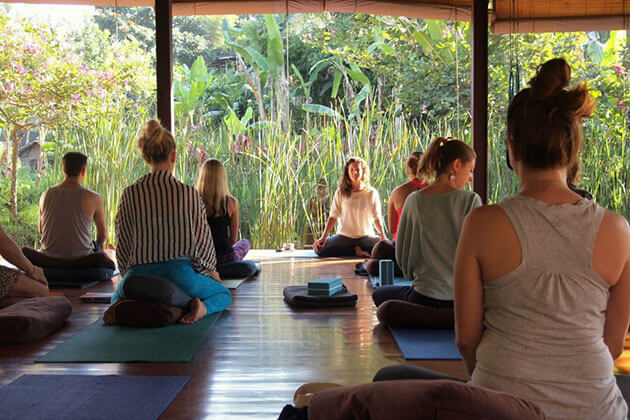 Watch the Lovely Dolphins in Lovina
Together with inland activities, Bali has a list of amazing things to do in the water. Watching the dolphins in Lovina swimming and spinning around in the deep blue waters is an amazing thing to see in Bali. To have the opportunity to observe this kind of beautiful creature, you need to wake up early in the morning, which we assure you it will totally be worth it! Let yourself behold the warm rising sun and the playful dolphins in their natural habitat.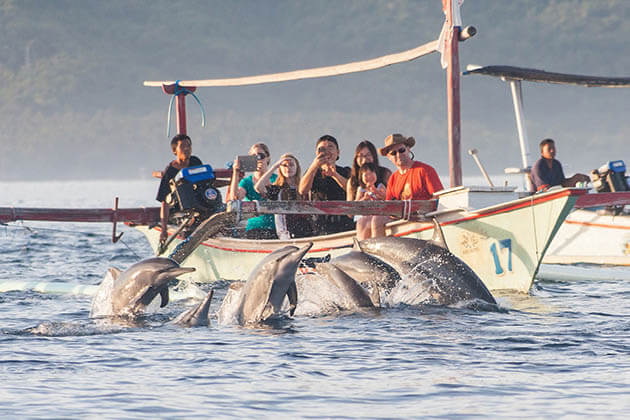 Have a Lively Adventure in Bali Treetop Adventure Park
If you want to head for an action-packed place then make your way to Bali Treetop Adventure Park!
The park is perfect for families or groups of friends where you will find a wide range of riders in the green forest. The rides are even suitable for children at the age of four.
There are 7 Adventure Circuits high up from one tree to another and a huge number of 72 challenges for all levels and ages which will definitely live up to your expectations, especially for adventure lovers.
Top 6 Tourist Attractions In Bali
Mount Batur
Though this is not the highest point in Bali, Mount Batur is one of the most splendid spectacles on the island. Every day before the sun rises, visitors would plan a trip to climb up Mount Batur – a top-list activity you cannot miss when in Bali.
The hike to the peak is not so strenuous and often takes an average person about two hours. Guided treks offer you a typical breakfast with eggs boiled by the steam from the active volcano. The panorama from the peak is spectacular, looking down the caldera filled partly with beautiful Lake Batur, the main source of irrigation water of the people here.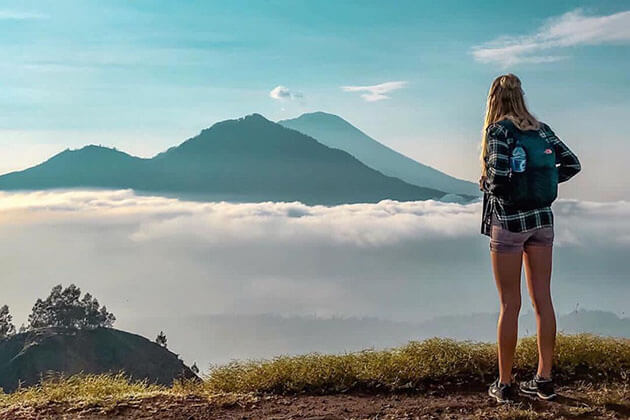 Ubud Sacred Monkey Forest
Located in Padangtegal, Ubud, the sanctuary is one of the top places to visit in Bali. It is home to well over 600 long-tailed macaques and the naive Timor Rusa Deer. Furthermore, the jungle where the Balinese monkeys roam is also a fascination, where more than 100 types of plants thrive. Paved pathways lead through forests of nutmeg and banyan trees.
In the monkey forest lie old-established temples with moss-covered sculptures and carvings of mystical animals like dragons, representing the harmony between humans and animals.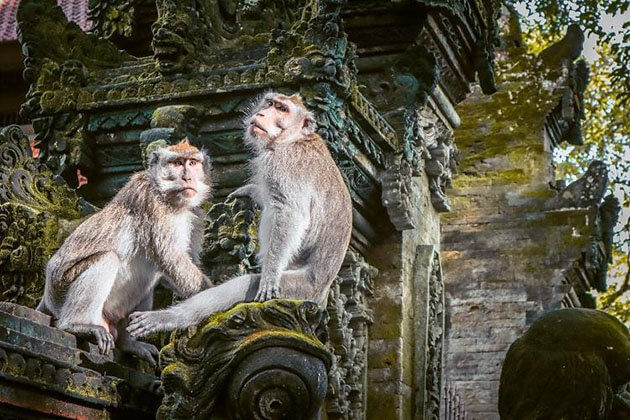 Waterbom Bali
Coming to Waterbom Bali, your holiday in Bali will definitely be filled with energetic activities! Lying in the very heart of Kuta, this is famous as the best waterpark to visit in Bali, even in all Asia. The first thing you should try here is to ride, with all levels for everyone to experience. Playful kids can immerse themselves in the swimming pools; and for those who want to relax, you can even slowly drift down the Lazy River. Moms and dads can sit back doing manicure or pedicure, or fish feet spa therapy.
If you think that's it, you're wrong! You can do lots of other things in the park in which flora and fauna flourish. And there are also numerous restaurants and coffee shops that offer visitors a wide range of options for a dynamic day in the waterpark.
Kuta Beach
In the past, this was a mere village living on fishing. Till the 1970s when it was updated, Kuta Beach became more and more famous for surfing activities and has been one of the must-visit spots in Bali.
For starters, it is well-advised that you should definitely go surfing here. Don't worry if you are a newbie: you can enroll in a surfing course and rent surfboards for your forthcoming adventures! After that, you can walk along the silky white sand that can give a sense of serenity and go find some coves that are pristine and quiet.
You should try seafood in restaurants and cafes on the seashore, and don't forget to drink ice-cold coconut. When the night comes, you can explore the busy nightlife and blend in with the dynamic activities of the locals here.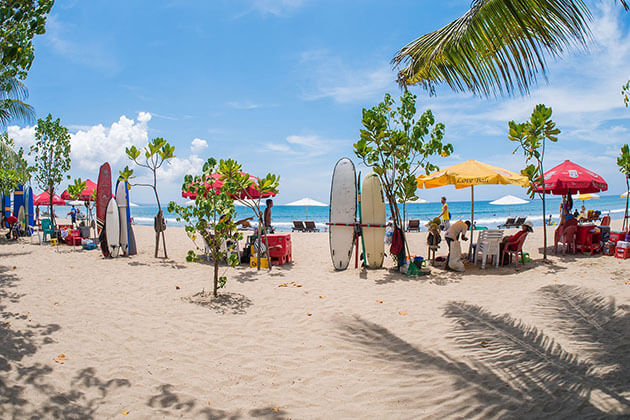 Tirta Empul Temple
Located in the heart of Bali, this long-standing temple was erected in around 960 AD. Tirta Empul Temple is a heritage site in the lush tropical forest, representing the defeat of the good over the evil. The temple is made up of three parts, namely the Nista Mandala (outer courtyard), the Madya Mandala (focal courtyard) and the Utama Mandala.
The middle section is a large rectangular pool, fed by the spring from a mountain, where devotees come to pray and soak in the healing waters for purification. Also, the sacred carvings and statues in this place are not to be missed.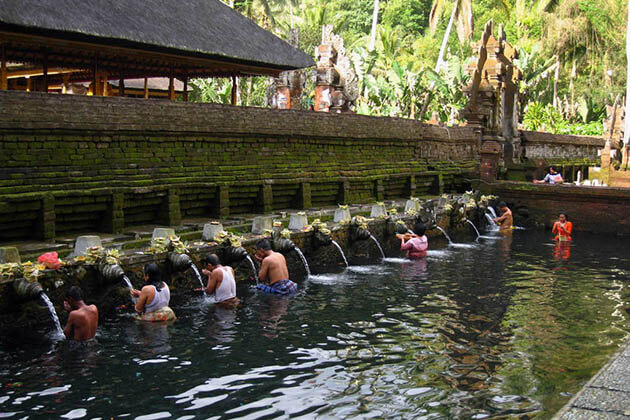 Sekumpul Waterfall
Who is not fascinated by waterfalls? Sekumpul waterfall is an amazing attraction to visit when coming to Bali. In the Singaraja region to the north of the island, Sekumpul Waterfall is, in fact, a series of different spectacular falls. Visitors often hike to the waterfall with a local guide and once you arrive, you can see the townscape with vast green rice terraces scattered with small houses that make up a picturesque scenery.
Come down the ponds and feel the cool freshwater sloshing around under your feet – which is no doubt a great experience for a getaway in Bali.