To the West of Indonesia lies a breathtaking island named Sumatra. Though it is not as known as other attractions like Bali or Lombok, this is really a hidden gem that you will regret if you don't visit it on your vacation to Indonesia! To give some reasons, let's look at top Sumatra adventures and spots for tourists below:
Top 6 Tourist Attractions In Sumatra
Medan
Located in Northern Sumatra, Medan is often overlooked for people to see it as an entry point to explore nearby tourist attractions like Lake Toba or Gunung Leuser. It is renowned for domestic tourists as the culinary capital of the country and you are well-advised to try the local delights before you leave, such as Soto Medan, a spicy coconut milk soup used for breakfast.
You can also visit some cultural attractions here such as Istana Maimun which the Sultan calls home and learn the history of royal families here. You can even dress up in garb and take photos in the meticulously decorated throne room.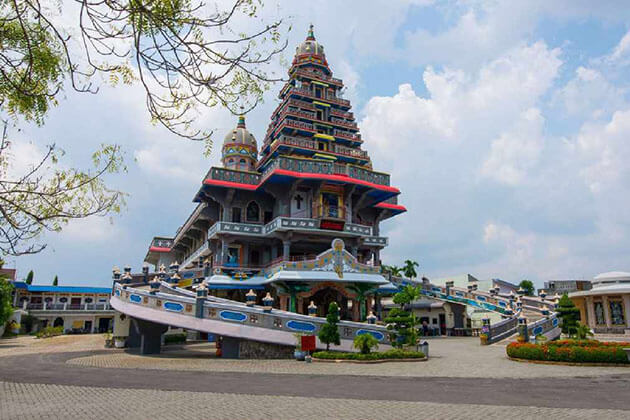 Bukit Lawang
Located in northern Medan, Bukit Lawang is adjacent to Gunung Leuser National Park that conserves a massive amount of flora and fauna. This place is ideal for trekkers to explore around and even set up camps in the jungle for long hikes. Also, you will find a precious species of primate – the local orangutans swinging through the trees in the rainforest and searching for their favorite bananas.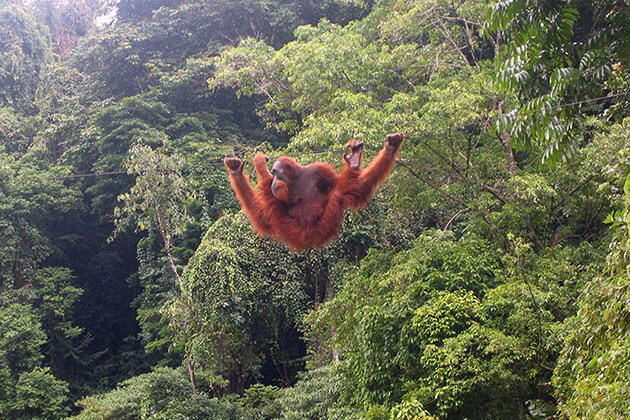 Lake Toba
No Sumatra tours can be completed without visiting Lake Toba. Not only the largest lake in the Indonesian archipelago, but Lake Toba is also the biggest crater lake in the world. It is caused by a huge volcanic eruption, or if you believe the legend of the locals, the result of a magic fish's wish. One of the best attractions in Sumatra, it is surrounded by mountains and dainty villages and you can easily see impressive rock formation or hot springs as you climb up the peaks. There's an island centered in the lake called Samosir where traditional houses of the Batak, as well as the tombs of the old kings, lie.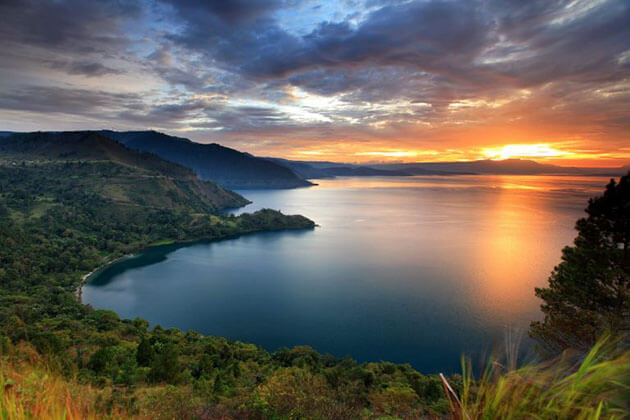 Bukittinggi
To the west of Sumatra is Bukittinggi which is home to an indigenous group known as the Minangkabau, a long-standing matriarchal tribe with a unique style of architecture: Houses built in the shape of buffalo horns.
What you should never miss when visiting this site is the splendid Lake Maninjau that shimmers with deep turquoise waters surrounded by the stunning countryside scenery.
It is off the tourist trail so if you are looking for a quiet and calm place to relax, put it in your travel list!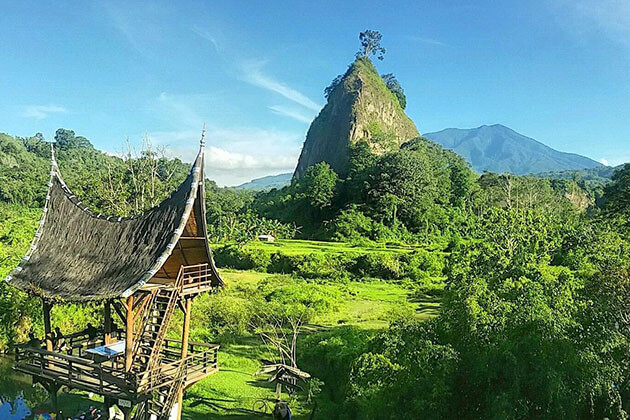 Palembang
Palembang is well known for being one of the oldest established cities in Indonesia. It used to be the heart of the majestic Srivijaya Kingdom, and now a port town on the Musi River.
Many of the city's attractions lie along and on the river, where fanciful small boats are floating serving as restaurants. Why not travel to Sumatra, to this beautiful city to experience the river view while having unique delicacies of the local?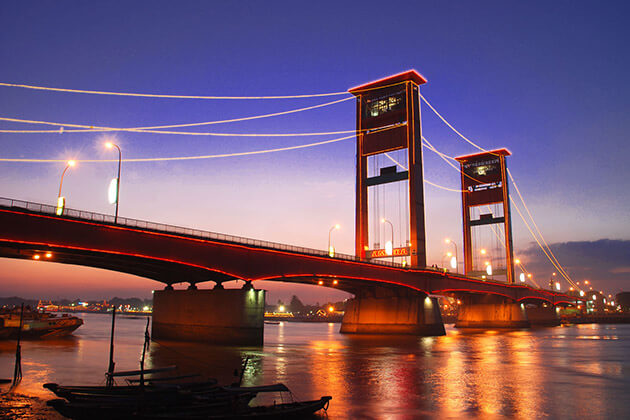 Nias
Bali may claim the first place in the list of where to go surfing, however, Nias has its reputation for the best surfing spot in Sumatra that few Indonesians know about. The island of Nias is the less frenetic version of Bali so it's perfect for those who are looking for a getaway from the crowds.
Aside from surfing activities, Nias has some amazing rituals such as stone jumping, where the locals have to jump through a tall wall made of stone. It is surely very much exciting and surprising for tourists so make sure you check out this fest if you are in the area.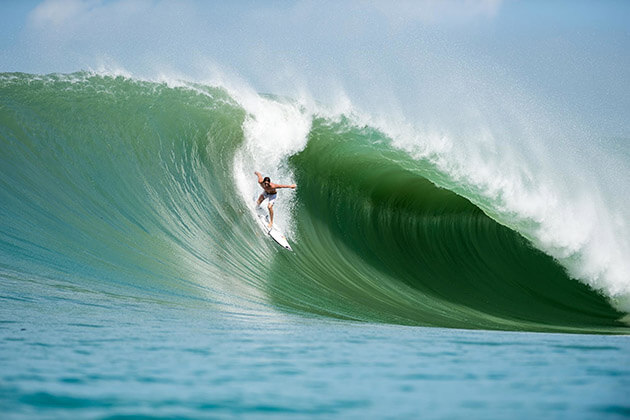 Top 5 Best Things to Do in Sumatra
Having Unique Food Only In Padang
You can't leave the archipelago without trying the best food in Padang! There is no such thing as a menu: all the food is just displayed on the platters and you choose what you want to eat and then pay for them. We highly recommend that you try the typical Nasi Padang – a plate of rice served with vegetables, curries, tempe (compressed soybeans), tofu and hot spicy chili when traveling to Sumatra.
Climbing a Safe Volcano
An adventurous holiday in Sumatra cannot exclude Mount Sibayak! You can go trekking to the top of this inoffensive volcano, watching the bubbling mud and sulfurous steam staining the rock yellow. The summit of Mount Sibayak promises the most spectacular sunrise and even the locals here like to camp around the craters, cooking and singing together.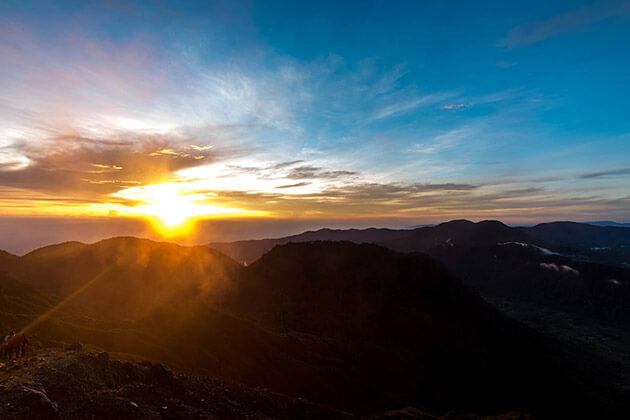 Watch A Bull Race
This is one of the best adventure activities in Sumatra, Indonesia if you want to raise your adrenaline level. This is called 'Pacu Jawi' in Indonesia, a traditional bull racing taking place in the countryside near Batusangkar. The experience will be unique and might make you think about revisiting Sumatra.
Visiting the Tsunami Memorial Museum
Spare some time to go to the village of Banda Aceh, known for the devastation it met because of the catastrophic tsunami in 2004. Here, you can picture what happened as there are many evocative artifacts such as a boat once was tranquility inland, now rests on the roof of a local's house. Tens of thousands of indigenous people were interred in the disaster and there are still many unidentified. However, the people kept moving forward resiliently and welcoming the tourists to their homes.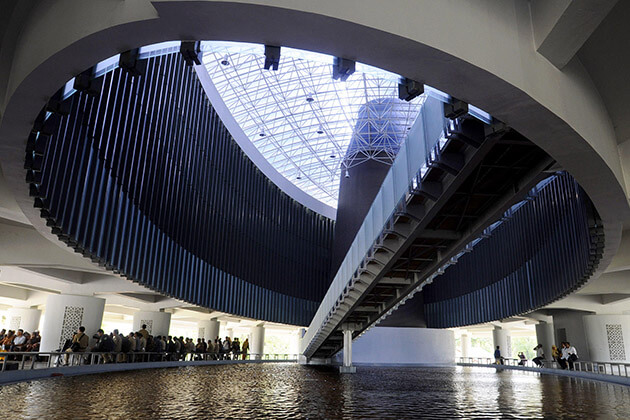 Surfing On The Island Of Mentawai
To reach out to this secluded island to the west of Sumatra, one can take a ferry from Padang. Besides trying the most common activity in this surfing spot, you can have an opportunity to see the longhouses of long-lived tribes here in Mentawai.