Getting to know a new currency is just as interesting as learning a new language. It can be complicated at first, but with a little practice, you will master it quickly. If you are planning an Indonesia tour, it is essential to learn about the currency of this country. In this article, we offer an ultimate guide to help travelers clarify the currency and exchange rate in Indonesia.
Indonesia Currency Information for Travelers
The rupiah (Rp) is the official currency of Indonesia which was first issued on the 3rd of October 1946. Nowadays, there are two versions of Indonesia currency are in use: the rupiahs coins (50, 100, 200, 500 and 1000 denominations) & banknotes (1000, 2000, 5000, 10.000, 20.000, 50.000 and 100.000 denominations). The Indonesian rupiah is colorful, making it easy to clarify between dominations.
Rp. 1000s, the 2000s, and 5000s banknotes are roughly the same blend of colors
Rp. 5000 banknotes are a little more tan/brown
Rp. 10,000 banknotes are purple
Rp. 20,000 banknotes are green
Rp. 50,000 banknotes are blue (these are very common)
Rp. 100,000 banknotes are pink (these are the largest)
Indonesia Currency Images
Indonesia Rupiahs Coins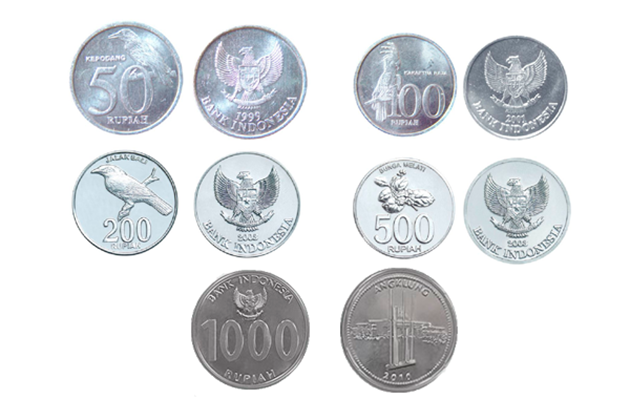 Indonesia Banknotes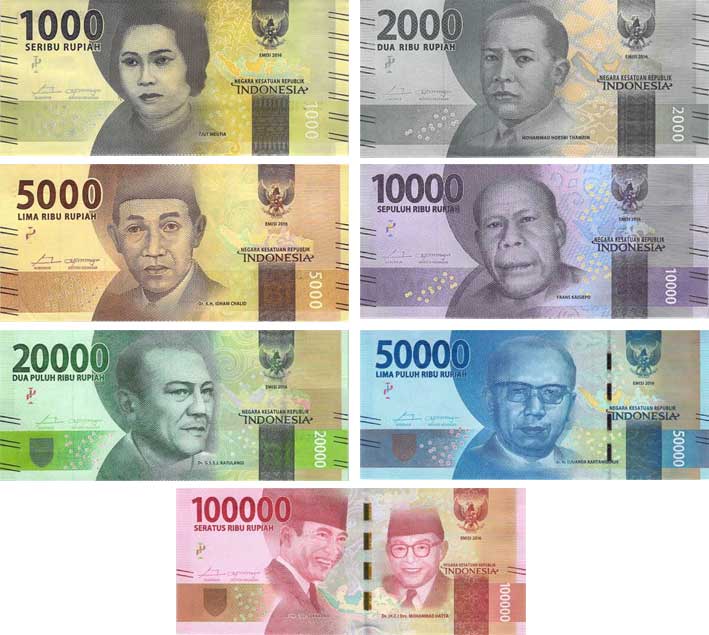 Indonesia Currency Exchange Rates
Indonesia Exchange Rates to US Dollar
Up to December 2019, the exchange rate between Indonesia Rupiahs and US Dollar is 1 US$ = 13,962.58 IDR. Have a look at the below Indonesia currency exchange rate table for further information.
| | |
| --- | --- |
| Indonesia IDR | Equivalent in USD |
| 50 IDR | too small ($ 0.003) |
| 100 IDR | too small ($ 0.007) |
| 200 IDR | too small ($ 0.01) |
| 500 IDR | too small ($ 0.03) |
| 1000 IDR | too small ($ 0.07) |
| 2000 IDR | $ 0.14 |
| 10000 IDR | $ 0.71 |
| 20000 IDR | $ 1.43 |
| 50000 IDR | $ 3.58 |
| 100000 IDR | $ 7.16 |
Indonesia Currency Exchange Rate to Other Currencies
Australian Dollar: 1 AUD ≈ 9,700 IDR
British Pound: 1 GBP ≈18,000 IDR
Euro: 1 EUR ≈ 15,000 IDR
Japanese Yen: 1 JPY ≈ 127,000 IDR
Singaporean Dollar: 1 SGD ≈ 10,000 IDR
Malaysian Ringgit: 1 MYR ≈ 3,000 IDR
Hong Kong Dollar: 1 HKD≈ 1,800 IDR
Myanmar Kyat: 1 MMK ≈ 9,000 IDR
Thai: 1 THB ≈ 400 IDR
Indonesia Currency Tips
Where to Exchange Indonesia Money
You can exchange Myanmar currency at airports and banks across Bali, however, pay attention to the exchange rates. Using an ATM is normally the best way to get current international exchange rates, in case your bank doesn't charge too much for international transactions.
If you travel alone to Indonesia, avoid those people who intentionally approach you to offer to exchange money.
Classify Similar Notes
There are two couples of notes, which are Rp 1000s and 5000s dominations, and Rp 2000s and 1000s dominations. They are quite confusing for travelers to draw a distinction because of their similar colors. Check carefully the numbers on the notes to avoid wasting your money.
US Dollar Can Be Accepted in the Country
The US dollar is one of the most widely accepted foreign currencies in Indonesia. You can use the US dollar at hotels, restaurants, or various souvenir shops in big cities such as Jakarta and Bali.
Using Credit Cards
In case you cannot find any money changers, it is available to use the credit card as the payment method. Visa or MasterCard is the most popular type of making payment. Many restaurants and hotels in the main tourist destinations are accepting credit cards without strict requirements.