Being the home to over 300 ethnic groups with 700 languages spoken, Indonesia is a rich abundance in culture and tradition. With citizens inhabited on 8844 islands, Indonesia looks like hundreds of small countries. Indonesia festivals are no doubt one of the best highlights of the country that every guest hopes to have a chance to soak into. If you are looking for a list of colorful Indonesia festivals to attend in your trip, this article is right for you.
Top 10 Most Colorful Festivals in Indonesia
The Bau Nyale Fishing Festival
Time: 14, 15 February 2020
Location: The south coast beach of Lombok
Duration: 2 days
Taking place in February or March, the Bau Nyale Fishing Festival is the most famous festival in Indonesia to join in when traveling to the country. This time, hundreds of people will rush to the beach of Lombok to catch a glimpse of the first nyale (worm-like fish) at the huge fishing festival. The legend said that Princess Mandalka drowned into the water to escape from an arranged marriage. Then she took rebirth as a worm fish called Nyale. Therefore, this is the time for the indigenous Sasak people of Lombok to commemorate the mythical princess. Bau Nyale Festival is held at the same time as the season of these worm-like fish. Every local here believes that by eating this fish, men will become more energetic and women more beautiful.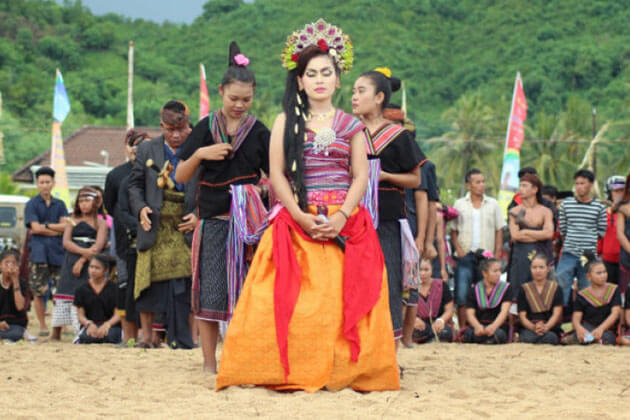 Waisak Festival
Time: 7 May 2020
Location: Borobudur Temple
Duration: 1 day
Located in Central Java, Borobudur Temple is the largest Buddhist monument on earth. Setting next to the magnificent backdrop of a volcano, overlooking the stunning view to the area, Borobudur is the must-see spot for any Indonesia tours.
On the Waisak Day, this is the home to an important Buddhist festival not just in Indonesia but for every country in Asia with Buddhist communities. This marks and acknowledges the birth, enlightenment, and death of Lord Buddha. The whole of Indonesia is decorated very beautifully. Thus, this is a worth-seeing Indonesia festival while traveling to the country. On this day, all the Buddhist monks and pilgrims gathering to celebrate the event. It's time for monks, pilgrims, and devotees to carry with holy fire from Grobogan village and holy water from Jumprit springs on the way from Mendut Temple to Borobudur in central Java. On reaching the Borobudur temple, they circle the temple three times in the clockwise direction before receiving blessings from the temple gurus. Then, they release paper lanterns into the sky to symbolize enlightenment of the universe.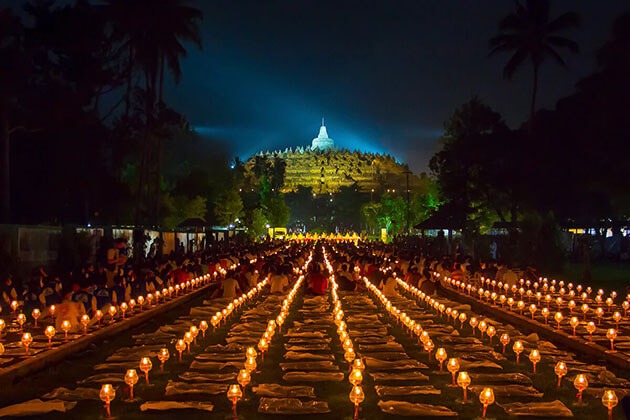 Pasola Festival
Time: March 2020
Location: East Nusa Tenggara on Sumba Island
Taking place every year across East Nusa Tenggara in western Sumba, the Indonesian festival of Pasola is one of the most popular festivals in Indonesia to attend while visiting the country. It is one of the most famous jousting festivals worldwide in which participants ride horseback without saddles and attack each other with wooden-spears called hola. The term 'pasola' was derived from the word 'hola'. Regarded by legend, the festival is celebrated in an effort to help the local leader of Waiwuang village forget the sadness of his wife leaving him for a new lover when he had to leave the family for an unforeseeable period of time. Initially, it began as a jousting festival that drew blood. However, today, it has become a mock-battle that ensures not harm every person taking part in the festival. Pasola is celebrated by the Sumba people to ensure a prosperous harvest.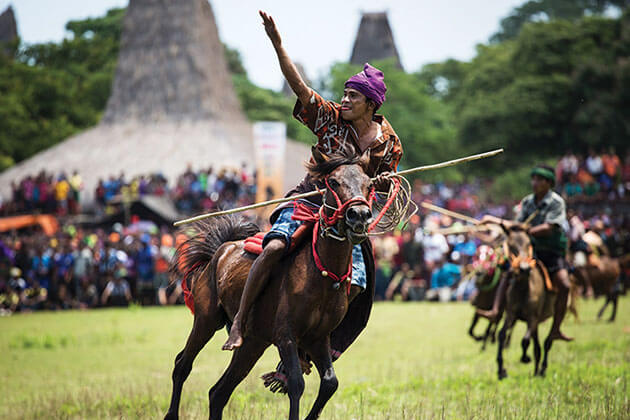 Independence Day
Time: 17th August
Location: throughout the country
Independence Day is the most important day in Indonesia and is the biggest celebration in the country. It is celebrated with just as much enthusiasm and pride as any other country. Celebrated every year on 17th August, this day of pride is essentially a commemoration of Indonesia's Proclamation of Independence that was signed on 17 August 1945. It is marked by cheerful flag ceremonies in schools and offices and parades in public spaces where people pray for the martyrs and war heroes, sing the national anthem and reread the proclamation text. Another memorable competition involves eating kerupak, a crunchy Indonesian snack, which is hung from high ropes. Participants race to finish eating the dangling treats, with the added twist of their hands tied behind their backs!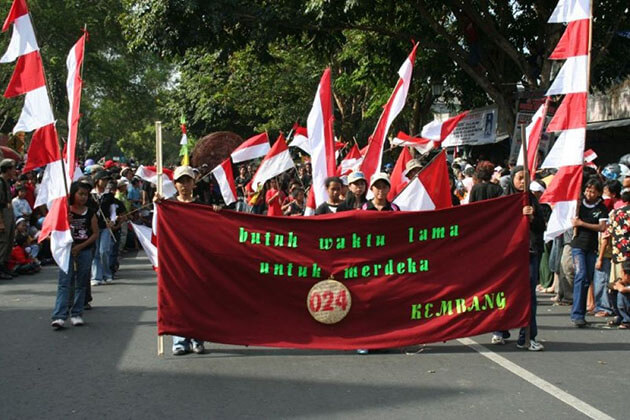 Nyepi Festival – The Day of Silence
Time: Wednesday 25th March – Thursday 26th March 2020
Location: Bali
Nyepi festival marks the event of Balinese New Year which is an unmissable event in March. The word 'Nyepi' translates to 'day of silence' and it involves fasting, meditation, and prayers. It is customary that lights be switched off (or kept dim), travel reduced to a minimum, and no work be performed on this day. Some villages in Bali make ogoh-ogoh (demonic statues made from bamboo and cloth) to symbolize negativity, which is paraded around the ceremony before being burnt in the local cemetery.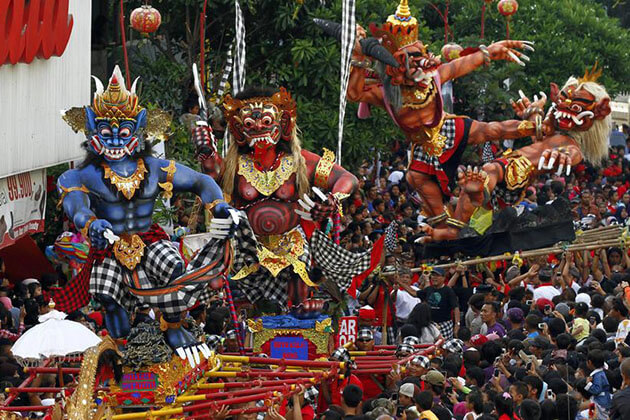 Galungan Festival
Time: 19th-29th February 2020
Location: Bali
Galungan is an important Hindu festival in Indonesia which is closely related to Diwali in India. Celebrated to welcome the gods and invite them as well as the ancestral spirits to dwell in the homes of their descendants. During this festival, incantations and firecrackers are used as a symbol to drive off evil spirits, while expressing gratitude to the Gods by inviting them down to earth with celebrations, offerings, and dancing. Although the dates differ between both festivals, they are both celebrated to express gratitude to God, ward off evil spirits, and invite ancestral spirits back to Earth to the family home. Galungan commemorates the victory of good over evil. On the day of the festival, the streets are adorned with bamboo poles called penjor with offerings (typically rice, bananas, and coconuts) hanging off them. In the days leading to Galungan, pigs or chicken are sacrificed for a feast and family members are visited. The end of Gulangan is called Kuningan, significantly celebrated at Sakenan Temple followed by rituals and dance performances.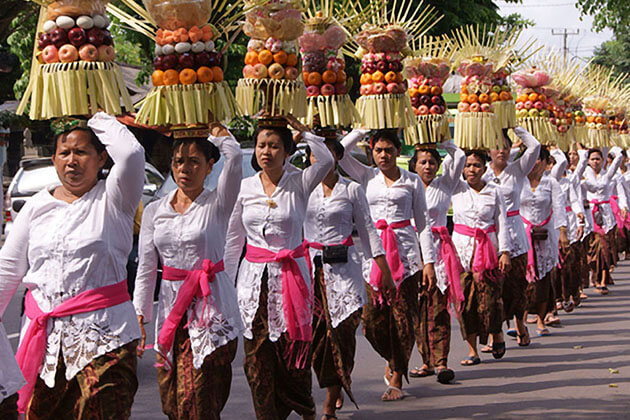 Bidar Boat Race Festival
Time: August 2020
Location: Palembang, South Sumatra
Following Independence Day of Indonesia, the Annual Bidar boat race festival is well worth incorporating into your trip to Palembang, Sumatra around Independence Day which is celebrated on August seventeenth. The Annual Bidar Race happens at Musi River. Each boat is propelled by almost 70 racers, including a commander and a gong striker.
Attending the festival, you will indulge in a vibrant atmosphere with the locals along the river cheering the competition.
Dieng Culture Festival – the Dreadlock Shaving Ceremony
Time: 2nd August 2020
Location: Dieng Plateau, Java
Once traveling to central Java, you will see the children in the Dieng plateau have a fascinating genetic make-up. Upon reaching puberty, their naturally straight hair starts turning to dreadlocks. When this happens, their parents don't cut them but they have to wait till August every year for their hair to be shaved off in an elaborate ceremony. This is called the Dieng Culture Festival, one of the interesting events to observe in your Indonesia tours. This ritual of cutting off the dreadlocks is traditionally known as ruwatan anak gombel. Along with the ceremony, traditional paper lanterns are released into the sky and puppet shows are held making Java comes alive during this time. Thus, tourists will have a lovely time taking in the exciting atmosphere of the island.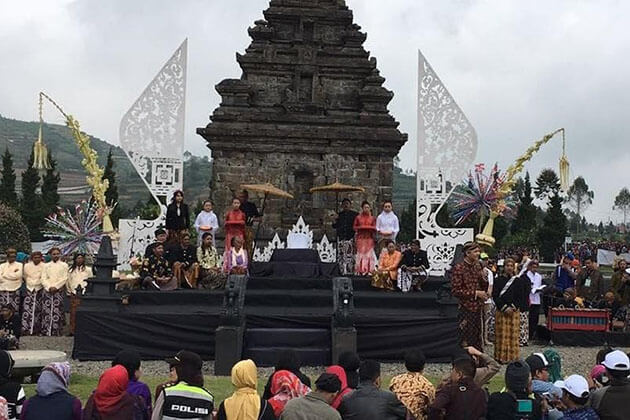 Bali Art Festival
Time: Mid June – Mid July
Location: Denpasar Arts Centre
Taking place for a full month in Denpasar every year, Bali Art Festival is a delightful event for tourists to combine on a trip to Bali. During the festival, cultural performances, art exhibitions, and many more activities are taking place from all corners of the street. You will get the chance to see almost forgotten ritual and village dances, classical palace dance as well as contemporary dances from the schools of Denpasar.
Together with cultural dances, tourists will find many food stalls, exhibitions, competitions, and handicrafts along the street. Thus offering a great chance for shopping local products.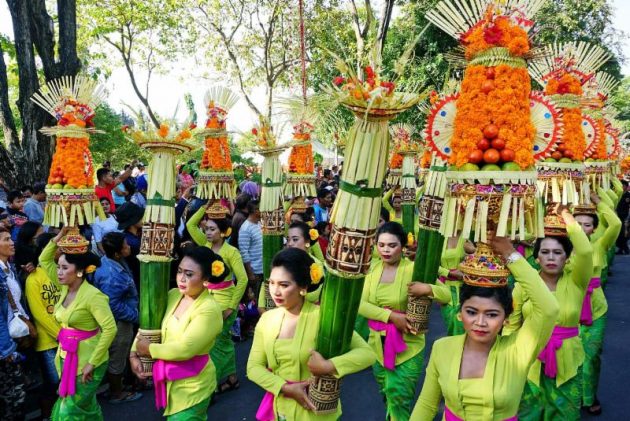 Yadnya Kasada
Time: July
Location: Mt Bromo, Central Java
Annually in July, the indigenous Tenggerese community who live nearby the slope of Mt Bromo – a spectacular volcano in East Java, gather to celebrate the festival called Yadnya Kasada. The ceremony is held in honor of the God Almighty Sang Hyaung Widhi, who granted the child for a childless couple.
According to legend, after many years of marriage remaining childless, the couple meditated atop Mount Bromo to ask for children. The god then granted them 24 children on condition that the 25th child must be thrown into the volcano as a human sacrifice.
Today, the tradition keeps continuing, but of course without human sacrifices. Instead, people use chicken, goats, and vegetables for the offering.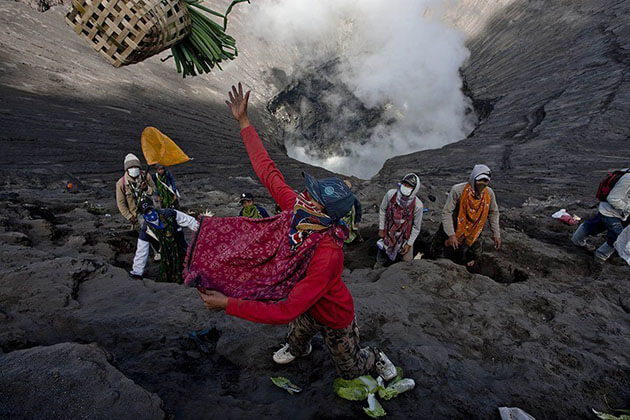 Indonesia Festival Travel Tips
On your trip to Indonesia, watch out for the end of Ramadan which often takes place in July. During the festival, a lot of stores and restaurants are closed. Therefore, preparing food and water is necessary. During this time, making bookings for both accommodation and transportation in advance is recommended. Another big celebration worth seeing is the Nyepi Festival, which is the Balinese New Year celebrated in March. On the days of the festival, you will not be able to travel outside because the airport is closed.