Tourists planning for Indonesia tours must apply for a visa if they are not exempt. All travelers must hold a passport which is valid for 6 months to apply for an Indonesia visa. Different types of Indonesia visas that have specific requirements. Have a look at are some frequently asked questions to help you with Visa & immigration policies in Indonesia.
Indonesia Visa Exemption
By Presidential Decree of 21 of 2016 dated 2 March 2016 on Visa Free, the government now provides special Short Stay Visa Exemption for travelers who are citizens of a total 170 countries. According to the policy, persons holding a valid passport can visit Indonesia without a visa requirement for 30 days. Permitted purposes of traveling including tourism, family and social visits, art and cultural activities, workshops, government duties, seminars or international exhibitions, transit and conducting a meeting with the head office of the representative office in Indonesia. Those people who are granted Indonesia visa exemption are not allowed to extend their stay if they want to stay longer, convert to other types of visas or engage in activities not listed above are requirements. Another important thing is the visa-free facility does not apply to holders of emergency or temporary passports.
Citizens who hold valid passports from all Indonesia visa-free countries can enter Indonesia through one of the 124 designated border crossings, including 29 airports, 88 seaports and 7 land border checkpoints in the country.
Note: Indonesia free visa does not apply for the citizens in those following countries and British nationals who are not British citizens:
1. Afghanistan
2. Cameroon
3. The central African Republic
4. Colombia
5. Congo
6. The Democratic Republic of the Congo
7. Djibouti
8. Equatorial Guinea
9. Eritrea
10. Ethiopia
11. Guinea
12. Guinea-Bissau
13. Iran
14. Iraq
15. Israel
16. Kosovo
17. Liberia
18. Micronesia
19. Montenegro
20. Niger
21. Nigeria
22. North Korea
23. Pakistan
24. Sierra Leone
25. Somalia
26. South Sudan
27. Sudan
28. Syria
29. Yemen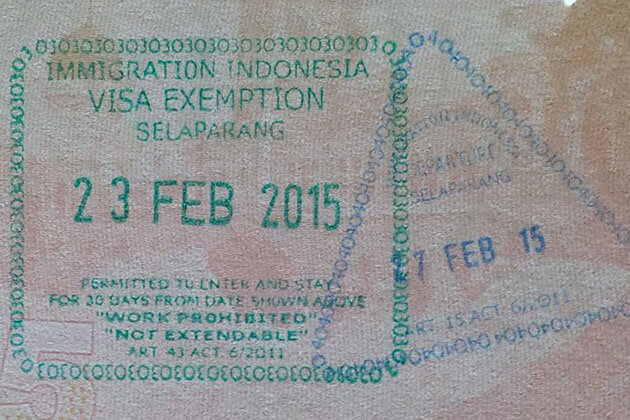 Indonesia Visa on Arrival
According to the Regulation of Minister of Law and Human Rights of Indonesia, citizens from 68 countries are eligible to apply for Indonesia on arrival for a length of stay up to 30 days and can be extended once inside Indonesia for another 30 days at designated entry points by paying US$35.
In accordance with the policy, travelers can obtain an Indonesia visa on arrival directly when you are landed at certain airports and seaport in the country with multi-purposes of your visits including business, tourism and social visits). Indonesia visa on arrival is not a work visa or a visitation visa, so it cannot be converted to obtain other immigration permits.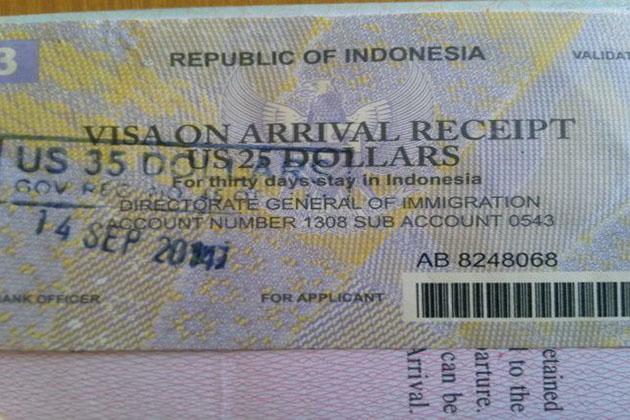 How to Apply for Indonesia Visa
Requirements for Applying for Indonesia Visa
A valid passport for at least 6 months
Two recent passport size photos
If you send your application by mailing, include a self-addressed stamped envelope
Essential Instruction
Applying Indonesia visa is easy with 3 steps as below:
Step 1:
Go direct to the Indonesian Embassy website (https://consular.embassyofindonesia.org/page/wna.html) and select the type of visa that suits your travel purpose. Then download and print out the appropriate application.
Step 2:
Fill out the application with your information and make one copy. Each type of visa requires specific information and document, so please note to fill out the exact information which is required.
Step 3:
Submit and pay the money order for the application fee. After that, wait for the result. Normally, it takes about three days to five days for processing.
Frequently Asked Questions about Visa to Indonesia
Are there any problems that occur with a one-way ticket?
Officially speaking, you must have a return/onward ticket booked before applying for an Indonesia visa unless you are forced to buy an onward ticket at the immigration counter.
What happens if I overstay my visa without applying for extending a visa?
Indonesia is quite strict on visitors who overstay their visas without applying for extending a visa. You will be required to pay a penalty of US$20 per day (for those who stay under 60 days), whilst over 60 days stay, you will be a 5-year prison sentence. Therefore, take your visa limit seriously
How long can a foreigner stay in Indonesia?
What documents are required for the Indonesia visa on arrival?
Original passport which is valid for more than 6 months from the intended length of stay.
Exit airline ticket or on-going ticket
Visa-free of US$35
How long does it take to get a visa to Indonesia?
Normally, visas require about three days for processing when applied for in-person and three to five days when mailing.