Indonesia is the land of contrasts, with over 8000 islands populated by 300 ethnic groups, you can find everything in Indonesia. From the hectic pace of life in Jakarta to the breathtaking scenery at Bali or the dignified ambiance in Jakarta. But not just the daily life that is interesting, Indonesia nightlife has a ton of surprises. You can taste the best nightlife in Indonesia from the big cities to small ones. Keep scrolling down to discover the best places for a cherished night in Indonesia tour
Indonesia Nightlife by Destinations 
Nightlife in Jakarta  
Well-known as the most vibrant city toward the whole country, Jakarta is no doubt one of the best places for nightlife in Indonesia. Take a stroll through the city, you will easily find out choices for chilling out at night. From the local beer clubs to the fashionable area or places to indulge in the melodious songs. Best places to stay in Jakarta for nightlife are:
• Colosseum Jakarta – perhaps the most amazing spot to experience nightlife in Indonesia. With the 1000 square meter of floor area and the roof at a height of 16 meters, the sense is truly like a large spaceship. You will feel like the ship transports you to an ultimate dance destination where the best DJs spin their tracks to cherish the night owls.
Address: Jl. Kunir No.7, RT.7/RW.7, Pinangsia, Kec, Jakarta
• Cloud Louge – one of the most sophisticated rooftop bars offering a 280-degree skyline over the city from the 49th floor of Altitude the Plaza tower. Upon here, you can enjoy vodkas in their most natural environment and relax with chill-out music.
Address: The Plaza Office Tower Lantai 46&49, Jalan M.H. Thamrin No. 28 – 30, RT.9/RW.5, Gondangdia, Kec. Menteng, Kota Jakarta
• X2 Club Jakarta – the 2800 square meter partying space with three different sections offering different vibes and playlists.
Address: Plaza Senayan Lantai 4 & 5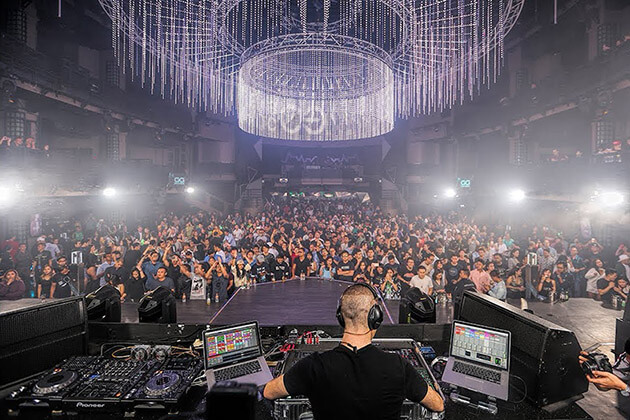 Nightlife in Bali
With many clubs and places for going out at night, Bali is an ideal place for an Indonesia nightlife. From beach clubs to sunset chill out, theatre shows or dinner cruise, there are so many things you can do at night in Bali:
• Potato Head Beach Club – one of the best clubs in Bali with the big pool, DJ set by floating points, exotic sculptural installations, and artworks by a local painter.
• Bali Night Markets – gain insightful evening shopping and dining experience in local night markets such as Sanur, Gianyar, Badung.
• Watch Bali's Traditional Dance Performance – with a collection of theatre and live shows from local folktales to ancient Hindu epics, Bali nightlife will allow you to learn more about the unique culture of the island and its people.
• LXXY Bali – located in the heart of Bali, is one of the best nightclubs in Bali to experience an amazing night with music and cocktail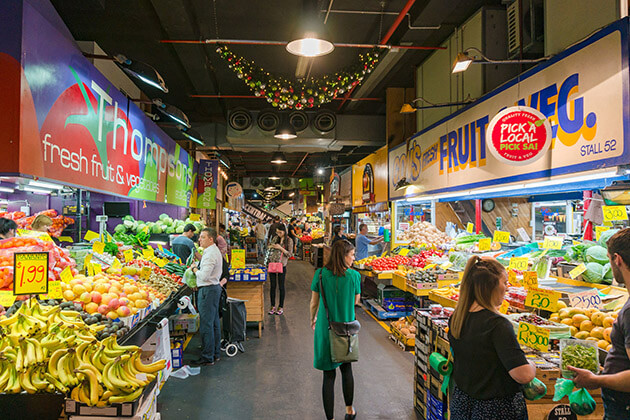 Nightlife in Lombok
Being a budding tourist attraction near Bali in Indonesia, Lombok nightlife is quite more tranquil in comparison to other cities. Below are charming places to enjoy Indonesia nightlife in Lombok:
• Secret Garden Restaurant – set outdoors next to a lovely Romanesque pool creating a romantic ambiance for your meal which is worth trying in Indonesia nightlife.
• Senggigi Road – where possesses many nightclubs including Papaya Café, Happy Café, and Bukit Sengingi Disco
Nightlife in Yogyakarta
The nightlife in Yogyakarta has as much entertainment as it does during the day. You can spend your night soaking up the music in bars, pubs, lounges, or nightclub with enormous dance floors. There are plenty of bars and nightclubs situated near the Sheraton Mustika Resort and Spa Complex. Some of the best places for Indonesia nightlife in Yogyakarta are:
• Malioboro Street – the lively street with many bars with cheap beers and good snacks
• Blatz Lounge – a groovy bar for a great nightlife in Indonesia with delicious cocktails, and Jazz every Tuesday night.
• Embassy – one of the hippest clubs in Yogyakarta featuring electronic dance and trance sound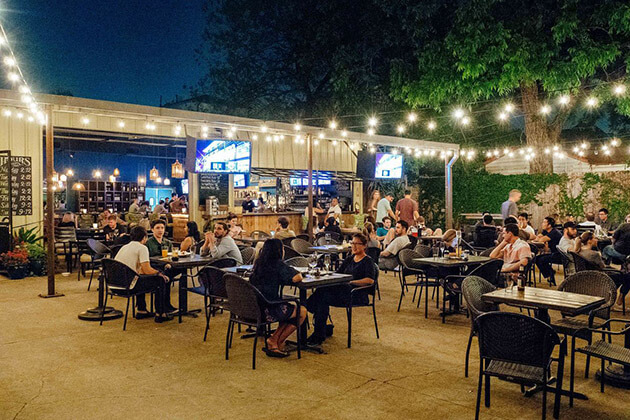 Nightlife in Medan
As the sun goes down, the city of Medan comes alive with many activities that keep people up. Indonesia nightlife in Medan offers tourists with numerous exciting activities.
No nightlife in Medan completed without drinking. Likewise, the city offers many options for tourists to choose from:
• Cava Lounge ( & The Vintage Wine Shop – enjoy a wide selection of cocktails and over 200 wine options
• MC & P (The Medan Club) – taste the local beer
• Shoot Pool Lounge & Sports Bar – Best place for sports fans who are looking for a nightcap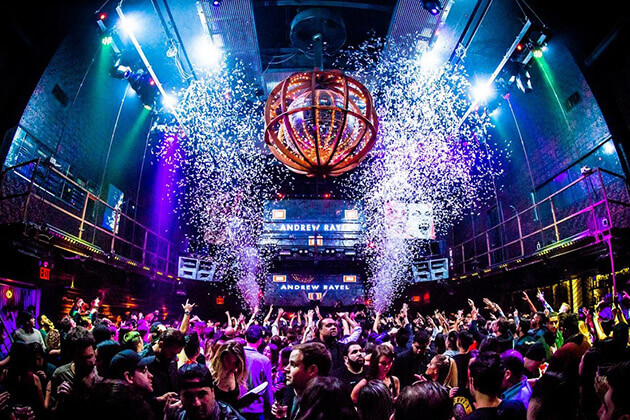 Nightlife in Surabaya
While Surabaya is now remaining tranquil and less visited, Indonesia nightlight in Surabaya still offers visitors with numerous interesting activities to do. From strolling through the street, enjoying music shows to soaking up the night markets, and more, have look at our recommended top best things to do at night in Surabaya as below:
• Visiting the Lively Night Markets: there are many night markets in Surabaya where you can indulge in the local atmosphere and purchase many items from souvenirs, clothing and traditional dishes. Passa Malam Kodam (located in Jl. Raden Wijaya No.2, Wonokroma, Surabaya), Jagir Market (Jagir street Wonokromo, across DTH Mall) and Korem Night Market (Near Surabaya Military Command) are three of the best night market in Surabaya.
• Experience Surabaya Night Carnival: if you are a fan of amusement rides, this is the perfect place for you to try. For those guests keen on challenging rides, don't miss the Rod Gila and the Pirate Ghost Ship.
• Visit Food Junction Grand Pakuwon: not just a food center, this place has everything for entertainment from food stalls, theme parks and rides for kids.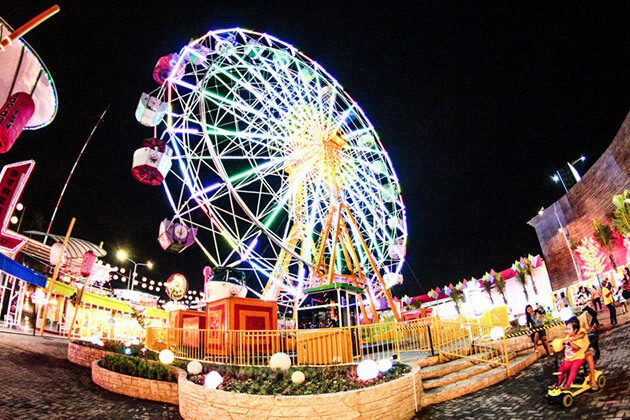 Nightlife in Bandung
The third-largest city of Indonesia never fails to excite your senses. Whether it is a cozy night at a restaurant or dancing at the clubs. Indonesia nightlife in Bang dung is yours.
You can check out the live music at some bars such as Holywings, Troy's, Little Collins and la Baraga. From international chart-toppers, much lived golden oldies to the best local favorite type of song, they have all you want for a memorable night.
If you want to watch the city lights sparkle in Bandung nightlife, the mountain surrounds the valley is famous for the panoramic views. Dago Pakar and Dago Giri are two places to go at night.
With beer lovers, Bandung is a great place for you to savor many kinds of beer from local brands, international or craft ales. Hanging out and relaxing over beers, music, games, and snacks are great experiences to fulfill an Indonesia nightlife. Beer Garden in Taman Sari, the rooftop balcony of Wodka, Tambukar open-air gardens and the hall of Beer Point on Pasteur are the top places for an amazing night in Bandung.
Indonesia Nightlife Travel Tips
Going Out at Night in Indonesia
Do not go out by yourself to quite or unlit areas when you don't know exactly about where you go. It is better to go to a group even on the beach
Make sure you know how to get back to your hotel if you are going out at night.
We recommend you not to accept any food or drink from a stranger, except you see the barman pouring it or the waiter serving it.
To protect yourself, avoid giving your address for strangers to avoid sufficient cause
In the public area, don't say aloud about your plans, cause you never know who's listening!
Don't swim in the isolated beach when you are alone, especially when the night falls down, you will never know what happens
Watch out the Local Law
Keep your eyes to the non-smoking sign, if you travel to Bali, you should be aware that smoking in public areas can result in harsh penalties.
Using dug in Indonesia is strictly prohibited, it will cause penalties to life imprisonment or even death. As a result, don't use the drug while enjoying Indonesia nightlife
The legal drinking age of Balinese is 21