Indonesia may not be the first place to pop up in one's head when planning to travel, however, once tourists set foot on the Indonesian archipelago, they can immediately find themselves in an exotic paradise. Indonesia can live up to the expectations of both travelers who want to behold renowned sites and relax in a luxury hotel and those who desire to explore the unbeaten tracks in mountainous areas. Among the numerous reasons to pay a visit to Indonesia, here we present to you the top 10 of them. Then be ready to make a trip to Indonesia at least once in your lifetime!
Myriad Pristine Islands and Beaches
With a huge number of over 17,500 islands, you will be spoilt for choice when traveling to this archipelago. It is undoubtedly comprised of splendid beaches and islands such as the famous Kuta Beach in Bali, the serene Gili Islands or Pink Beach as part of the Komodo islands. Plan an Indonesia trip to immerse yourself in the deep turquoise waters and the colorful coral reefs by checking our list of Top Alluring Beaches in Indonesia.
World's Most Active Volcanoes
Indonesia is well-known for having a lot of active and inactive volcanoes. And talking about the most active one, the first that comes to mind is Mount Merapi. According to the records, Mount Merapi has erupted roughly 70 times since the 1500s. When visiting Indonesia, you should not miss climbing the volcanoes, which promises you an adventurous holiday.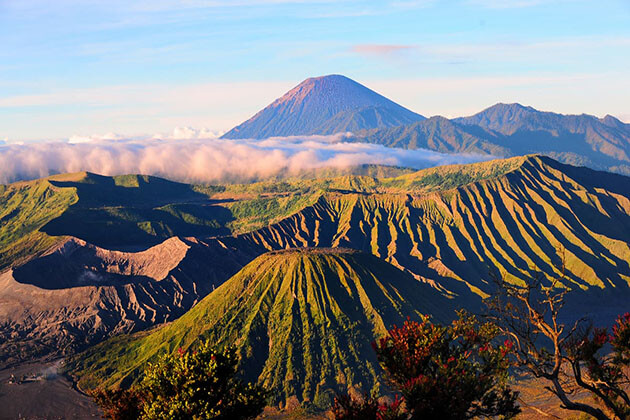 Wildlife With Species Only Found in Indonesia
Indonesia is not only renowned for its flora but also fauna. It provides natural habitats for many wild species such as elephants, tigers and apes, namely orangutans. Some typical sites where you can find those are Komodo National Park, Betung Kerihun National Park, and Gunung Palung National Park.
Komodo National Park is comprised of many volcanic islands along with dry savanna and thorny green vegetation, which make it home to a kind of giant lizard named Komodo Dragon. Komodo Dragon, because of its aggressive behaviors and appearance and the fact that it is only found in Komodo National Park. The number of this species is up to about 5700, and Komodo dragons are interested in experts studying the theory of evolution.
Surfing and Snorkeling in Indonesia
As an archipelago, Indonesia is home to one-fifth of the world's coral reefs and owns some of the best scuba diving and surfing spots. You can also expect to see a lot of protected marine life here, such as giant clams and coconut crabs. You will be dragged into an underwater paradise, so be ready to get your feet wet!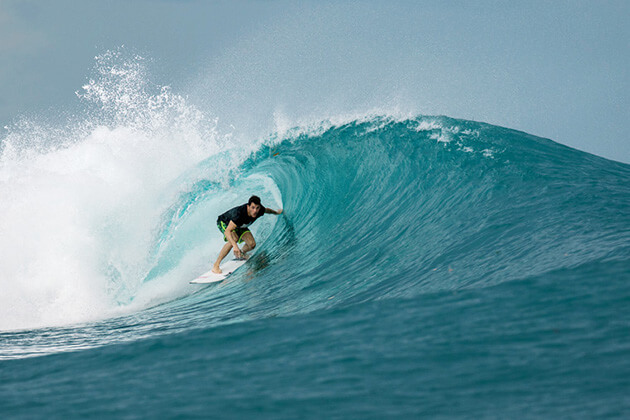 Rich Indonesian Cultures
Nothing speaks louder about a country than its customs and traditions.
Indonesia holds a complex mixture of cultures, strongly influenced by several religions: Islam, Hinduism, Buddhism and Christianity, each with its own traditions. The famous Balinese dance Kecak has been practiced for almost one hundred years and you should never miss it if you are in Bali for an exotic holiday! Whichever part of Indonesia you go to, you will find yourself immersed in the unique traditional culture and likely to learn something new!
The Hospitable Indigenous People Of Indonesia
Indonesians are very friendly so do not hesitate if you are thinking of making a trip to the country. From the cozy smile to rare spirituality, there are many characteristics of Indonesian people that make them stand out in the world. In an Indonesia tour, discover the great things that make Indonesia people different from others.
Incredible Indonesian Delicacies
It would be pointless going to another country without trying its local food. There are so many different unique dishes that you should make sure that you stay in the country for long enough. The traditional spices and cooking techniques of the Indonesians are probably the main contributors to the rich and tasty cuisine of Indonesia. Some of the best specialties are Bakso (rice vermicelli served with beef meatballs and of course sambal – the famous sauce of Indonesia), Satay (lamb or chicken skewers) and Gudeg (a plate of rice with boiled young jackfruit, chicken and sambal sauce). For more must-try dishes, here's Top 10 Indonesia Traditional Food for you.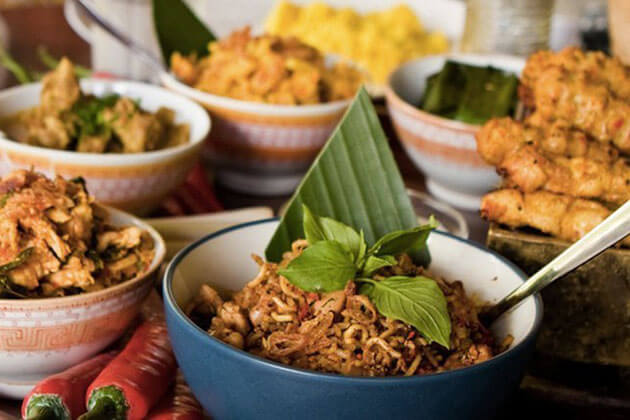 Spas and Resorts
After a long day traveling around the country beholding the landscapes, maybe a luxury hotel and spa are just what you need. Refresh your body and mind with services such as fish massage, aromatherapy, manicures, and pedicures.
Luxuriant Tea Plantations In Indonesia
Indonesia is an agrarian country with rich biodiversity. The geography of Indonesia as a tropical country makes it have a stable temperature and humidity on the highland which is very ideal for many types of plants to grow well. One of all those is the tea plant. Indonesia is the seventh-largest tea producer in the world, with 144,015 tonnes – much of which was exported – in 2018. For that reason, visitors to Indonesia definitely should try some kinds of famous tea in this country or buy packaged tea home for their family and friends.