Islam is the majority religion in Indonesia which constitutes well over 70% of Indonesia's population. Likewise, it is not surprising that the Islamic New Year in Indonesia is one of the most important celebrations in Indonesia and is celebrated with a variety of different activities and traditions.
The Islamic New Year falls in the month known as Muharram – the first month of the Islamic calendar. This is an important time for Muslims in Indonesia and is the celebration of New Year based on the Islamic lunar calendar.
There are many unique traditions that Indonesian locals use to carouse Islamic New Year. Therefore, a huge number of visitors come to this country to enjoy Indonesian Islamic New Year.
Tour Indonesia to find out about 7 unique traditions of Islamic New Year in Indonesia, why not?
Celebrating Islamic New Year in Indonesia with Tabot Festival
In Bengkulu, the local community holds an event called the Tabot Festival to celebrate the Islamic New Year. The event is extremely unique, so it should not be missed when you travel to Indonesia.
Every year, from 1 to 10 Muharram Islamic calendar year, which also means the New Year in the Islamic calendar, indigenous people are immersed in the ritual celebration of the Bengkulu Tabot Festival. It commemorates a tragic event that beset Hasan Hussein, the grandson of the Prophet Muhammad.
There will be a parade of Tabot – a giant object – around the village that is accompanied by music from Indonesian classical instruments, following the beat of a type of drum called Dol.
To reach Bengkulu, you can fly from Jakarta, where 6 flights are operated daily by Lion Air, Sriwijaya Air, Citilink and Garuda Indonesia. You can find more information at Go Indonesia Tours.
Celebrating Islamic New Year with Kebo Bule in Surakarta
Every 1st Muharram, in Keraton Surakarta there is a tradition of parading an albino buffalo (the Kebo Bule) around the city of Surakarta. The Kebo Bule which is considered sacred in this festival is believed to be the favorite animal of Paku Buwono II, according to the book Babad Solo by Raden Mas (RM) Said.
There is a tradition that people fight over each other to have a chance to touch the Kebo Bule and look for the buffalo's feces that are believed to bring blessings to those who get it.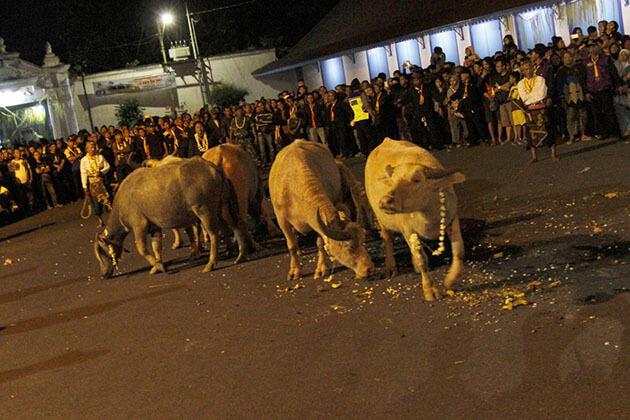 Celebrating Islamic New Year with Shoppinghouseholds in Makassar
There is a special tradition of Makassar residents welcoming the changing years of Islam that has been embraced from generation to generation. On the first day of Muharram, housewives would invade shops and markets to opt for household furniture and utensils related to water like buckets, basins, and kettles. That means as an expectation to welcome good things in the Islamic New Year in Indonesia.
Celebrating Islamic New Year in Indonesia with the tradition of Mubeng Beteng
Mubeng beteng is an annual event for celebrating Javanese New year. The residents of Yogyakarta Palace, mainly Abdi Dalem – who serve the king would walk barefoot around the Yogyakarta Fortress (Mubeng Beteng) without talking anything. When the ritual is taking place, people pray for health and happiness for themselves and their beloved ones, and also for their nation.
Regarding the sacredness of this tradition, Mubeng Beteng has deep meaning. It shows the introspection of Indonesian people on what has been done in the past year, as well as the wish for a better year ahead. The silence throughout the ritual symbolizes human reflection on God.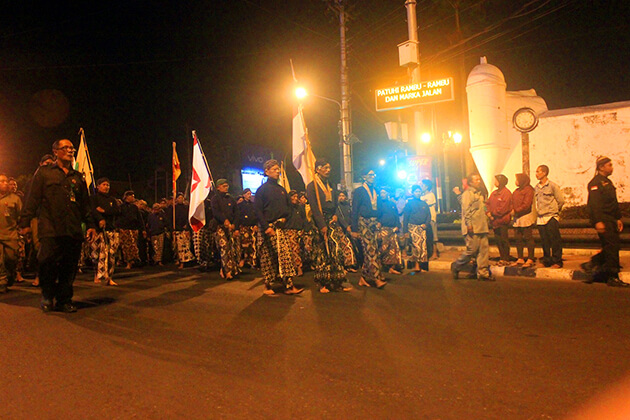 Celebrating Islamic New Year with Barikan in Pati
This unique tradition has been kept through generations of the Javanese Indigenous people when welcoming the changing year.
This tradition is done by the villagers of Cluwak District, Pati. Every afternoon at the beginning of the New Year's Hijri or the Suro One in Java, the residents flock together at the village road intersection and display food on mats to feast together and pray to welcome the Islamic New Year.
Celebrating Islamic New Year in Indonesia with Nganggung
In the City of Pangkalpinang of Indonesia, there is a tradition called Nganggung, which can also be known as the Sepintu Sedulang custom. This tradition is usually carried out during religious ceremonies, in which each family appoints a member to bring a complete meal on a rounded tray covered with hoods. The food, which is delivered based on the status and abilities of each family, is then shared among everyone.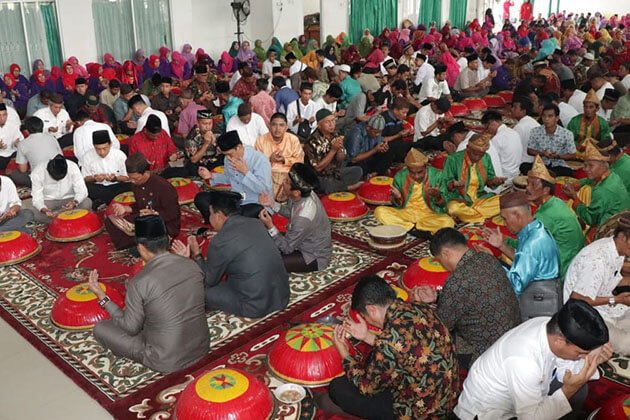 Celebrating Islamic New Year in Indonesia with Ngadulag
The community of Sukabumi enjoys the Islamic New Year by participating in a race to beat the drum called ngadulag. Contestants taking part in this event are usually in groups of three or more people and have a role as drum clappers and beaters.
This tradition has been passed down and preserved until the modern-day, and the melodies played are always unique and spectacular, which would definitely amaze you when you have a chance to visit Indonesia.
After reading those traditions, now you understand that Indonesia has various ways of celebrating the Islamic New Year. If you want to plan a trip to visit this beautiful and unique country, do not hesitate to look for more information and guidance at Go Indonesia Tours.