The largest archipelago on Earth – Indonesia – is made up of an outstanding number of over 18,000 islands. For that reason, among numerous places of interest, beaches in Indonesia are the incredible sights that you should never miss when you are on an Indonesia tour. Have a look at our list of the best beaches in Indonesia as below:
Top 5 Most Famous Beaches in Indonesia
Pink Beach, Komodo, Indonesia
Pink Beach truly lives up to its name: its alluring pink sands are unlike anything you've ever seen before. Undoubtedly, this is one of the best Indonesia beaches you should visit during your vacation. Besides this, a number of Komodo dragons can be found just a short distance away so this is definitely a sight you must see in Komodo National Park when you are on a trip to Indonesia.
The waters surrounding the island are just as mesmerizing for their unique marine species and colorful coral reefs, so it is no doubt a great place to go snorkeling & diving.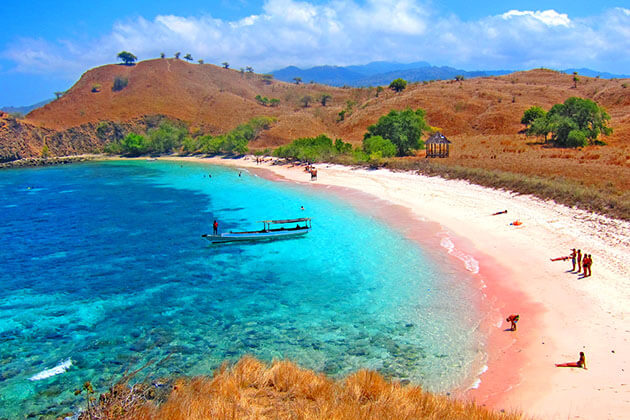 Seminyak Beach, Bali, Indonesia
This mesmerizing Indonesia beach has a place in the top 25 most beautiful beaches all over the world! Seminyak Beach has an awe-inspiring coast of golden sand, some stretching for over 5 kilometers on end and splendid sunrises and sunsets, with fresh vibes and numerous beach bars and resorts.
It's really worth a visit on summer days for holidays and vacations. Why not plan a trip to Indonesia now?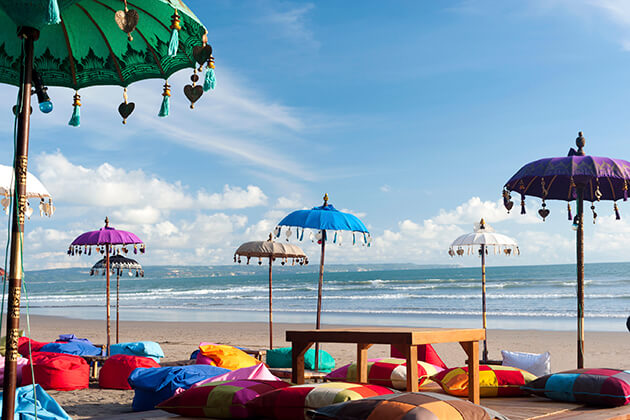 Kelingking Beach, Nusa Penida Island, Indonesia
TLies in Bunga Mekar village, on the southwestern shore of Nusa Penida Island, Kelingking Beach is the hidden gem of Asia which has been rated on the top #25 most beautiful beaches in the world by Trip Advisor. The beach has only been found recently, with steep cliffs from which we can have a whole view of the scenery, looking down onto limestone headlands that reach out into the Indian Ocean, deep blue gradient waters and clear white sand.
The unspoiled beach, however, is actually less famous than the view of Kelingking itself.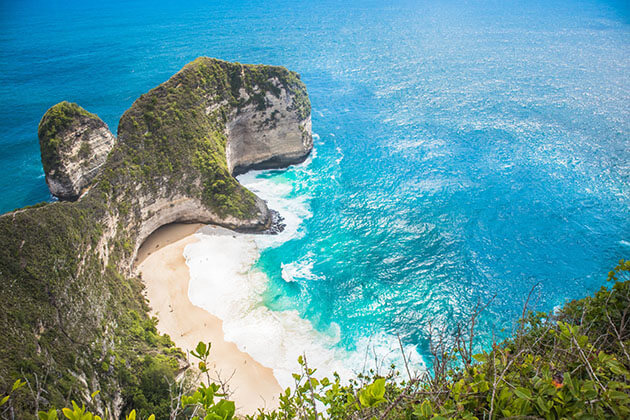 Gili Meno Island, West Nusa Tenggara, Indonesia
If you're looking for a quiet and serene getaway with fewer crowds, this Island is just perfect!
Lying just off the northwest coast of Lombok, Gili Meno is one of the most enthralling beaches in Indonesia. It has some of the best white beaches along with some of the best snorkeling and scuba diving locations in Indonesia. There is a huge range of hotels and great seafood restaurants that can cater to all budgets. The island has almost no cars at all, along with the warm welcoming locals, it even makes you feel more satisfied on a trip to Indonesia.
How to Get Here: From Bali, you can reach the Gili Islands by fast boat from either Amed or Padang Bai. There is also a public ferry from Padang Bai to Lombok where you can catch another boat – for those who are on a tight budget. This takes pretty a while but is fairly cheap and affordable. Use Go Indonesia Tours to choose the best schedule.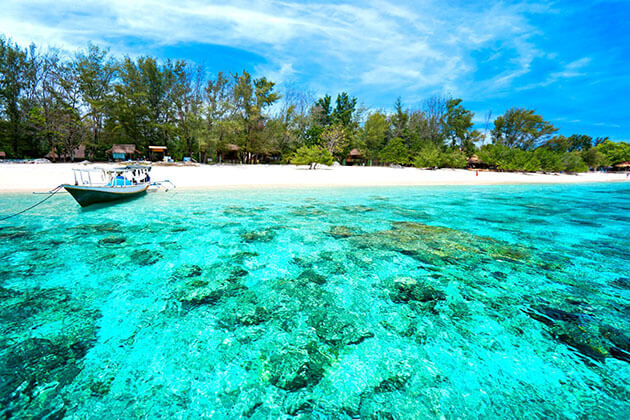 Kanawa Beach, Flores, Indonesia
Just like Gili Meno, this little island in Komodo National Park is a secluded place, a sight to behold, with a stunning pristine white-sand winding beach.
The most exciting activity here is undoubtedly snorkeling! The incredible variety here will drag you into an underwater paradise! You can expect to come across unique and ethereal starfish and sea turtles and other tropical marine life just meters out from the bay.
How to Get Here: Daily flights from Denpasar or Bali go to Labuan Bajo. From the airport, you can then take a 5-10 minute taxi or scooter taxi to the Kanawa Office. Boats only leave to Kanawa Island at 12 PM every day so get there early! Visit Go Indonesia Tours to see and book schedules ahead of time.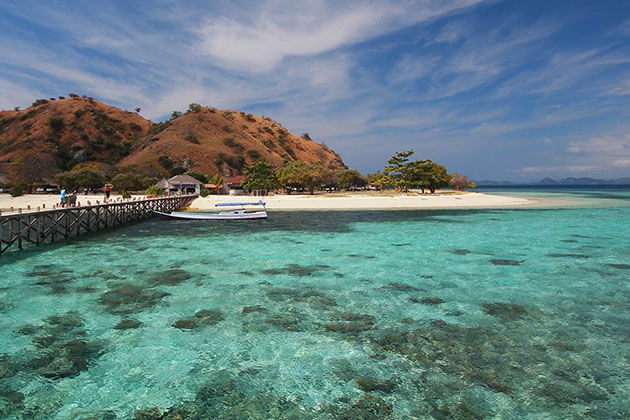 Recommended Beautiful Beaches to Visit in Indonesia
Karimunjawa Beach, Central Java, Indonesia
This gem of Indonesia located in the Java Sea, which has the silkiest white sand & clearest waters of turquoise and deep blue gradient throughout all of the Indonesian archipelago.
This is a recognized national marine park, a gift to the senses, and a mecca for scuba divers and snorkelers. You are expected to come across a wide range of tropical species & colorful coral reefs just a few meters below the surface. Visit the shark farm, and indulge your passion for fish barbecues!
One most unique thing about this beach in Indonesia is that you can watch the sunrise and set from the same place! Grab a chance to watch the sunrise early in the morning and also go to bed with a warm orange light glowing all around.
How to Get Here: The beach is not so easily accessible from the Javanese mainland. You can take chartered flights from Surabaya to the Dewandaru Airport in Kemujan Island, or regular ferries running from Jepara. Many choose to rent a motorbike to get around. If you are attracted to this spectacular place, don't hesitate to plan an Indonesia Trip to explore now!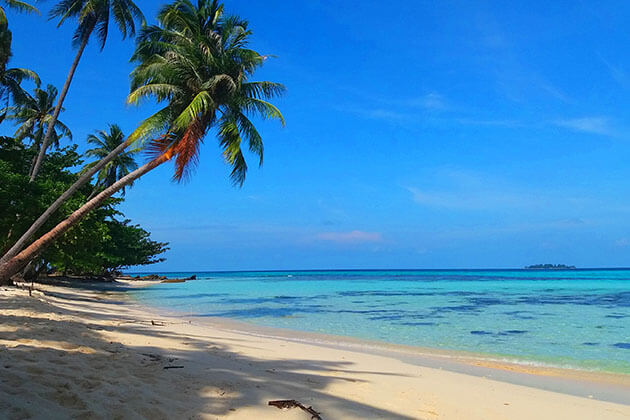 Derawan Beach, East Kalimantan, Indonesia
Considered as a candidate for a world heritage site by UNESCO in 2015, marine tourism has been slowly developing and the beach has become a popular place where world-class divers converge.
Derawan Beach is one of the best snorkeling and scuba diving spots, boasting a sublime coastal ecosystem ranging from seagrass beds and bright coral reefs to mangrove forests. You can also expect to see a lot of protected marine life here, such as giant clams and coconut crabs.
How to Get Here: Fly to Sepinggan airport at Balikpapan, and from here fly to Tarakan or Berau. You can then get to Derawan by land transport and boat.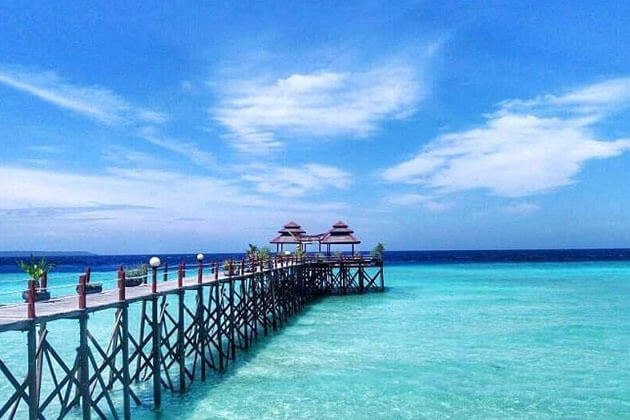 Tanjung Aan Beach, Lombok
Tanjung Aan Beach in Indonesia is a pristine place that is unknown to many people with the very white sand, crystal clear water and green palm trees surrounding 2 bays that form a paradise on earth.
Tanjung Aan is a popular location for surfers, especially newbies. Visitors can spectate beginners doing surfing activities. There is also an awesome viewpoint that you should definitely check out on your trip to this archipelago.